Time is precious and you deserve the best, but deciding who to book with can be tricky
Wether it's a weekend city break or a countryside escape, sourcing the right accommodation can make or break your vacation. After all, who wants to spend half an hour trying to work out how to work the coffee machine, or how to turn on the air con?
You've earned the right to unwind and whether it's for a special occasion or an annual excursion, spending a little more and opting for a luxury rental can turn a memorable trip into one you'll never forget. Especially so if you're playing host and looking to impress. After the people we vacation with, so much of our experience is our surroundings, after all.
With that in mind, we scoured both Air BnB and VRBO for their best luxury rentals to help you decide which company can best cater for you and your loved ones.
The Rentals
VRBO
1. Cuvée's Seaside La Casita


What? An ocean-side casita with 270 degree views
Where? San José del Cabo, Baja California Sur, Mexico
Cost per night? $3,780
Why is it so fancy? This luxury cottage sleeps 12 with five bedrooms complete with king-sized signature Cuvée bed, ensuite bathrooms, making it the ideal rental for both tranquil family escapes and group celebrations south of the border.
Borrowing from old world Mexican architecture, the casita features an infinity pool and spa with outdoor showers and an additional private guesthouse. What's more, the kitchen is fully-kitted out, chef-style, while the outdoor fire pits are the perfect lounging areas to watch the sun sink over the ocean.
If that wasn't enough, it's located next to One & Only Palmilla, the most exclusive resort community in Los Cabos where you'll have access to the adjacent award-winning restaurants, spa, and 27-hole Jack Nicklaus-designed golf course.
2. Royal Island Private Resort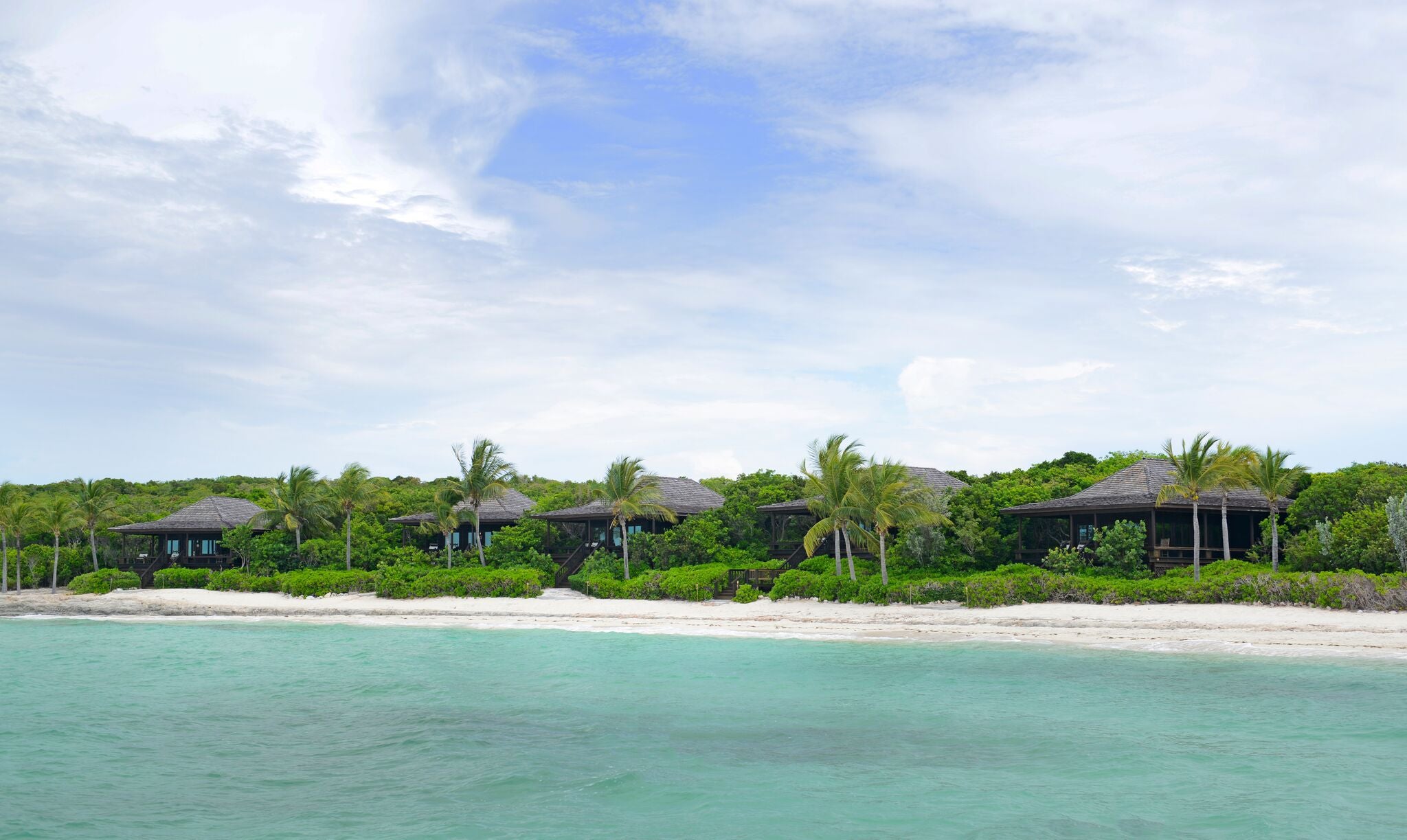 What? A private luxury villa on a luxury private island
Where? Royal Island, Spanish Wells, The Bahamas
Cost per night? $14,500
Why is it so fancy? Located on a private 430-acre oasis, you'll rent one of five intimate villas with the option to sleep 16 across seven bedrooms. If you're looking for untouched turquoise seas and an authentic and curate Bahamian experience, this is the rental for you. Paradise isn't difficult to get to, either. Located just 40 miles north of Nassau, you can fly in to North Eleuthera before being transferred by boat right to your cabin.
As well as the obvious natural beauty of the island, there is plenty to drink in from the private beach club, outdoor movies on the beach, and a mouth-watering selection of meals from your own private chef. And, if you've had enough of catching rays, the cabin's private staff will be happy to arrange everything from spear fishing to kayaking and jet-skis at a moment's notice.
3. LX1 Chateau De Renaitre Quintessential Tehama Retreat

What? A 9900 sq. ft, 20 person hillside villa by the ocean
Where? Southeast Carmel, Carmel-by-the-Sea, CA
Cost per night? $5,000
Why is it so fancy? Want your weekend escape to come with its own cinema room, gym, pool table, infinity pool, sauna and more? How about somewhere nestled among the natural beauty and wildlife of the verdant California hills? Well, how about if all of that was nestled in 2,000 acres of private land, had been developed by Clint Eastwood, and was available by invite only?
As if that wasn't enough, the Tehama retreat is a short 20 minute drive from Pebble Beach – ranked the #1 gold course in the US. But teeing off like Tiger isn't the only attraction. Located just 40 minutes away is the historic Cannery Row, immortalised in the works of America's finest laureate, John Steinbeck.
If art galleries, antique stores and world-renowned restaurants are more your speed, downtown Carmel has you covered. Meanwhile, the third week of August sees Pebble Beach inundated with some of the best luxury cars in the world – with owners and celebrities vying for their set of wheels to be crowned king.
4. Samsara TCI, Luxury Caribbean Villa

What? An ocean-front 14,000 square foot Caribbean villa
Where? Providenciales, Turks and Caicos Islands
Cost per night? $4,857
Why is it so fancy? Set across four acres of tropical gardens and fringed by 650 feet of unspoilt white-sand beach, this is the last word in Caribbean escapes.
Fully catered and staffed, the villa boasts everything from a tennis-come-basketball court to an ocean-side yoga deck and your own swim-up bar. Naturally, there is also a plethora of private and open sunbathing nooks to help you truly unwind, as well as your own secluded beach cove – perfect for sunset barbecues.
5. Super Luxurious Louvre Apartment

What? A sophisticated slice of high-end Parisian living
Where? Palais-Royal, Paris, France
Cost per night? $1,113
Why is it so fancy? Is there a more sophisticated city than Paris? If so, we'd be hard-pressed to find one. And, wether you're travelling for work or booking that dream romantic getaway, it makes sense to do it in style. Look no further than these luxurious apartments located in the heart of Palais-Royal, overlooking the Louvre gallery.
With four bedrooms, these apartments boast all the fine features you'd associate with one of the oldest cities in the world, including high ceilings, parquet floors, chimneys, ceiling frescos, and mouldings in every room. The amenities, meanwhile, are entirely modern.
Not only is the apartment located within the very heart of the city (you can be in the Louvre in two minutes and view the Eiffel Tower from the window), it's brilliantly located for excursions to the nearby Disney Land, and the beautiful Palace of Versailles – both just a short ride outside of the city.
Air BnB
6. Gallio, Lake Como

What? A 16th Century mansion overlooking the most exclusive lake in the world
Where? Lake Como, Lenno, Italy
Cost per night? $19,000
Why is it so fancy? History meets luxury in this five hundred year old palazzo located on Lake Como's secluded western shore. Able to comfortably accommodate 28 guests, it's the perfect location for a wedding celebration, or a monumental birthday blow-out. What's more, you and your guests will be made even more comfortable by the presence of your own butler and private chef. And who doesn't want to vacation at George Clooney's favourite lake?
The property really does tick all the 'old world European mansion' boxes, too. Lush greenery and ornate fountains adorn the exterior, while inside marble floors, fresco paintings of the dining room, library, winter garden, and spacious salons help convey the villa's old-world elegance.
Naturally, the rental includes private mooring, as well as a helicopter pad and space for 10 cars to help make your vacation logistics as painless as possible.
7. The Kahana House, Maui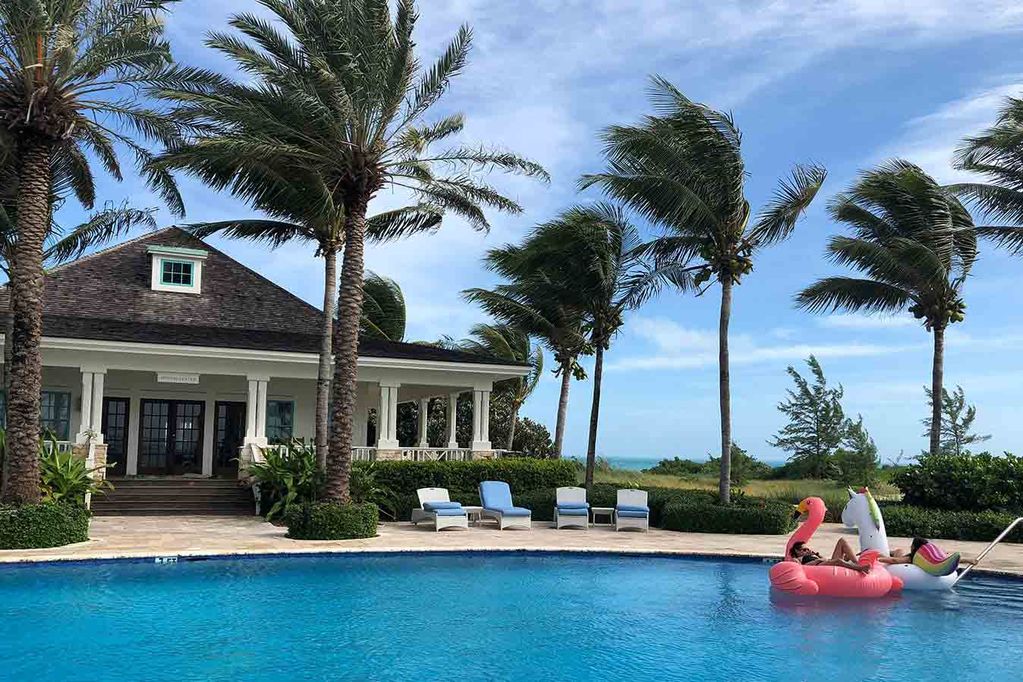 What? An idyllic Hawaiian retreat
Where? Lahaina, Hi, Maui
Cost per night? $3980
Why is it so fancy? This Hawaiian villa feels like it was built with the island itself in mind. The focus here is on huge, open windows and skylights which flood the open-plan lounge area with warmth, while the rough wooden decor brings to mind an idyllic Swiss Family Robinson escape.
With five bedrooms, the villa will comfortably accommodate 10, with a heated outdoor swimming pool, hot tub, sun loungers, and barbecue area meaning there's plenty to keep your guests occupied.
If you do ever leave the house, the historic Whalers Village is a ten-minute drive away, as is the famous Ka'anapali Golf Course. Meanwhile, Haleakala State Park – home to a dormant volcano – is just under an hour away. But, with Maui's famous pristine beaches literally at your doorstep, you may decide you have everything you'll ever need right at your finger tips.
8. Dar El Sadaka, Morocco

What? Dar El Sadaka
Where? Marrakech, Morocco
Cost per night? $3,786
Why is it so fancy? This nine bedroom villa is the perfect place to base yourself on a trip to the Moroccan capital. That is, if you every feel like venturing out of the stunning 25 acres of private gardens featuring palm and olive groves.
Naturally, in the Moroccan tradition of hospitality, daily breakfast is provided as well as the services of a chef and full house staff. The grounds, meanwhile, feature a full running track, tennis court, a bocce court and a sculpture garden. Tired of all that? Head inside to sweat out the toxins in the fitness room, or the build-in Turkish bath, known locally as a 'hammam'.
What really makes the property stand out is the fact that it was designed by a visual artist – something that is evident in its playful design and chic aesthetic (see the orangutans sculptures hanging from the ceiling).
9. Canaves Villa

What? A cliffside villa overlooking the Aegean Sea
Where? Oia on the Greek island of Santorini
Cost per night? $3,230
Why is it so fancy? There are fewer more coveted holiday destinations than the Greek island of Santorini, and no finer residence to enjoy the island from than this three bedroom villa rental. Located mere minutes from Thera and Playa de Baxedes, the villa takes in panoramic vistas of the Aegean Sea and the natural volcanic rock formations emerging from the azure ocean.
The emphasis here is on alfresco living, with an ample terrace, large swimming pool, and numerous open-plan lounge areas. Meanwhile, a chef-grade kitchen lets you truly go to town for those special occasions.
And just a short ride along the coast, nearby Oia features unparalleled views of the volcanic caldera along with its own stunning architecture, evocative of one of the most ancient parts of the world.
10. Cliff Top Residence, Thailand

What? A glass-fronted cliff-side residence with private pool
Where? Amphur Muang, Thailand
Cost per night? $4,080
Why is it so fancy? It's hard to think of Thailand without the pristine beaches of Phuket springing to mind. To help make your trip easier, this spectacular six bedroom villa on the east coast of the island includes a private chef and car as well as a plethora of home entertainment systems to make you feel at home. And that's before we've even mentioned the wine fridge, steam room and fitness room.
What's more, each king-sized bedroom suite features its own lounge areas, office desks, ensuite bathrooms and baths, while the master suit boats its own steam room and ocean-view tub. With private balconies on three levels and a resort-style pool terrace, you'll be perfectly placed to take in the evening views over the ocean, too.
And, should you grow weary of relaxing at 'home', yacht and helicopter rentals are available at extra cost, while the beautiful Ao Yon Beach is a short walk away and renowned for some of the most stunning coastal views in Southeast Asia.
The Clincher
We'll sure you'll agree that wherever you're planning on vacationing, there are some stunning options available from Asia to historic Europe to the beautiful California hills. But, does renting with one company over the other make a difference on your experience?
While not traditionally known for luxury rentals, Air BnB's purchase of Luxury Rentals has vastly expanded their upper-echelon portfolio, bringing some of the finest properties in the world under its tried and tested banner.
VRBO, meanwhile, has been operating since 1996 and has remained a reliable holiday home facilitator ever since.
One key thing to consider is that Air BnB boasts twice the number of rentals as VRBO (4 million to VRBO's 2 million), which in theory means you're more likely to find what you like. However, as VRBO only rents entire homes, it can offer an edge when it comes to securing the perfect rental for that special occasion, or an extra bit of privacy.
When it comes to extras, Air BnB seems to lead the way too. It offers a painless 'experiences' section on its website, allowing you to book excursions without the hassle of haggling beach-side when you arrive. Plus, its partnership with restaurant reservation app Resy makes dining out all the easier. VRBO, meanwhile offers a much more refined property search, allowing users to narrow their search down to a more granular level, with options including beachside, lake view, mountain view, ski rental.
Fee-wise, Air BnB will charge you an additional five to fifteen percent, while VRBO's fees range from six to twelve percent. It may not seem like there's much in it, but when pricing up luxury accommodations, an extra 12 or 15% can add up to a significant chunk of change.
Ultimately, whether you go with Air BnB or VRBO is your call. There are benefits to both companies and both have proven track records. The question, really, should be where do you want to go and who can best accommodate that? Hopefully this piece has given you some ideas.