Nan Zhang

is all set to transform the online marketplace space by introducing real-life NFTs and a whole new use case for blockchain along with a new class of digital currency altogether.
"MyMarkit is the advent of a new cryptocurrency and the world's first fintech blockchain marketplace. Unlike crypto, which is based on utilization and limited by algorithms, MyMarkit is a private entity that is minting currency from user-to-user transactions in a free market setting of a marketplace," says Nan Zhang, Founder of MyMarkit.
She continues, "It's as if a marketplace like Alibaba or Amazon created NFTs for physical assets based on user transactions. Our method of shopping creates a currency-converting (whether that's crypto, fiat, NFTs, etc.) digital currency that is tethered to the product for the first time. We are excited to see how this new form of technology will evolve."
People across the world recognize Nan Zhang as a famous American model and actress who co-starred as Kati Farkas in the popular television show 'Gossip Girl.' But very few people know that Nan also has a background in neuroscience from Johns Hopkins University. Nan realized that the e-commerce landscape lacks a marketplace for people like her who love to shop but don't want to throw money down the drain. She wanted to democratize the market and launched the female-founder-led MyMarkit on 9th August 2021. The platform got over 400 sign-ups in just two weeks.
Los Angeles-based MyMarkit launches the first-of-its-kind fintech blockchain marketplace focused on a patented new way to shop. MyMarkit is on a mission to evolve online shopping to the next level with this cutting-edge ledger automation technology for fulfillment, authentication, and transactions. This out-of-the-ordinary platform is built ground-up on a private, centralized blockchain system that mines ledgers between users based on commerce transactions in an open market.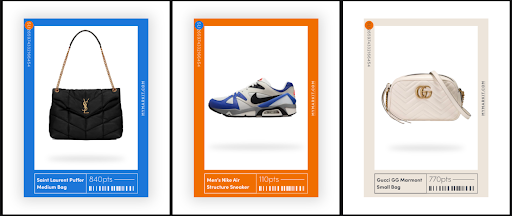 MyMarkit's transaction ledgers between users mine a unique digital currency backed directly to commodities. This true digital currency creates value-backed digital ledger assets for physical goods. In the near future, MyMarkit will open its marketplace for tethered exchange conversions, so all forms of digital (cryptocurrency) and fiat currencies can seamlessly transact to purchase and sell products for the first time. Most importantly, This technology allows sellers to keep 100% of their sales, unlike the other platforms where they lose up to 60-80% on reseller fees.
Furthermore, the unique technology enables sellers to greatly reduce overhead costs, which means the most transparent pricing possible (no more markup) and boosts sales. Offering low-cost products is a great way to tempt more people to buy more. In addition, buyers are also benefiting from the lowest prices offered on MyMarkit.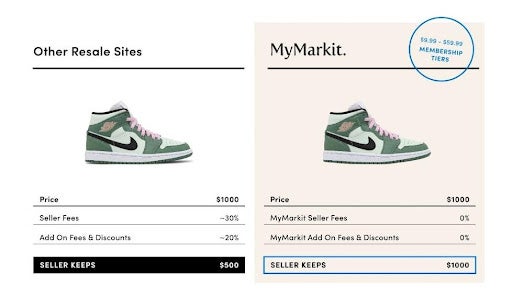 MyMarkit marketplace is developed at scale with all integrations and vendor solutions, including B2B vendor dashboard access points. A team of over 50 experts from the landscapes of blockchain, marketplaces, crypto, digital currency, fintech, and financial institutions came together to build MyMarkit. The platform's tech stack is entirely developed from scratch. The company has the oversight and IP of the private blockchain, unlike other decentralized finance systems.
MyMarkit's novel and groundbreaking technology bring products into real-life NFTs with its own token. The company has created blockchain technology applications that didn't exist before, and it will soon announce the name of its very own token, which are currently labeled as "points." This is groundbreaking as it will essentially create a new class of physical tokens in the cryptocurrency world for the first time ever. Every product on MyMarkit is tracked from the moment it is listed. Moreover, MyMarkit is the first marketplace where any form of currency (Bitcoin, Ethereum, USD, Euro, etc.) can be easily converted and used to shop for the amazing products listed on the platform.
Consumers are obsessed with quality and price, whereas the sellers aim to maximize their profits. MyMarkit has already started gaining a lot of traction. Top power vendors of competing platforms are joining MyMarkit for maximum profits, and as a result, thousands of inventories are listed on the platform. MyMarkit just inked a deal with the third-largest wholesale reseller in the world to bring more inventory to their users. Moreover, the product categories are expanding from sneakers and handbags to include accessories, collectibles, streetwear, designer shoes, jewelry, watches, and more to come soon.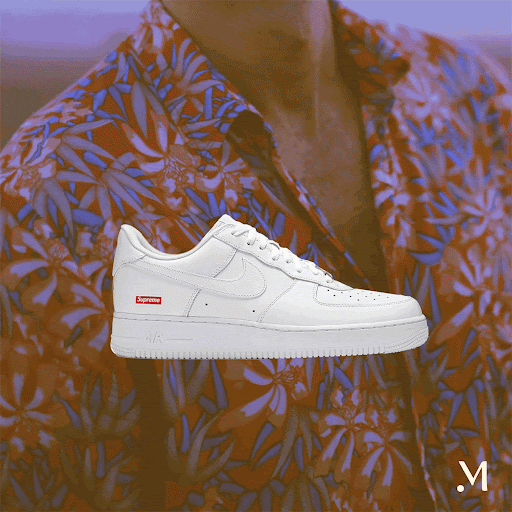 Here are a few achievements of Team MyMarkit in such a small span of time:
MyMarkit team members were invited to attend the Fintech Meetup 2021 by Shoptalk, the largest e-commerce conference in the world).

The team participated in the Money 20/20 MoneyFest.

MyMarkit was also selected for the 2021 TechCrunch Disrupt Conference and TechCrunch Disrupt's Startup Alley

Nan Zhang was a part of the Virtual Fintech Forum 2021.

Team MyMarkit attended the STARTMEUP HK Festival early this year.

Hacker Noon nominated MyMarkit for the global Startup Of The Year for its revolutionary fintech blockchain marketplace technology.

MyMarkit was nominated as one of the Top Fintech Startups by Daily Finance.

MyMarkit has an exclusive social commerce channel with the largest influencer group in the world, Hype House, which will showcase celebrity store channels very soon. Hype House (comprising some of the biggest influencers across Tik Tok, IG, and other social media platforms) has a collective 125M+ followers and 600M+ views/engagement.
Nan Zhang and the team believe that this is just the beginning. MyMarkit is rising in the resale market space and aims to quickly scale to retail verticals with channels for payment gateways and digital wallets. Recently, MyMarkit secured pre-seed funding of $500,000 from Expert DOJO, Pitbull Ventures, East-West Ventures, Type One Ventures, and RS Ventures. Here's what a recent official newsletter from Expert DOJO reads:
"Expert DOJO is extremely proud to have invested in MyMarkit, the world's first blockchain marketplace. We made this investment in the belief that online shopping is going to evolve to the next level, and this is it. We are beyond excited to see revenue levels continue to grow exponentially and for more and more investors to join us on this journey,"
Those who like to scroll through TikTok will soon be binging on Netflix and shopping on MyMarkit. The members of the Hype House will be opening their lives to the world with a new Netflix show. Furthermore, Hype House, the biggest influencer group globally, with a combined follower count of 126.5 million, has collaborated with MyMarkit for its social commerce channel. Hype House will be using MyMarkit for their own store channel to directly engage with fans for selling products.
MyMarkit offers memberships for a specific number of transactions that users would like monthly. It offers three types of membership plans: a basic plan worth $9.99/month, a classic plan worth $29.99/month, and an endless membership plan worth $59.99/month.