Now that you've chosen your life partner, it is time to take the next big step; buying an engagement ring. Both your partner and ring selection require time, investment, alignment, and enormous amounts of love and patience. To help, we have researched different ways of making your big purchase and have come up with the following guide to buying the perfect engagement ring for your perfect partner.
Are Engagement Rings Still Relevant? YES!
The engagement ring's symbol has evolved over the years into a more modern and palatable dedication of love and commitment to each other (and less about property and ownership). This beautiful closed-loop, typically worn on the left finger, is the symbol of an enduring journey. Two people have decided to start a life together, and an engagement ring solidifies this new beginning with a grand gesture.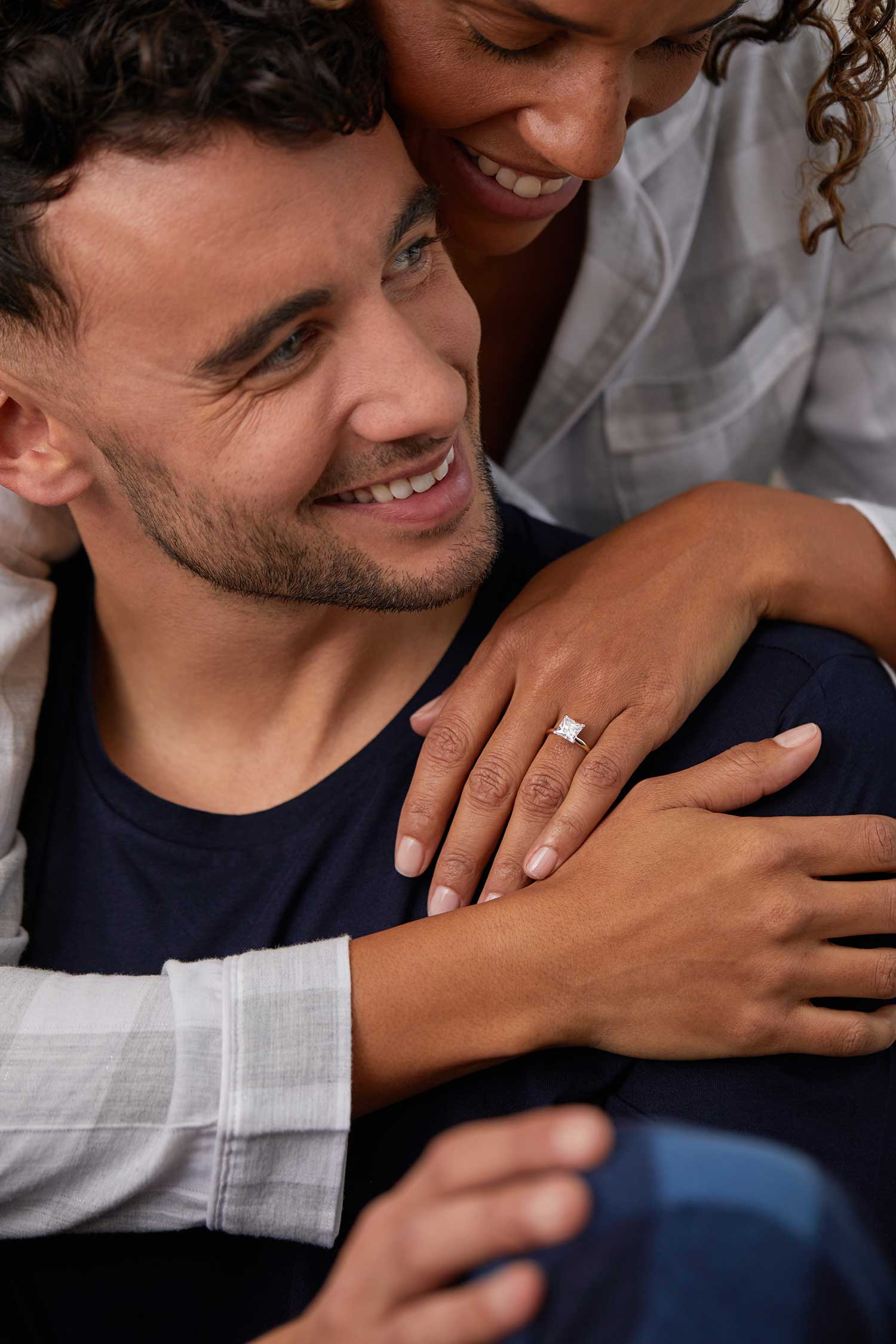 Is Where I Source My Diamond Important? Absolutely.
You have to look no further than movies such as Blood Diamond or Netflix's Dirty Money to know that natural diamonds come riddled in conflict. As consumers become more aware of the ethical and environmental impacts our shopping choices have all over the world, it is now more important than ever to make the least harmful choices available to us. There are "Ethically Sourced" options for diamonds including the Kimberly Process Certification Scheme (KPCS) which indicates steps were taken to ensure the diamonds are not conflict diamonds but in reality, there is no guarantee to prevent the sale of such diamonds. Enter lab-grown diamonds. While admittedly, some work needs to be done on producing a more enticing description, lab-grown diamonds are the only diamonds guaranteed to be 100% conflict-free.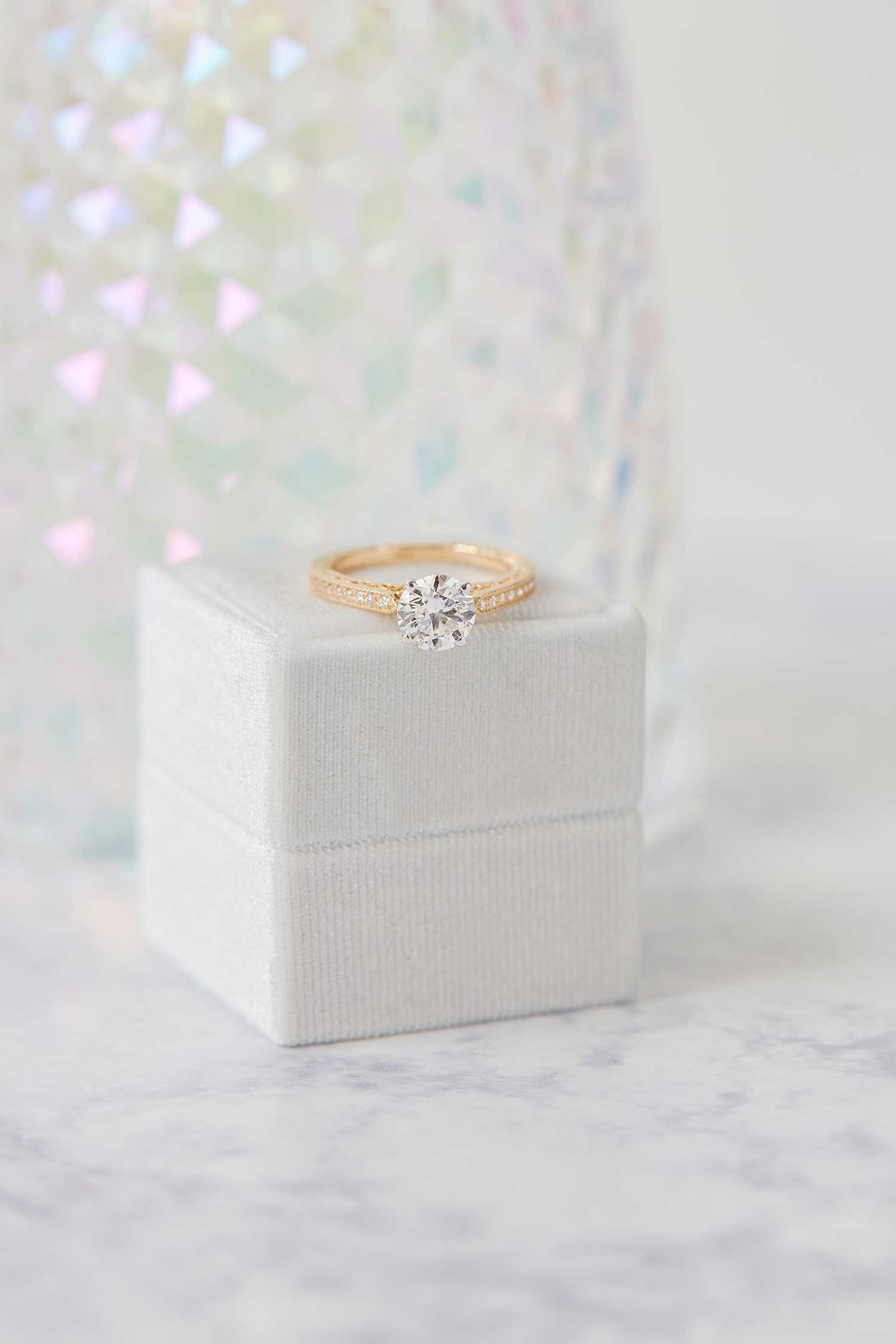 But How Do Lab-Grown Diamonds Compare?
Grown in a controlled environment instead of forming under pressure in the earth's crust, lab-grown diamonds are real diamonds. These diamonds have the same chemical and optical properties as diamonds that have been dug up. The technology has grown so much that experienced gemologists and jewelers now need a particular machine to tell a lab-grown diamond from one found in a river bed. In addition to beauty and quality, you are less likely to break the bank on your lab-grown diamond. Lab-grown diamonds cost up to 40% less than natural ones. Lab-grown diamonds should come with their own independent certification, so make sure the diamond you buy has been independently verified and graded for quality. Grading of the diamond's unique attributes includes cut, colour, clarity, carat weight, polish, symmetry, and other vital characteristics — just like mined diamonds. Lab-grown diamonds offer consumers a new, beautiful, ethical option when selecting the perfect engagement ring, which some consider superior.
In-store or Online?
Both are valuable options in today's economy but after a missed appointment and a major pandemic, our opinion is that online shopping no longer just applies to convenience items in your home. Your perfect engagement ring can be picked from a limited retail store selection or a website with an extensive collection. Build your own ring using digital tools backed up by experienced designers and customer service on standby to assist you in creating your carefully crafted engagement ring. By doing this online and by email, you eliminate the need to spend more time commuting or speaking with salespeople who may not have your best interests at heart.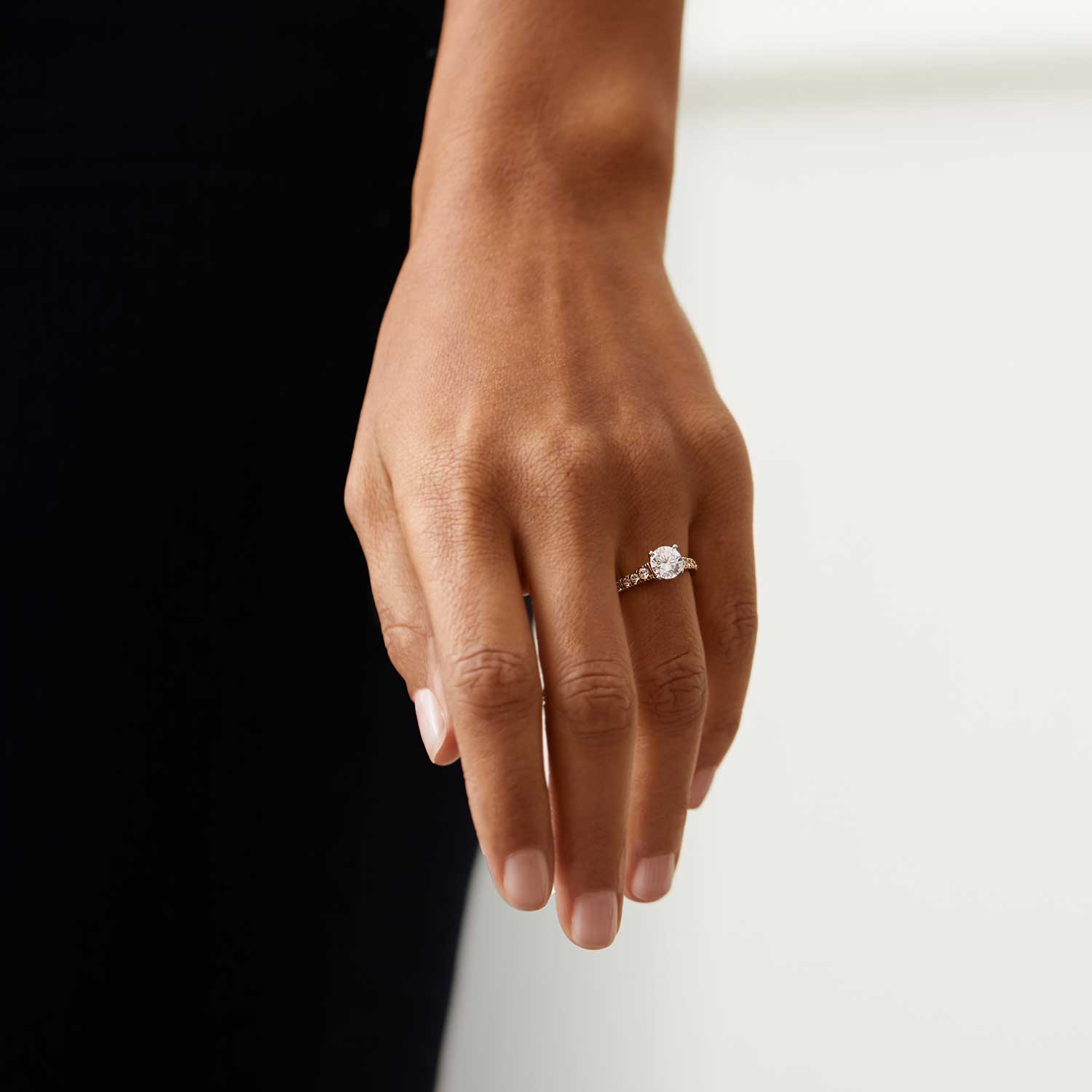 Now I've Chosen the Type of Diamond, What Next?
Now, if you have decided to at least browse options online, finding the best shopping experience is of top priority. There are many different ring styles, diamond shapes, and fine metal options to choose from as you move closer to making your purchase. The best websites allow you to see the ring you're designing as you carefully select each option. Some setting styles to consider are solitaire, halo, classic, three-stone, or vintage — all of which are usually available in a bridal set. The bridal set considers how the engagement, and later the wedding ring will fit together. Buying them as a set ensures comfort, ultimate style, and eliminates the need to purchase another ring down the line.
Diamonds come in round, heart, oval, pear, cushion, princess, radiant, asscher, and emerald shapes. We recommend listening to your partner's hints on this one. Chances are you discussed your future and with everything aligned your partner may be dropping hints to you on what they would like best. Listen close.
Finally, the metal type is essential and can be determined by looking at the other rings your partner wears. White, rose, yellow gold? Platinum? Matching colour is best to compliment your partner's tastes.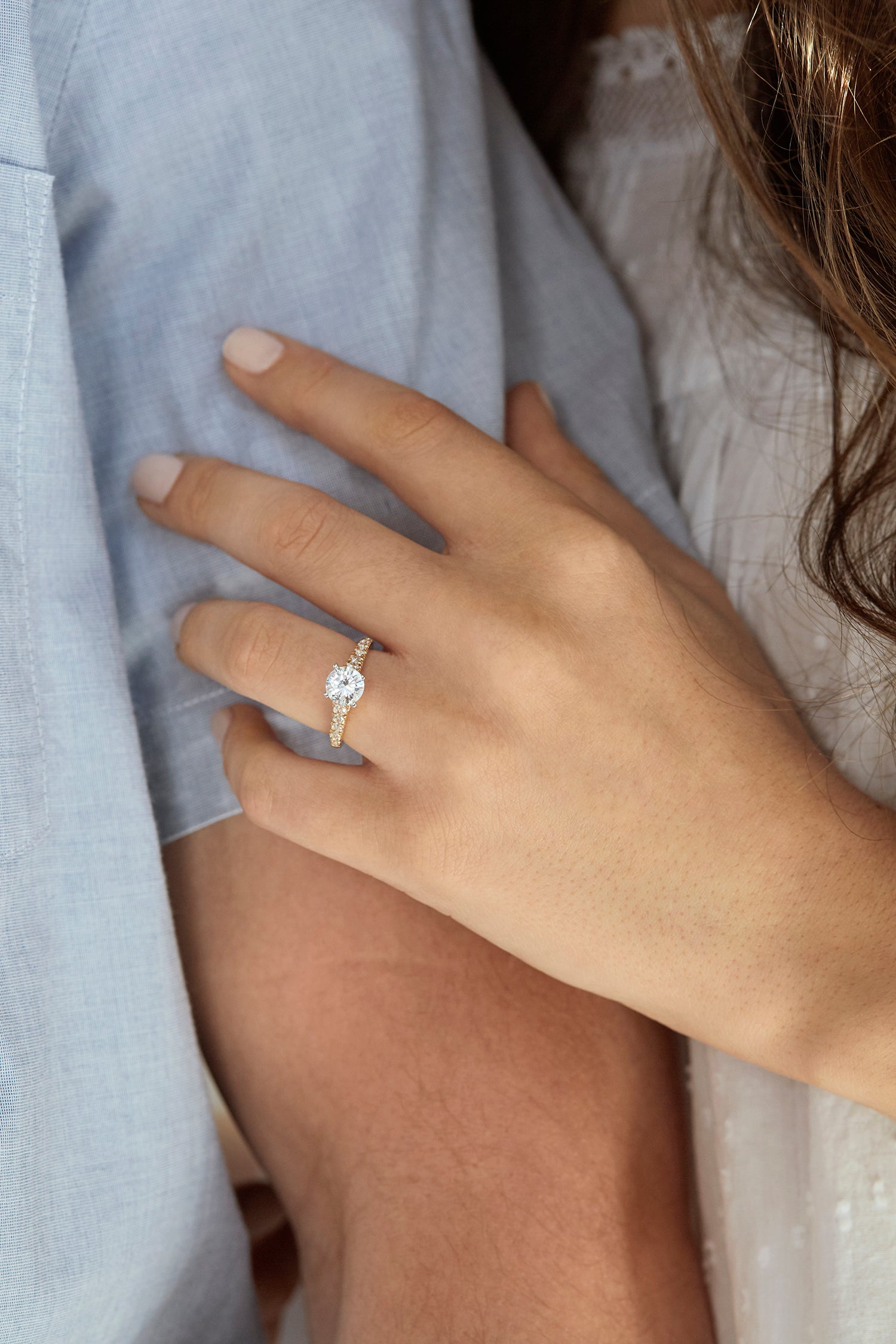 I've Found the One.
Once you have designed your ring online, it's time to get in touch with customer service to work out any final touches (think ring size). Having a great customer experience is critical, so check out customer reviews to confirm you will have a pleasant experience. Other important considerations when shopping for your engagement ring online is shipping costs, ability to track shipping, resizing costs, and return policies. Engagement rings are touch and feel purchases. You are going to need to see and hold it to be sure you love it! Make sure the website you are ordering from has a no-nonsense return policy if you decide you need to make any changes once you have the ring in hand. You should feel in complete control over this significant and important investment.
Final Thoughts
Of course, which engagement ring you decide to purchase is 100% up to you. Do your research, take the time and care this purchase deserves, and only shop somewhere that feels right to you. This is a gift that, like your love, will last a lifetime. With the same chemical structure and composition of a natural diamond, lab-grown diamonds are new, exciting, and significantly limit the impact on the environment. You are likely to be a trendsetter as lab-grown diamonds rapidly replace naturally sourced products as humans always learn it's best to keep nature in the ground. Once you have the right ring in hand, the rest is up to you, my friend. Good luck and feel confident knowing you have made the best choice possible, leading up to your engagement.