Service dogs are trained to assist people with physical limitations and disabilities. They travel with their owners wherever they need to go, whether out of town, state, or even out of the country.
According to the Americans with Disabilities Act of 1990 (ADA), State and local governments, businesses, and nonprofit organizations that serve the public generally must allow service animals to accompany people with disabilities in all areas of the facility where the public is allowed to go. 
Hotels cannot charge individuals an extra amount to accommodate their service dog, and they will not be limited to designated "pet friendly" rooms.
The hotel staff must be particular about not interacting with the service dog in any way—no petting, no feeding, and not easing. Unlike regular pets, service animals can accompany an individual with a disability to any space within the hotel.
Are you looking for the best hotels for service dogs? We've put together a long list of options you can choose from.
Ritz-Carlton
The Ritz-Carlton Hotel Company opens its grand and luxurious doors to pets and service animals. While pets must be tethered in all common areas, your service dog can accompany you into any of their hotels' restaurants, the Fitness Center and Spa, The Ritz Carlton Club Level lounge, the Bar, and the pool area. 
That's not all! The Ritz Carlton offers its furry guests a slew of pet-friendly activities, a special canine menu, rooms with dog bowls and treats, and plenty of dog-friendly toys to keep your service pet occupied when you're relaxing.
ALSO READ: Best Sci-Fi-Themed Hotels Around The World 
Marriott
The Marriott Group of Hotels has some of the most stunning and posh properties across the country suited for any type of traveler. While Marriott hotels have certain pet policies in place, it's made exceptions for service dogs.
According to the Marriott service dog policy, a service dog can accompany a guest with a disability to any part of the hotel without any restrictions. 
In addition, Marriott hotels provide wheelchairs, raised seating platforms, elevated toilet seats, tub seats, and hearing and visually impaired kits.
Four Seasons
Four Seasons hotels in the United States are exceptionally pet-friendly. When you check in, expect treats, toys, and a splendid dog bed that will make your pet feel at home in your beautiful hotel room.
Four Seasons hotels also offer a special in-room pet menu, so you and your dog can indulge in some much-needed room service pampering.
Choice Hotels
With more than 3,500 pet-friendly properties across the country, the Choice chain allows you to explore the premises of its hotels with your service dog without any restrictions. Your guide dog or service animal can accompany you in a service capacity to any part of their hotels, such as the lobbies, coffee shops, restaurants, and even bars.
To make sure you have a pleasant stay, you can reach out to the concierge at any of the Choice Hotels with requests for pet-friendly toys and treats to be brought to your room. 
Holiday Inn
Every Holiday Inn hotel in the United States offers service animals an array of perks to make their stay much more comfortable. Just let your hotel know that you will be bringing your service dog with you—they will even put a "pet room" sign on your door.
You must sign the hotel's Pet Agreement and provide proof of vaccination if asked. You are responsible for walking your dog only in designated areas and picking up after it at all times.
While checking into a holiday inn property, you will be asked to fill and sign a pet agreement document along with your service dog's medical documents.
Best Western
Reigning the hospitality industry since 1946, Best Western Hotels and Resorts is a popular hotel chain in America that's known for its exceptional pet-friendliness. They have over 1,600 hotels in the United States, Canada, and the Caribbean, and you and your service dog can freely roam in all of them.
Specific pet policies vary for each hotel, so it's best to adhere to the best practices when it comes to bringing your service dog to a public place. Bring its vaccination information, keep it leashed at all times, and pick up after it wherever you go.
The Peninsula Hotels
Are service dogs allowed everywhere? The Peninsula Hotels grants your service dog free access to all areas most regular pets are allowed in. Unless your service animal is aggressive and dangerous, it can accompany you to breakfast at the coffee shop or to the pool if you feel like taking a quick dip. 
The Peninsula Hotels offer individuals with disabilities accessible amenities like wheelchairs, auxiliary aids, auditory programs, and more.
Hampton Inn
Do all hotels accept service dogs? Your service dog is permitted to stay with you at any Hampton Inn. The staff at Hampton Inn hotels are extremely dog friendly and offer the best customer service to ensure you have a good and refreshing stay.
If you're wondering, "can you leave a service dog in a hotel room?" Hampton Inn hotels request that guests never leave a service dog unattended in a hotel room.

ALSO READ: 5 Best Hotels In UAE
Westin
Westin Group of Hotels specializes in pampering dogs—they provide a plethora of comforts like a heavenly dog bed, convenient floor mats, ID tags for safety, and food bowls. If you're staying at a Westin with your service dog, feel free to walk into any area of the hotel without hesitation.
In addition, you will get a doggie welcome kit with a list of pet-friendly activities, local pet services, and doggy play areas.
Kimpton Hotels
Part of the InterContinental Hotels Group (IHG), Kimpton Hotels are the best hotels for service dogs. The Directors of Pet Relations at Kimpton Hotels have made it their mission to ensure that you and your furry companion have a wonderful stay. 
Kimpton Hotels will provide you with things your dog will love, such as a plush bed, floor mats, food and water bowls, and loads of treats. There's no limit on size or weight, and your service dog can follow you around the hotel premises no matter where you go.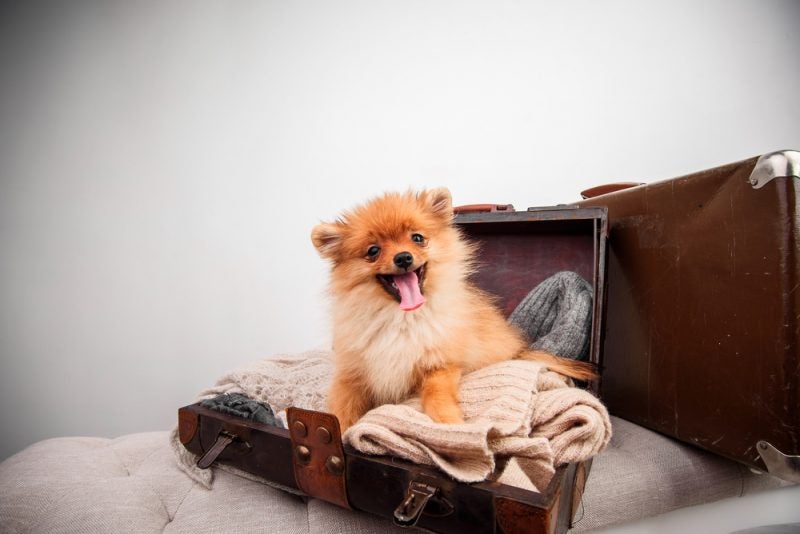 What To Expect at Hotels While Traveling With a Service Dog?
Can hotels ask for service dog proof? No. According to the ADA, hotels cannot ask for certification to prove that you have a disability and you need your service dog to stay with you. 
Are you wondering what else to expect when traveling with a service dog? Here's what you need to know. 
You may be asked whether your dog is a service dog 

You may have to fill out a pet agreement 

You may have to submit the dog's medical papers 

You may be asked what tasks your service dog performs 

You must be in complete control of the service animal at all times

If your service dog misbehaves or acts aggressively toward the staff or other guests, you may have to check out with your dog

If your service dog damages anything in the room, you will have to pay the charges to compensate for the loss
The best hotels for service dogs are ready to welcome you and your service dog with wonderful treats that you can enjoy during your stay.
You'll be able to travel in style and enjoy an elegant and cozy stay at some of the top hotels in the country. Traveling with your dog is easy, especially if you happen to have one of these friendliest dog breeds as your pet. Just have a good time with your canine companion. 
And now that you have this list, it's time to pack your bags and a leash and go on a relaxing vacation with your service dog!