The bleakness of 2020 is likely to have a lasting effect on millions of businesses and service providers worldwide. But while a year spent in lockdown had negative repercussions for most, the private aviation sector attracted record interest.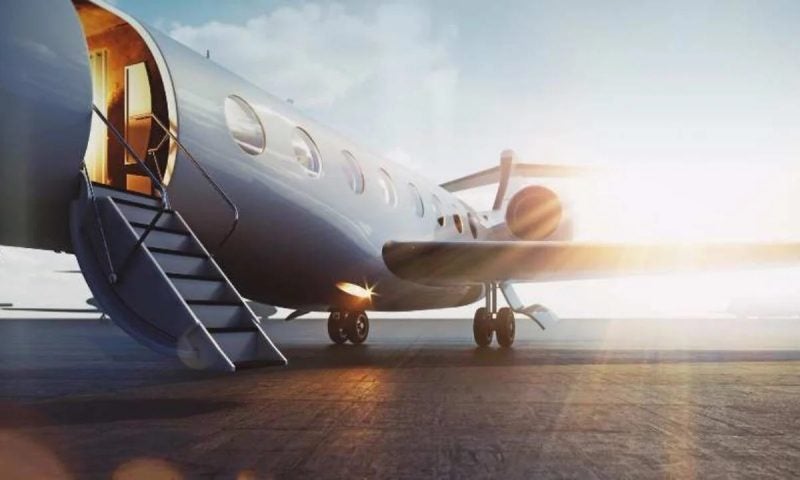 Private jets and luxury helicopter transfers suddenly became the only viable modes of international transportation for many. Commercial airlines reduced or halted connections entirely, leaving both private and business travellers with (literally) nowhere to go.
All of which played perfectly into the hands of the private aviation sector, which by January this year was back to 90% pre-pandemic performance. By October last year, some providers like VistaJet were reporting almost 50% more interest from corporate customers worldwide in private aviation.
Businesses now account for around 40% of all private flight bookings and enquiries, with around a third of US businesses indicating their intent to use more private aviation in the future.
A Trend Set to Continue?
As for the months to come, the logically assumption is one of a gradual reversal of these statistics. But with the effects of COVID-19 set to linger for some time (and perhaps worse and significantly longer in some regions), this is unlikely to be the case.
The past 12 months brought about a series of private aviation trends unlike anything seen since the dawn of the industry. Rather than an outright reversal, 2021 is widely predicted to bring more of the same.
As recently as March this year, major airlines like EasyJet were still only operating at 25% of their normal capacity. Other chose to suspend their services entirely until June, adopting a 'wait and see' approach in the face of ongoing uncertainty.
All the while, the services of private aviation providers are in record demand worldwide. Even when commercial airlines get back to business at full capacity, this is something analysts do not see changing a great deal.
Here's why:
COVID-19 Safety Fears Are Here to Stay 
From checking in to arriving at your destination, there are around 700 points of contact along the course of a commercial slight. With private charter flights, it can be as few as 20. Even fewer if you own your own private jet or helicopter.
700 points of contact should raise red flags with anyone who continues to take the threat posed by COVID-19 seriously. Just as long as the Coronavirus poses a risk to the public in general, commercial travel is likely to be viewed as a risky option by many.
There's no formal evidence to suggest commercial plane travel is hazardous, but the appeal of private aviation is nonetheless understandable.
A Faster and More Flexible Option
Flexibility and reliability are attributes that have largely gone out of the window over the past 12 months. These days, booking a commercial flight means accepting from day-one that it might not go ahead. Or if it does, that the dates and times of the flight are (very much) subject to change.
From important business trips to long-overdue holidays to visiting family overseas, millions have seen their plans scuppered at the worst possible moment. Issues at departure or destination airports, flights cancelled outright, government-imposed restrictions – all wreaking havoc with domestic and international air travel.
As this issue is likely to perpetuate for some time, so too is the undeniable allure of private air travel. Along with being faster and more flexible, you can always count on a private aircraft to get you where you need to be, when you need to be there.
The Growing Affordability of Private Aviation
Luxury air travel is understandably associated with insurmountable costs. If you plan on buying your own private jet or luxury helicopter, then yes – it's going to cost a pretty penny. But when it comes to securing seats on luxury charter flights to popular destinations, private aviation can be surprisingly affordable.
If you are flexible with your travel dates, you can often bag a bargain seat on an empty-leg flight with a discount of up to 75%. This is where planes are transported from one destination to another without passengers on board, which is something most carriers and operators do.
Even if you decide to go the whole hog and purchase your own aircraft, doing so is becoming increasingly affordable. The cutting-edge HX50 luxury helicopter from Hill Helicopters, for example, is now available for pre-order at an astonishingly low £495,000. New-generation luxury aviation technology, up for grabs at supercar money.  
Business is Bursting Back into Life
Last but not least, most of the world's biggest businesses neither ceased nor slowed their operations throughout the pandemic. Come what may, CEOs and executives will always need to travel long distances for important engagements.  This was no different in 2020 and is unlikely to prove any different going forwards.
If anything, the fact that so many businesses have so much lost time to make up for suggests demand for private aviation will increase significantly. Zoom and Skype are negating the need to travel to an extent, but will never fully replace the value of in-person meetings.
For all of the reasons outlined above, businesses understandably prefer the option of private air travel where available. Pushing the boat out for important clients, investors and strategic partners is the norm. When such VIPs have not been visited in-person for some time, making it happen with private air travel is a no-brainer.