Miami is known for its incredible sunshine, beautiful beaches, world class luxury and art deco buildings. ‌In‌ ‌this‌ ‌ article, we will look at four luxury buildings that are coming to Miami.
Bacarat Residences
Brickell's new luxury residential mix-use building, Baccarat Residences Miami, boasts the latest features and an exclusive location that will pamper all residents. This is where life forever sparkles.
Bacarat‌ ‌condos‌ ‌ range from 1-4 bedrooms and are the epitome‌ ‌of‌ ‌luxury. The buildings come with all the extra amenities: heated pool and club room, fitness room, gourmet market and more.
A true architectural gem, Baracarat Residence Miami offers you the latest features and a great location. Built by Related Group, the largest developer in Miami, this will be a wonderful place to live. The unique architecture was created by Aquitechtonica and the breathtaking interiors are the vision of Meyer Davis.
The location is minutes away from PAMM, Museum Park, Brickell City Center, American Airlines center and boasts some of the best views of the city. Expected completion 2025.
Waldorf Astoria Residences
It will be a luxurious experience that will make you feel like you're living‌ ‌amongst‌ ‌the clouds‌ ‌in‌ ‌downtown‌ ‌Miami. A breathtaking 1049 feet into the sky will soon be Miami's tallest tower. It will grace the Miami skyline with a futuristic design by Carlos Ott and Sieger Suarez.
With its world class luxury interiors designed by BAMO, the 100-story Waldorf Astoria Miami Residences will be a wonder in the Miami skyline.  In addition to a spa and fitness center, the hotel will feature a pool deck, a cafe and signature restaurant, as well as event ballrooms. And if that is not enough it will be set in the heart of Downtown Miami's central business district, offering the best stores, restaurants, cultural spots, and nightlife. Expected completion 2026.
The Perigon Residences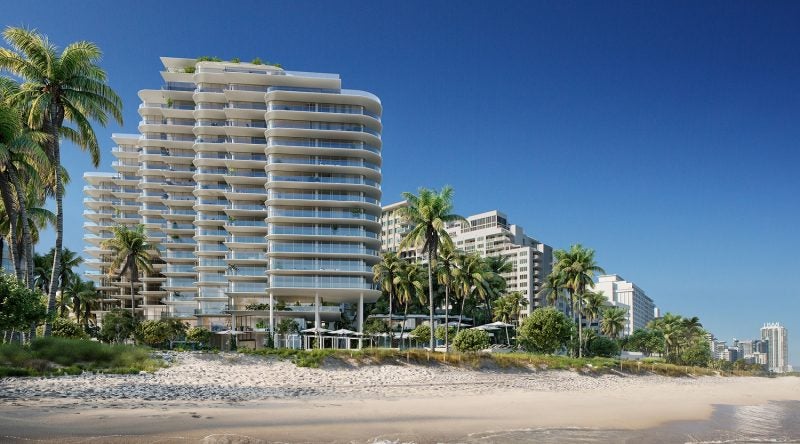 One‌ ‌of‌ ‌the‌ ‌most‌ ‌unique‌ ‌and‌ ‌memorable‌ ‌shapes‌ ‌for‌ ‌a‌ ‌condo‌ ‌building‌ ‌on‌ ‌Miami Beach. This masterpiece will feature OMA design and beautiful luxury interiors by Tara Bernard. The 15,000 Sq Ft of top-class amenities include a waterfront restaurant with bar and pool, and a spa and wellness center, plus 183 parking spots.
Surrounded by stunning beaches, shimmering pools, trendy boutiques and for those that enjoy sunny days and an unforgettable location, The Perigon Miami will present a new level of sophistication for everyday living. Expected completion 2025.
Una Brickell Residences
This 45-foot tower will add a new level of elegance to the Miami skyline. A picturesque tower with a sweeping curve rises high above Brickell. The building features 135 waterfront units distributed in spacious 2 to 5-bedroom residences.
With architecture and interior design by dynamic duo, Adrian Smith and Gordon Gill expect groundbreaking visuals and truly unique features. With features like the owners' lounge, which gives incredible views of Biscayne Bay waters as the private gardens. The pool deck will have a lap pool, family pool, kids' play area which is complemented by luxurious lounge cabanas and lavish outdoor bars for entertaining. As if that is not enough, Una Residences Miami will be in prime location with easy access to Biscayne Bay, The Atlantic Ocean, Coconut Grove, and downtown Miami. Expected completion 1st quarter 2024.