This isn't going to be your ordinary bathroom visit. It's not the kind where you go in, do what you do, and leave. This one's more luxurious and comfortable.
It's the one where the seat is heated to just the right temperature, there's a cleansing stream of warm water to wash your parts, followed by a full air dry, and once you get up, the toilet flushes on its own, and the seat slowly drops – without that annoying "clank!" 
If you guessed you were in a high-end hotel room, a Hollywood penthouse, or a top-tier retail store, that's a possibility. But you'd also be right if you said that millions of ordinary people have these in their own homes – people who have chosen to make their bathroom experience cleaner, relaxed, and even environmentally sustainable.
We're talking here about the TOTO WASHLET bidet seat.
TOTO began as solely a Japanese company over a hundred years ago; and into its development, they learned what European and North American (i.e., Western-style) toilets were like. Bill Strang, President of Corporate Strategy, eCommerce and Customer Experience for TOTO in the Americas, says it was, "this wonderful intermingling of cultures," that led to the company becoming trailblazers.  
A turning point occurred on this continent in 1989, when TOTO established itself in California, as the state was experiencing a drought. The company knew it could fill a void, and help in its own way, as its reputation for manufacturing water-efficient toilets in Japan intersected with American water conservation efforts.
Sustainability has always been part of their corporate identity. Their manufacturing plants run on eco-friendly power, and they take every possible method to use environmentally safe materials. 
A variety of components are recycled, and reused, throughout the processes. "We actually have a calculation that measures every aspect of the production, through the use phase of a toilet. We actually measure the carbon footprint of a toilet," Strang says, adding that TOTO designs its high-performance flushing systems to ensure no water is wasted and ensures the bowl's cleanliness with special technologies – PREMIST, CEFIONTECT, and EWATER+ — that eliminate the need for harsh cleaning agents, which benefits the environment.
That also means money saved for the customer. For these and other efforts, the US Environmental Protection Agency (EPA) designated TOTO, the only plumbing manufacturer so honored, "Water Efficiency Leader." 
Today, TOTO is an industry leader – the world's largest plumbing manufacturer, in fact, with more than $5.4 US billion in annual sales, and products everywhere ranging from homes, hotels, resorts, airports, restaurants and more. 
Famously, what TOTO has done is given the humble toilet seat a make-over, or a reboot, if you will. It is "the next generation" of bathroom experience, as described by Strang, referring to their signature WASHLET Bidet Seat. 
The WASHLET, among its many advantages, has an adjustable spray based on wherever your wash preference is. The water can be oscillating, or change to a pulsating wash; change the temperature or change the pressure. 
Adding to a cleaner bathroom visit, the company touts it as "a worldwide revolution in personal hygiene," boasting it's the global bestselling brand of toilet seats with bidet functions. With the ability to be installed on almost any toilet, WASHLET high-tech bidet seats have been popular, with fifty million units sold around the world since 1980.  
"I've had people tell me stories about how they have guests come to their home for dinner or Thanksgiving or watch a football game. And when their guests come in; everybody invariably goes to the bathroom with the WASHLET, and then you can see giggling coming out of the room. 'Oh, my God. That was wonderful,'" he says.
"The bathroom is our opportunity to have some respite from all the chaos and all the noise and craziness in our world, and make that place a place where you can feel comfortable, and WASHLET looks great. It feels great. And by the way, you're going to get a cleaner experience when you walk away from it."
And yet, another turning point occurred, and it was recently.
Remember the COVID-19 toilet paper panic of March, 2020? When supplies began running out, the search term "bidet" on Amazon was in the 3,000s, says Strang. But suddenly, the word shot up as the 20th most searched item. "That's a lot of folks looking up bidet," he says. "You can have the experience of going to the bathroom, be quite clean and refreshed, and actually either minimize or eliminate the need for a toilet paper experience." 
As opposed to plumbers once upon a time being the key recommenders of TOTO products, it's clear that, "in the era of social media, it has changed the way we do business today. It is m-commerce," Strang says, referring to "mobile devices." 
Now, the company's products are more popular than ever, and will probably see an even bigger boost, as sales tend to quadruple during the holiday season. People purchase units as gifts for their parents or grandparents, "because they know it provides them with the opportunity to stay cleaner, and have a better experience in the bathroom."
Fortunately for consumers, TOTO's the only manufacturer to have a research and development facility dedicated to ensuring their products can accommodate the spectrum of ages and abilities. "You're going to have not only comfort, but adaptive and available to all peoples, from children to elders, all the way through your entire life's journey," says Strang.  
Another innovation of TOTO is their wall-mounted toilets. So while standard toilets are floor-mounted, with the drain in the floor, these new units save space. This is particularly important with multi-story verticals, and where urban centers continue to grow, and people move into smaller homes. The floor space in the bathroom becomes precious. And so, TOTO's adopted the SP WASHLET+ SW wall hung toilet.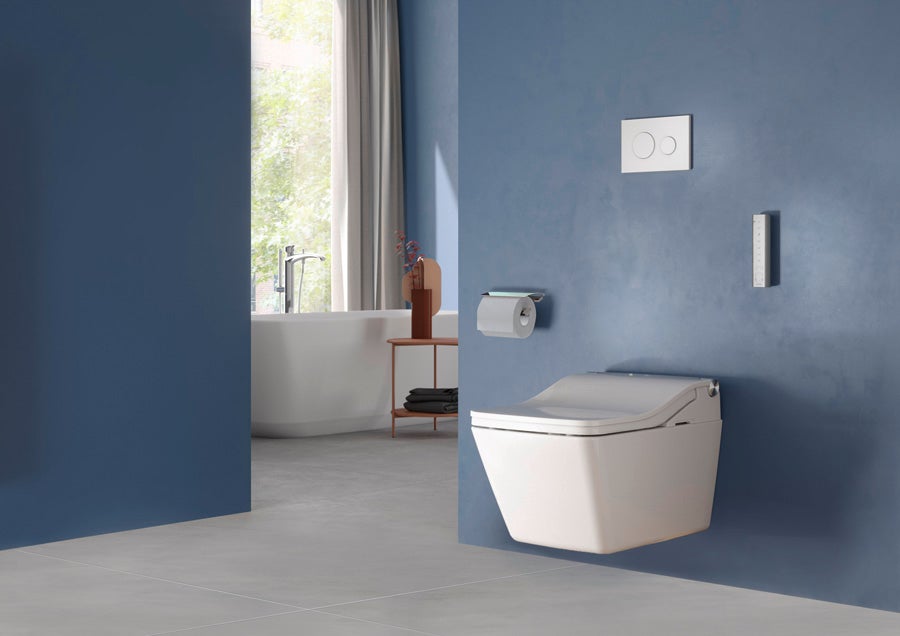 Among its advantages are it's easy to clean underneath, and there's the ability to move that toilet up a little bit or down a little bit on the wall (at the time of installation), to accommodate any unique needs. And probably the most important part of this, is having that tank inside the wall; the WASHLET waterline and the powerline are hidden, no protruding supply connections. 
Their powerful DYNAMAX FLUSH TORNADO technology spins water around the bowl to scrub surface debris, and coupled with their patented super-smooth glaze (CEFIONTECT), waste is far less likely to adhere to porcelain. (As a plus, it reduces the need for harsh cleaning products.)
TOTO has earned its way into being synonymous with producing quality bidets, plumbing fixtures and toilets that enhance the bathroom experience. This one company changed so much about the industry, and the way people spend their time in the water-closet.
"We can go product by product, system by system, commercial, residential, and institutional, you name it — technologies and innovation that TOTO has brought, were first to market." 
Obsessed with wellness, comfort, and hygiene, TOTO continues to utilize innovation, technology, and groundbreaking design to enhance the bathroom experience.