Private Jet Travel – your first flight tips
Flying on a private jet for the first time can be quite an experience, and one you'll want to remember forever. But you'll want to remember it for all the right reasons, that's why we've got some really useful first-time flight tips to enhance your experience and help you travel like a pro.
Private jet travel is a little different than what most people are normally used to. However, with a list of helpful flight tips for first time flyers your private jet trip should go without a hitch. 
First flight ever tips – what's an FBO?
When you travel with a regularly scheduled airline, you make your way to the airport, follow the signs, find your terminal, check-in your baggage, join the queue, and make your way through the security check. With private jet travel, things are a lot different and a lot less complicated.
Your first private jet travel tip is this. Usually, when travelling by private aircraft you won't be using the airport's main terminal, in fact, you may not even be using the main airport at all. Private jets often use smaller airfields or regional airports where they can offer a more individual service and avoid the delays and frustrations associated with major airports.
Another great private jet tip is to know what an FBO is. FBO stands for Fixed Base Operator – you don't need to worry about what it really means, it's enough to know that FBO stands for a faster and more simple boarding process for your private flight. With most FBO facilities you can take your car directly to their flight office and leave the hassle of finding a parking space behind you. Some private jet companies – if it's part of the charter arrangement – will even pick you up and transport you directly to your point of departure.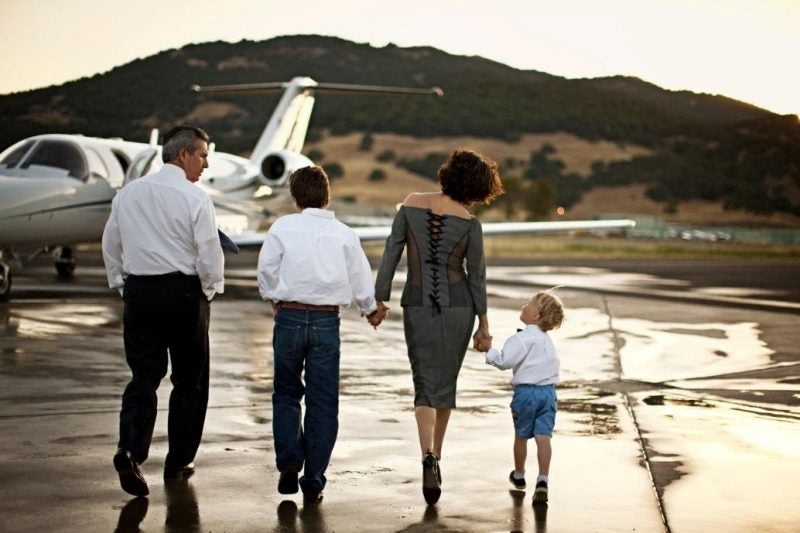 Tips for first-time flight travel – do you need ID?
Another important tip for a first-time flight onboard a private aircraft is to know that yes, you still need to go through passport control, security, and any immigration processes involved. But the good news is that all of these formalities are usually fast, quiet, stress-free, and an integrated part of an overall seamless process. That means, no queues, and in these COVID-19 times, no crowds.
And, to make it even better, the process is the same once you arrive at your destination. This is especially rewarding for those who want to travel from A to B in comfort and safety. Your private jet charter company can even have your choice of vehicle, waiting at the doorstep once you arrive.
One more thing. It might sound a bit obvious as a private jet flying tip, but you'd be surprised how many passengers arrive without their passports or ID. Remember, if you're flying domestically a photo ID card is usually enough, but you're going to need a valid Passport for international flights. One of the first international flight tips you should be aware of is that a private aircraft charter may be a super luxurious experience, but you still need to have a valid passport or you won't be going anywhere.
First-time private jet travel – what about luggage and pets?
What you can take with you on a private jet flight is usually determined by the type of aircraft you'll be flying on, that's why it's best to ask the charter company regarding your luggage. On smaller, lighter aircraft you probably won't be able to access any of your larger luggage, so, just like on scheduled airlines it's always best to pack what you need in a smaller carry-on case.
For larger aircraft types there's a very good chance that the large-luggage compartments will be onboard, allowing you access to whatever you need. However, as a rule-of-thumb, most experienced travellers stick to the guideline, 'if you really need it, keep it close'.
Like we mentioned earlier, your private aircraft type and size will determine what you can and can't take with you on board. But just like regular airlines, private charter planes also have a list of prohibited items – knives, weapons, sharp objects, chemicals, etc. Check with your private jet broker if you have any doubts. Despite the rules and regulations governing prohibited materials, private jets will allow liquids like perfumes, toiletries, and even those extras bottles of something to bring back memories of your trip.
But what about your beloved pets? Once again, depending on the conditions of your charter, and international laws regarding the movement of animals, you may even be able to bring your pets onboard with you. But, to make doubly sure, check with your broker before arriving at the airport with Rover or Fluffy in tow.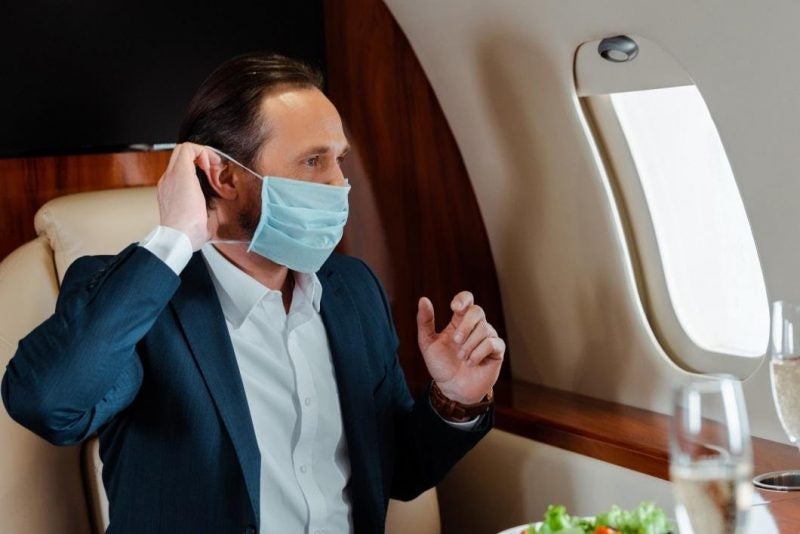 Onboard tips for flying in a private jet
As things stand due to the COVID-19 pandemic, there may some additional steps to be completed before boarding the aircraft. These may include a masking or disinfection process to go through, however, this will depend on the destination and the status of the travelling passengers; all flight crew and attendants will have completed all of the necessary testing and documentation protocols.
Once onboard, like on all aircraft, the flight crew will perform their pre-flight safety instructions, and offer any other advice deemed necessary (which at present should include COVID-19 information). While private flying is less restrictive of your onboard movements, passengers should always adhere to the advice of the cabin crew.
If you're lucky, you may even be invited to speak with the pilot or pilots and have the opportunity to add a uniquely memorable experience to your travels. But remember, you may only do this with the approval of the flight crew and never take it into your own hands.
Depending on the aircraft type, and configuration you're flying, you may have access to onboard internet, TV, international phone facilities, or whatever other benefits and services have been provided by the charter company or the private jet owner. One thing you won't have to worry about, unlike commercial flights, is that you won't be asked to turn off your phones or devices while onboard.
It is highly unlikely that some form of refreshments won't be available onboard, in fact, depending on the aircraft, the occasion, or the aircraft's owner, your dining options may range from simple snacks to personalised menus. Whatever it is, it's sure to be of a far superior standard than that of travelling economy on a commercial airline. If it is you, personally, that happens to be chartering the aircraft, then, depending on the aircraft type, the number of passengers, or the budget, everything, including menus, can be customised to suit your needs.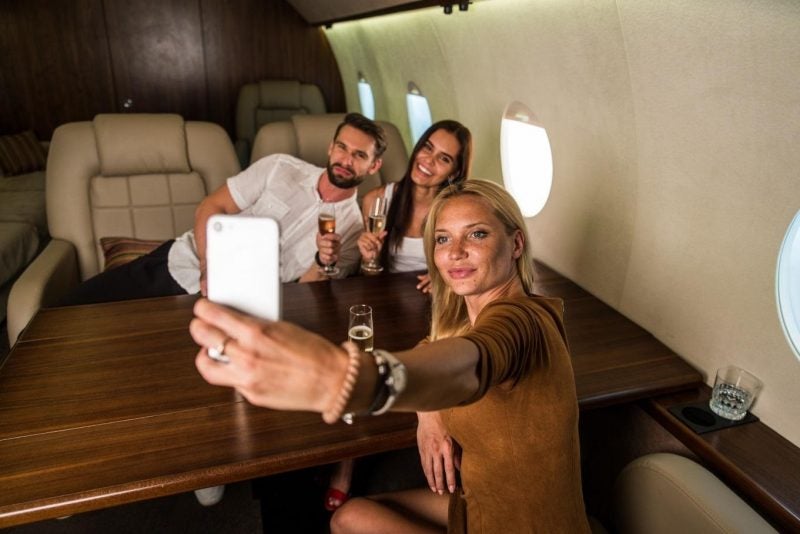 Etiquette – how should you behave on board a private jet?
A question that regularly crops up, whether a person is travelling as a guest on another's aircraft, or travelling as a private passenger, is the question 'is there a standard dress code'? While the answer is most likely to be 'no', it may be advisable to read the situation more carefully. It might be worth considering with whom you are travelling, will there be formalities on arrival, or are there any other things you should consider – these may be professional, religious, or a general dress convention if flying for business or a special occasion. However, you yourself will most likely be the best judge of your dress code.
If your flight comes as a private invitation from the jet owner, there is the question of etiquette to be considered. Allow the host to board first, recognise if they require their privacy, and also be aware that they probably wish for their movements to be kept secret – no selfies, tagging, or log-ins on social media – and follow the lead of other more experienced members of the entourage.
In order words, respect the rules as you would if you were a guest in another person's home. Then, sit back and enjoy a truly unique experience.
Arrival at your destination
As is the case with most private jet travel, you should arrive at your destination fully refreshed and prepared for the next part of your journey. Commonly, a vehicle will collect you directly from the exit steps of the aircraft, negating the need to navigate the airport terminal. If you have no on-the-ground transport arranged, the pilot will usually be happy to radio forward and arrange for a car to be waiting. And, as your baggage and yours alone are travelling with you, you can avoid a long and often frustrating wait at the airport's baggage carousel.
Before you leave, a kind word with the crew and flight attendants goes a long way – you never know when your paths might cross again. If you feel so inclined, the offer of a gratuity for excellent services may be appropriate, but not necessary.
And most of all, enjoy the fact that you have just had one of life's great travelling experiences and rewarded you with a rich and colourful palette of memories to be enjoyed again and again.