Punta Cana is the ideal destination for an unforgettable trip with friends, thanks to its enticing combination of
sun-drenched beaches
,
vibrant nightlife
,

and

numerous all-inclusive resorts.
Embracing the comfort, excitement, and unique advantages of Punta Cana all inclusive resorts, we embarked on an exhilarating adventure to uncover why Punta Cana shines as a paradise for group getaways.
Join us as we delve into the mysteries and hidden gems of Punta Cana. To ensure you make the most of your time in this tropical haven, we'll provide valuable advice and insights to enhance your experience.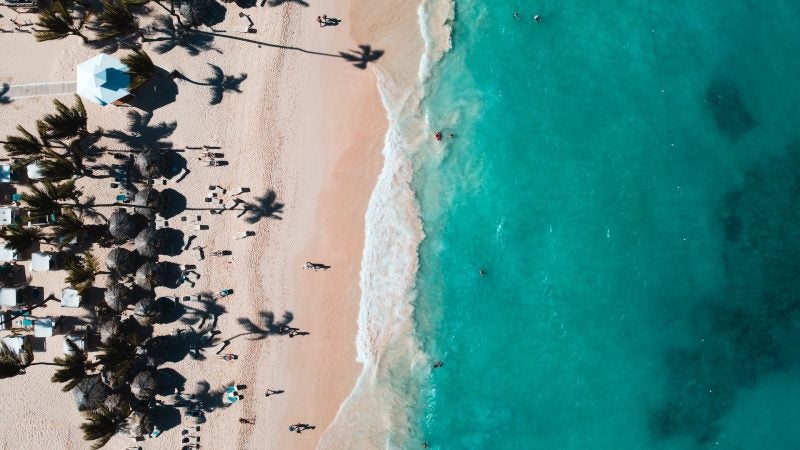 All-Inclusive Resorts: A Dream Come True for Groups
The all-inclusive resorts in Punta Cana are a traveller's dream, catering to your every need and desire, allowing you and your friends to unwind and enjoy yourselves thoroughly.
These resorts offer various options to accommodate different budgets and preferences, ensuring everyone can find the perfect fit. From luxurious accommodations with lavish amenities to more affordable options, Punta Cana's all-inclusive resorts provide an escape where you can focus on creating lasting memories with your friends.
When selecting an all-inclusive resort in Punta Cana, consider the location. Some lodges are nestled amidst lush tropical gardens, while others offer direct beach access. Decide whether you prefer the tranquillity of being surrounded by nature with breathtaking views from your window or the convenience of having the sand just a few steps away from your doorstep. 
Beach Bliss: Sun, Sand, and Water Sports
The stunning beaches of Punta Cana are the perfect backdrop for an unforgettable trip with friends. Picture yourself in a postcard-worthy paradise with silky-smooth, powdery sand and crystal-clear turquoise waters.
All-inclusive resorts in Punta Cana often grant direct access to these breathtaking beaches, allowing you to spend your days swimming, sunbathing, and enjoying various water activities without any hassles or additional travel costs.
To make the most of your beach experience, consider bringing snorkelling gear. The beautiful coral reefs off the coast of Punta Cana offer a fantastic underwater adventure, teeming with vibrant marine life.
Exciting Entertainment and Nightlife
When the sun sets, Punta Cana comes alive with an electrifying nightlife that guarantees endless fun with friends. All-inclusive resorts boast numerous bars, nightclubs, and entertainment venues, providing various options for an exciting night out.
The energy and excitement are infectious whether you're dancing the night away to the beats of renowned DJs, immersing yourself in live music performances, or getting lost in themed parties.
For a thrilling experience, venture beyond the resort and explore Punta Cana's nightlife scene. Mix with locals and fellow tourists in the famous pubs and eateries of the nearby El Cortecito neighbourhood, creating lifelong memories outside your comfort zone.
Group-Friendly Activities and Unforgettable Adventures
While all-inclusive resorts in Punta Cana offer many services, take advantage of the opportunity to venture beyond their borders and explore the region. Punta Cana is a true adventurer's playground, offering a wide range of group activities and awe-inspiring excursions that will leave you breathless and with a treasure trove of vivid, life-affirming memories.
Immerse yourself in the mesmerizing turquoise and azure hues that contrast with the diverse vegetation on the island. Then, embark on a catamaran sail to Saona Island, where you can swim in crystal-clear waters, unwind on pristine beaches, and savour a mouthwatering beachside BBQ. This excursion perfectly blends excitement, relaxation, and scenic beauty.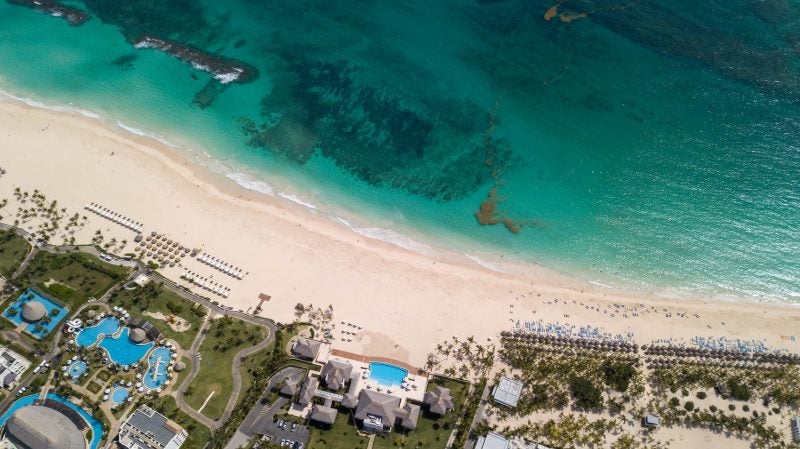 Bonding and Relaxation in Tranquil Settings
Punta Cana caters to thrill-seekers and provides ample opportunities to unwind and spend quality time with friends. Take advantage of the spa services and wellness programs offered at all-inclusive resorts, where you can enjoy group spa treatments, soothing massages, and beachfront yoga classes.
These serene moments in tranquil surroundings will strengthen your bonds and create lasting memories.
Remember to stroll along Punta Cana's stunning Bavaro Beach. Take in the breathtaking sights, feel the soft sand beneath your feet, and let the soothing sound of the waves melt away your stress.
Conclusion
Punta Cana is the perfect destination for a friends' getaway, thanks to its all-inclusive resorts and breathtaking natural beauty. With a blend of convenience, diverse activities, vibrant nightlife, and the allure of all-inclusive packages, Punta Cana promises an extraordinary experience.
By venturing beyond the resort areas, you'll have the opportunity to immerse yourself in the customs and culture of the people of Punta Cana. Explore the vibrant markets and boutiques to discover unique souvenirs, artisanal goods, and local specialties. And, of course, you can indulge in the mouthwatering Dominican cuisine, including the flavorful mofongo and delectable seafood dishes made with the freshest catch.
Engage with the warm and friendly locals, and delve into the rich history that shapes this remarkable region. Adding this cultural dimension to your friends' vacation will bring authenticity and depth to your experience in Punta Cana.
Whether you're lounging on the beach, immersing yourself in the lively nightlife, embarking on thrilling adventures, or simply unwinding and cherishing time with friends, Punta Cana offers an unforgettable group getaway. So pack your bags, gather your friends, and get ready to create lifelong memories in the all-inclusive paradise of Punta Cana.