It's been just over 50 years since John Lennon and Yoko Ono staged their famous 'bed-in' to promote world peace. The year was 1969 and the US was locked in conflict in the Vietnam War.  John and Yoko were against it, as were a great many people, and they invited the media into their hotel room, the presidential suite at Amsterdam's Hilton Hotel. From there, the newly wed couple promoted world peace and urged people to reject violence in all its forms.
That's what they were doing from their bed, but there are people out there who work from their bed. Rather than keep their nice, comfortable bed from a company like Bedstar or other provider as somewhere just to rest, they're send outing emails and doing other tasks while they're head or back is propped against two pillows.
If it works for them, so be it, but is working from bed really a good way to get work done?

Why would anyone work from their bed?
This seems to be something of a millennial thing. Past research has revealed that as much as 80% of young professionals work from bed. It's more than just about working in complete and utter comfort, though. Some see it as a way to respond quickly to emails from clients in different time zones. Others think of it as a relaxed way to keep on top of business… kind of 'I'll just climb into bed and squeeze in a couple of hours before I hit the hay for the night.'
Then there are those who think it's simply just the best place to work. The bedroom offers peace and quiet, allowing them to crack on with answering those emails or writing up that article.
And of course, there's the fact that bed is the comfiest place in the home. Why not work there? Some people have even confessed working from bed is essential for their wellbeing. On those days when they're not feeling particularly great, they don't have to leave the one place many of us retire to: bed. Permission from an employer to work from home can make us feel as if we're not just another number, not just a cog in the wheel.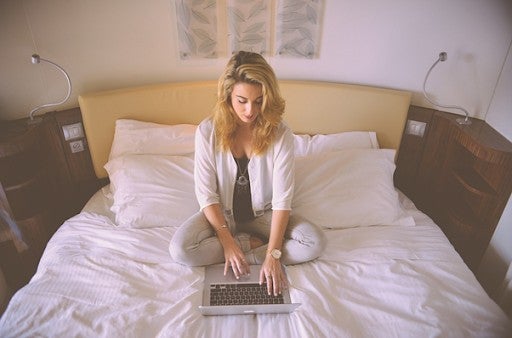 Is it productive, though?
This is where the jury seems to be out, or at least not in agreement. The chances are that if you work from your bed or elsewhere in your home, you'll be tempted to work in your pyjamas, which is believed to be counterproductive. You may be as comfortable as hell, but your brain won't wake up.
The lack of productivity and your sluggish brain could well be because you're providing yourself with too much relaxation. Working from bed blurs the line between work and leisure, which creates the sense of imbalance. As a result, you either start to think you're being over-used in your working life or you develop a general apathy towards your job itself. The time could be much more productive if you were focusing on your work and on completing tasks.
Let's not forget tradition, too. Beds are for sleeping in. Desks are for working at. That has long been the order and is the way we're wired to operate as humans. The brain performs a series of functions to help us wind down alongside activities that we would normally complete in bed. When we work in bed, we begin to develop a different culture for our bodies and this affects our ability to sleep.
There's also the impact of working on a screen right before bedtime. Although lately it has been disputed how much impact screens have on our health, researchers have stated that working with bright screens before we go to bed affects the quality of our sleep. The reason is they prevent from the human body from producing enough melatonin to help us fall asleep.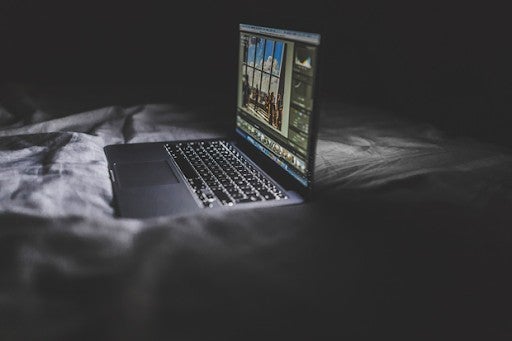 Is working from home itself productive?
Incidentally, if you're an employer and are wondering about the practicality of working at home at all, then you can rest easy. Research has found that working from home can boost productivity, which is good news. The catch, of course, is that you must be willing to surrender some control to your employees by doing this, which isn't always easy.
The research, by the German Institute of Economics, found in 2018 that 60% of the people who took part in the survey were very satisfied in jobs where their employer had less control. There's clearly no place where they have less control than in your own home!
One of the other key reasons for higher productivity is the lack of noise. In a global survey of business professionals in the UK, US, Germany and France, conducted by Jabar, many of the people who took part in the research considered noise to be the biggest hindrance to productivity. The survey found that they thought employees talking to each other in the direct work area was the most annoying type of noise.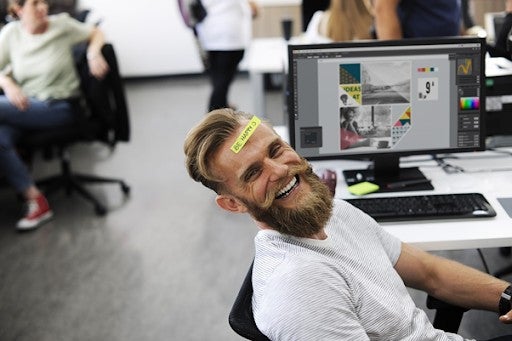 So how can you be productive but not work from your bed, then?
If working from bed is a productivity killer — and maybe even a wellbeing one — then there has got to be a solution, of course. If you're working for yourself, it might not be so much of an issue whether you work from your bed or not, but if you're working for an employer, they might not be too happy if they're aware of the lesser productivity it could incur.
Here are a few ways you could boost your wellbeing and your productivity when you work from home (but not work from your bed):
Designate a separate space for work
It's all about keeping your bedroom as a place to rest. That means not bringing your work into it. Create a separate area of your home for working in. You could have your own office or even just have your own work desk. Of course, you have the flexibility to get out and about, too, during your working day. Why not try working in a coffee shop or coworking space?
Keep devices away from your bedroom
Part of keeping your work away from your bedroom is keeping your devices away from it. If you bring them in, you'll be tempted to check and respond to emails at random times. There's also the potential for social media interruptions to interrupt your sleep. Leave the devices outside of your room. They'll still be there in the morning.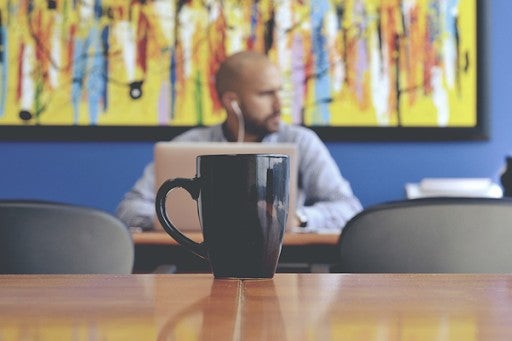 Listen to some music
Music can improve your productivity because it puts you in a positive frame of mind that helps you to get things done. Personal personal choice is important because the music you choose can help you to finish tasks quicker, so long as it isn't too heavy. Don't just think it's the old classical music cliché either. Music that includes sounds of nature is a good choice because it improves concentration.
Keep your room cool
You can maximise productivity by keeping your room at the right temperature. A temperature of 20 to 25°C is thought to be the right temperature to achieve productivity, but everyone is different, so set the room temperature to one that is suitable for you. Opening a window and letting in the fresh air, so that the room doesn't feel too stuffy, can help.
You might not be planning to campaign for world peace from your bed like John Lennon and Yoko Ono did, but if you do work from home, you want to be able to do it effectively. That means setting boundaries by keeping your bed for resting, making another part of your home your workspace and adopting habits that will make you more productive. Combine all these and you'll rest better and perform better.