It shouldn't come as a surprise to anyone that electric and hybrid vehicles are becoming more and more popular. Auto makers are investing a lot of research and development resources in an attempt to lure the consumer to their brand.
While Tesla got an early start, pumping out Model S's in late 2012, many auto makers have since caught up.
You now have the option of going to almost any automakers showroom and test driving their iteration of a hybrid, all electric or gas/electric battery equipped model.
I recently had the opportunity to spend a week with the 2018 BMW 5 Series 530e xDrive iPerformance Sedan Plug-in Hybrid.
Finished in Alpine white with Cognac Dakota leather with contrast stitching/piping ($67,500 CDN)This specific model was also equipped with the Premium Package Enhanced ($6,500 CDN) which included soft close doors option, adaptive LED lights, heads up display, Harman/Kardon sound system amongst other goodies. Interior Comfort package ($2,500 CDN) which included heated and ventilated seats. Driver Assistance package ($2,900 CDN) with a fantastic 360 surround View w/3D View. Smartphone connectivity Package ($750 CDN) which includes Apple CarPlay, wireless charging and WiFi Hotspot. And last but not least a stand alone option of Steptronic transmission ($500 CDN) with paddle shifters finished in a brushed satin look steel. The whole specifications come in at $80,650 (CDN).
The 530e comes with a small all electric battery that is capable of about 25-30 miles on a full charge and also a hybrid battery. But fear not about running out of charge and being stranded. You have a full tank of gas as well which should give you over 300 miles on a tank as long as you don't drive like a  goon.
Speaking of a heavy left foot, you have the option of choosing and customizing different driving modes. From full on thrifty eco mode to the sportiest sport mode you can get for a 4,700 lb luxury sedan.
The car is a very smooth drive over all. The engine and batteries work quietly and simultaneously in switching from gas to battery assisted without really interrupting the commute. You can only feel the switches of power sources on your drives only if you're focused on the task. A small rumble of the engine and vibration to the gas pedal is felt when the engine switches from hybrid/electric to gas.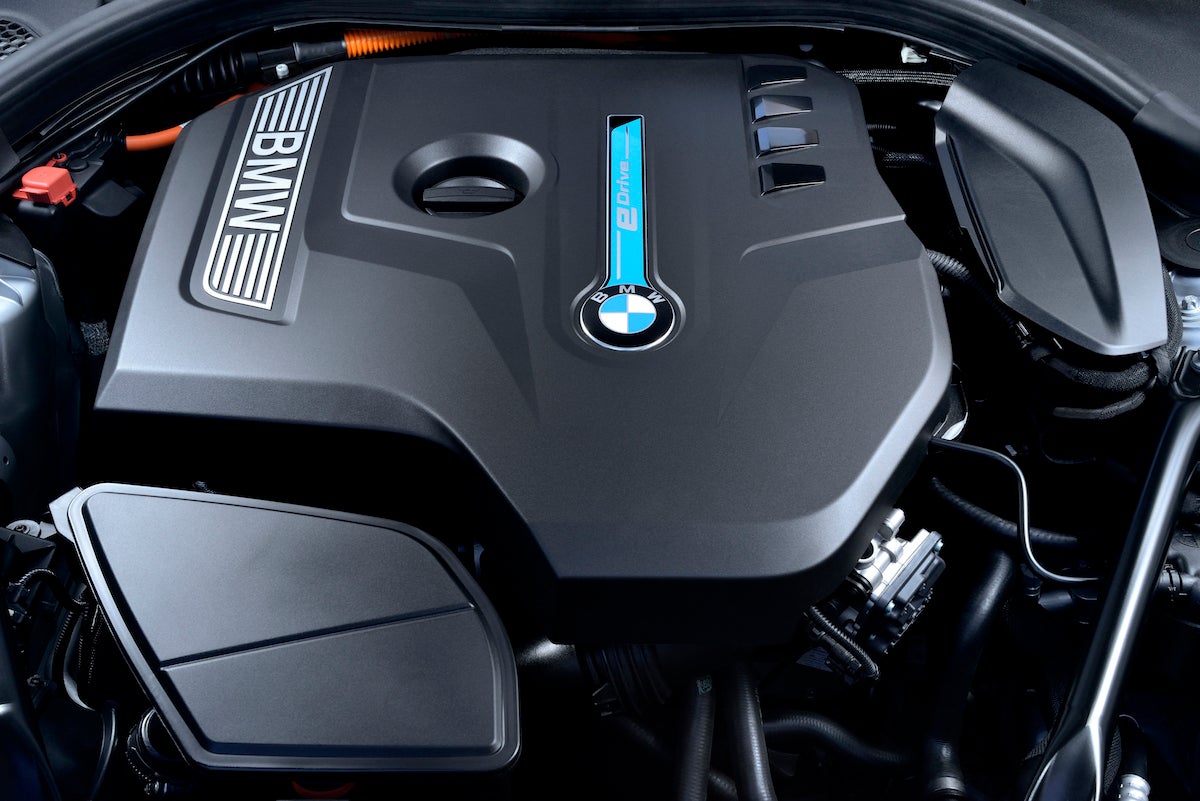 The Cognac Dakota leather interior is a great match for the Alpine white exterior. When it gets dark outside, there's an elegant blue piping LED lighting that illuminates the interior from the dash through to the doors. The lights are quite pleasing to the eye and do not demand your attention or scream gaudy.
The M steering wheel hovers near the top of the class. It is fat, beefy and soft to the touch. I'm happy to see that BMW has moved the steering wheel heater button from the often forgotten about switch that used to be placed underneath and behind the steering column over to the face of the wheel at just under the air bag compartment.
Front passengers have great knee, shoulder, leg and head room. Rear passengers might feel a little cramped when it comes to knee room and foot space. But they have ample head room and also have the privacy option of manual roll up shade screens. Along with heated seats and rear vents. There is also a rear sun shade mesh that is electronically controlled by a button on the driver side door where the window control buttons are located.
Trunk room is marginally sacrificed compared to a 530/540 due to the batteries sitting in the trunk area. You also get a small compartment for groceries or a lap top bag that pulls up from the floor space of the trunk. There is no spare tire option because BMW equips the 530e with run flat tires.
Charging the car is super easy.
I was lucky enough to have a charging station with 4 chargers in the parking lot of my gym. So when the car wasn't in my garage charging in a conventional 3 hole outlet, I would park and plug it in while I went in for my workout. A soon to be growing issue about the growth of the electric car market; there were a few days that I would pull up to the charging station and I was not able to charge my car due to the chargers all being in use by other vehicles. Something you probably would not have seen just a few years ago. I had the pleasure of meeting a very nice gentleman who had just purchased a BMW X5e and we spent some time talking about our pros and cons of electric cars. He told me that he initially wanted to lease the 530e but his wife talked him into the X5e. Smart man for listening to the wife.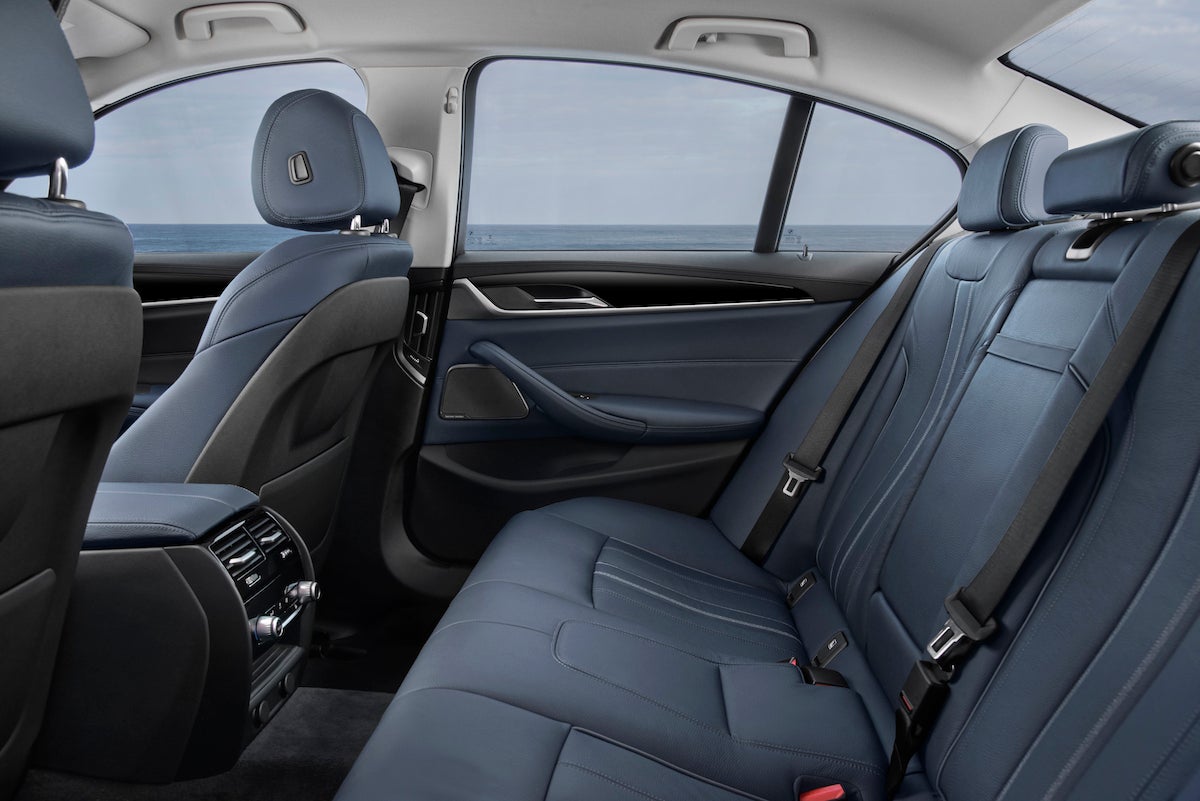 A full tank of gas costs about $75 (CDN) and charging the battery to 100% cost me $1 (CDN). A full tank would cover about 320 miles on average driving. A full charge to equal 320 miles would cost around $16, so it is no surprise that the alternate fuel cars are gaining a lot of momentum and in all honesty, I would have no problem owning one myself. But it would still take me at least a few years before I'm ready to let go of the sound of a naturally aspirated V8 or turbo 6 to get into a car that glides quietly thru the streets. Call me old school but the roar of an engine still gets my adrenaline pumping.