The Transformer Table company isn't just your run-of-the-mill furniture company. They are a company dedicated to transforming your home space with the most versatile, multi-functioning pieces of furniture ever to hit the market. 
Transformer Table makes intelligent and innovative pieces that don't sacrifice on style or design. Their goal is to bring one-of-a-kind products onto the market and into your home, no matter the space you are dealing with. Transformer Table quickly became a household name reaching viewers through TV Networks such as HGTV, DIY Network, NBC Today, Mashable, and many other outlets. Not to mention they even managed to impress the Dragons' on Canadian TV Series Dragons' Den. With quality and innovation and the many rearrangeable configurations that Transformer Table offers, styling a house and making it unique has never been more accessible.
The Dining Set With Endless Possibility
With limitations of spatial size and room dimensions that just aren't configured correctly, homeowners at times struggle not only finding furniture, but functionality. That's where the stylish, multi-functional Transformer Table 3.0 steps in. This 6 in 1 table is made from four different hardwood materials. It includes five panels for expansion capabilities that extend from 18″ up to 118″ for those larger gatherings or a pleasant family dinner on any given night. The bench collapsed can condense to 28″ and expand to a whopping 135″ long.
The Transformer Table 3.0 can sit up to 12 people and support 750 lbs at its full extension. When collapsed, the bench still seats up to six full-sized adults and supports up to 1500 lbs fully extended.
The Transformer Table Dining Set is offered in four different beautiful finishes to match any household decor. For a classic, luxurious look you have American Mahogany. Siberian Birch produces a sleek modern feel. The Canadian Dark Oak is lovely for the modernized household. Last but certainly not least, The Australian Acacia gives off a simplistic rustic vibe that finishes any hardwood home. For those who want options and have space, there is the additional option of adding a coffee table or bench.
Transformer Table doesn't just provide quality, innovative furniture. They are a well-rounded company that impresses on all fronts. When you complete a purchase from them, they offer free delivery and a promise – environmentally minded, they plant ten trees per table sold. For those customers who have Black Friday or Christmas in mind, every Transformer Table purchase will come with a complimentary French bench up until December 6th.
This is a lasting top-quality product, and cleaning isn't tricky but suggested. Use a clean cloth of lint-free cotton and make it damp. Wipe the Transformer Table down in the same direction as the wood grain and enjoy it for years to come.
Transformer Table Isn't Limited To The Dining Areas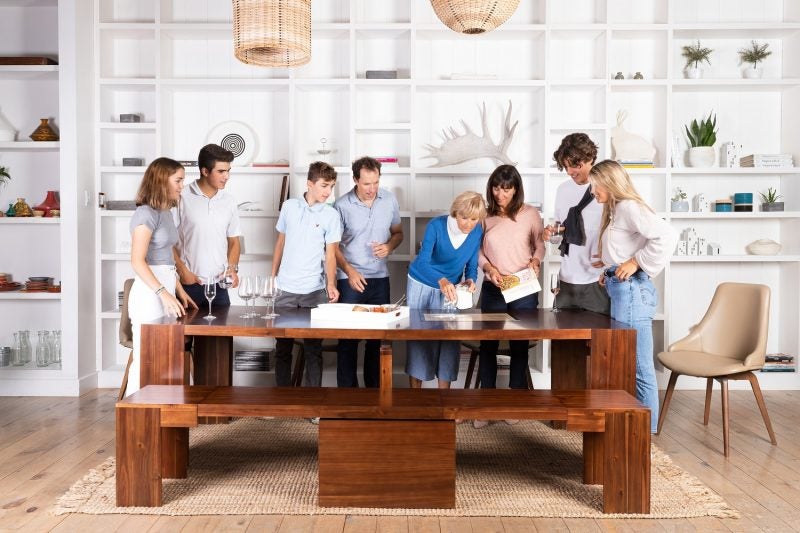 The Transformer Couch is no less impressive. It is an award-winning project. This highly versatile piece of furniture can grow with the home and with the family. It is as versatile as the furniture comes.
It is available from one to ten sections with the most popular sellers being three sections, six sections, and "The Host" which features ten sections of palatial comfort and luxury. Hundreds of different configurations are possible with the Transformer Couch. Because of this potential, the Transformer Couch can fit in any home living space and can be unique to the tastes of any individual. Sections are available to purchase separately and as simple as one at a time if need be. Transformer Table Company will never substitute functionality for aesthetics. High-quality fabric wraps these sectionals in gorgeous coluor to suit any palate.
To complete the look and feel, place the Transformer Coffee Table in front of your luxurious couch. The beautiful and functional Transformer Coffee Table is made with the same hardwood materials and finishes as the Transformer Dining Set and features an integrated panel unit to maximize space. To take it a step further, all five panels fit conveniently within the coffee table itself. Sitting at seventy pounds, the Transformer Coffee Table is resilient, versatile and incredibly sturdy so you can enjoy your morning coffee, hang out with your family or watch TV shows with ease.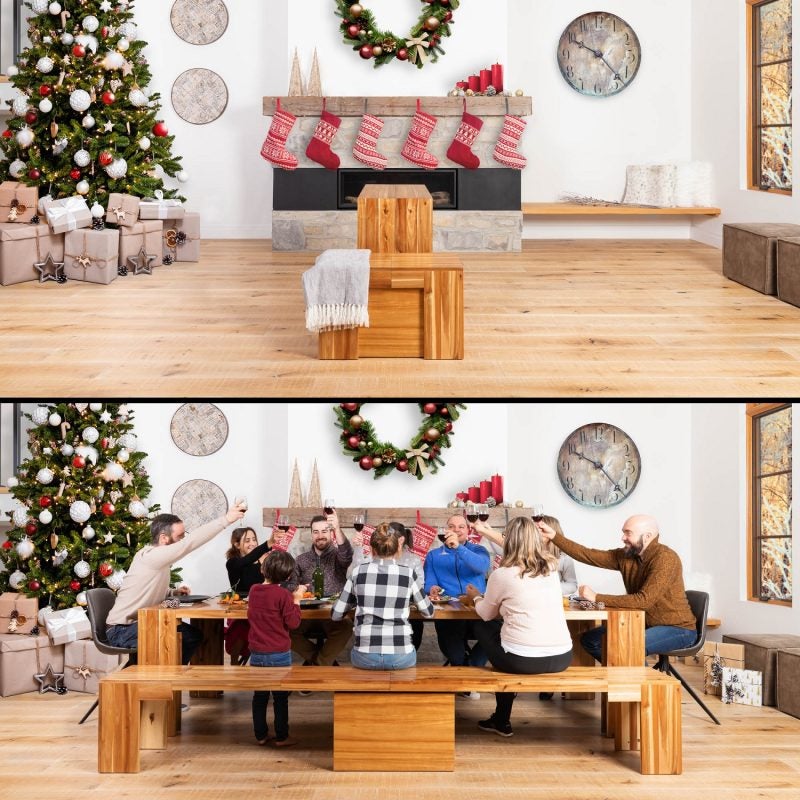 The Outdoors Wasn't Forgotten
Transformer Table Company understands people like sitting outdoors on a lovely evening with friends and family. The Outdoor set comes in a sturdy hand-woven resin wicker wrapping aluminum frame. The wicker itself is available in Grey, Beige, and Brown, making it highly stylish and versatile with many different themes. Heavy-duty cushion material comes in Beige, Light Grey, Grey, and Charcoal. Most impressive is the Outdoor Set grows with sizing necessities as well. Anywhere from a Couple Set-up to 20 Sections can be purchased and played with for any patio seating arrangement.
The Transformer Table Promise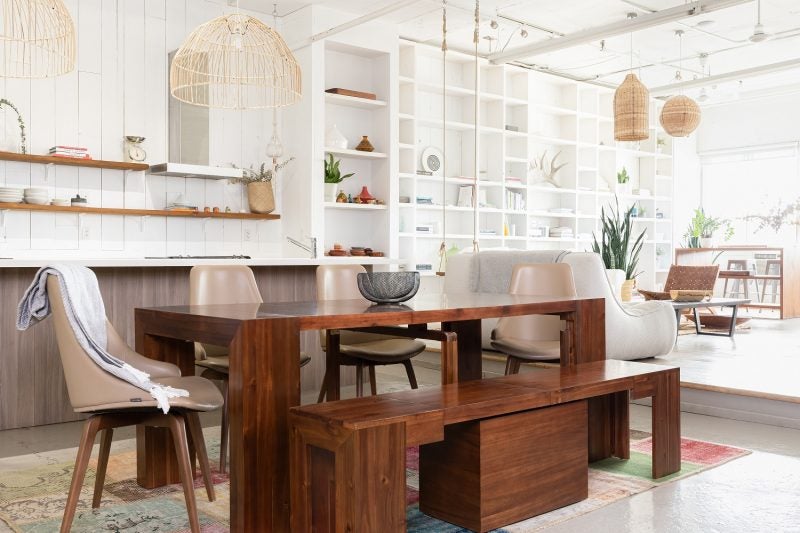 The Transformer Table Company is dedicated to providing innovative and revolutionary furniture. When customers look for multi-functioning and stylish furniture, look no further than Transformer Table.