Gone are the days when skin care was just for women. In fact, with the global men's skin care products market expected to reach $18.92 billion by 2027, growing at an annual rate of 6.2 percent, more and more males are recognizing the benefits of personal grooming.
COVID-19 has only boosted this interest. Think stress, fatigue, more time spent in the dry indoors, pandemic beards (well past Movember), and "maskne" breakouts playing havoc with our faces. Add several cold winter months into the mix and many of us have been left not only with dry, itchy skin, but also a few more lines and wrinkles.
Thankfully, there are products specially designed to reverse the effects of these elements, such as the innovative gender-neutral skin care line by Canadian luxe brand Clayton Shagal. A renowned leader in the international skin care industry for more than 35 years, Clayton Shagal's unique line of 38 high-end body and face treatments for both men and women is customized for all skin types – normal, oily, dry, sensitive or combination.
As we head into spring and leave the cold weather behind, here are some proven ways to help your skin look young, healthy and refreshed, whether you're going back to work in person or putting your best face forward on Zoom.
Use a daily facial cleanser
As tempting as it may be to use a bar of soap on your face, don't do it. While it may get rid of any dirt that has accumulated, it can also throw off your skin's natural oils and pH balance, resulting in dryness, irritation and even premature aging. A mild cleanser, such as Clayton Shagal's Gel Lotion Cleanser – the brand's ultimate face cleanser for men – prevents skin dehydration and removes excess sebum (the main ingredient in what is commonly known as your body's natural oils) from the skin without drying it out. An added bonus is that it also makes for an excellent shaving gel, soothing the skin while minimizing irritation and razor burn. Non-astringent and alcohol-free, this cleanser-and-toner-in-one helps reduce signs of aging while leaving your face feeling and looking refreshed.
Dab on a little gel

If there's one skin care item to add to your "man crave" list this year, make it anti-aging collagen or elastin gel. Nothing penetrates more effectively into the skin than these products, helping to undo the toll both winter and COVID-19 have taken, and keeping your skin hydrated through the warmer months. Clayton Shagal has two breakthrough gel products that are proven to do just that.
The brand's Collagen Gel Plus is a first-of-its-kind in skin care – considered an indispensable product for any anti-aging routine, with a powerful formula that repairs and regenerates the skin, and prevents and improves visible signs of premature aging and damage caused by UV rays.
Uniquely made of 99 percent pure non-hydrolyzed acid-soluble collagen – the purest form of collagen ever extracted – the gel infiltrates through the skin all the way to the dermis (inner layer of the skin) without the need for injections. Just dab it on your face and watch it sink in within a minute. Then within days, watch the stress lines and tired skin you've been dreading disappear.
Collagen is what keeps our skin from sagging, giving us that plump, youthful look. Our bodies naturally make collagen, but this production decreases with age, starting in our mid-20s. You'll find that not only does Collagen Gel Plus reduce the appearance of fine lines and wrinkles, but it also regenerates and nourishes your skin, accelerates skin recovery after burns, injuries, scars and procedures, soothes and reduces irritation, inflammation and redness, and restores your skin's vitality. Tested under close supervision of qualified dermatologists, this unique gel is filled with essential nutrients and proven to deliver a more radiant look.
A natural complement to collagen is Clayton Shagal's Elastin Gel Plus. Winner of the 2020 New Esthetics Canada Innovation Award in the men's segment, it is described as a fundamental anti-aging gel that regenerates, repairs and protects the skin. Specially formulated to brighten, firm and smooth your skin, it regulates sebum production while hydrating at the same time. It also reduces inflammation, redness and irritation caused by shaving.
How does it work? By strengthening your skin's elasticity. Think of it like a rubber band, giving your tissue the ability to always return to its original shape. When your skin is stretched out – like a wrinkle that won't go back into its original position – elastin is what brings it back into place.
Like collagen, our bodies produce increasingly less elastin as we age, leaving our once-smooth skin marked with wrinkles and fine lines. Below the surface, Elastin Gel Plus strengthens naturally occurring elastin fibres needed for suppleness, elasticity and hydration of the skin's deepest layers. Above the surface, your youthful look will keep people guessing your age.
Real men moisturize
Men's faces take a regular beating, from shaving, sweating and showering, to exposure to the cold winter air, and everything in between. This all results in loss of moisture, which in turn leads to dry, aging skin. Fortunately, there are solutions, and using a good facial cream daily to retain the moisture that's already in your skin is one of them.
While heavy creams work well to hydrate skin during the winter, spring calls for lighter solutions. If you're new to the moisturizing club, try Clayton Shagal's Hydra Light Cream. Super light in texture, the cream absorbs quickly, with a special formula that won't clog pores or cause blackheads, so your skin can breathe easily.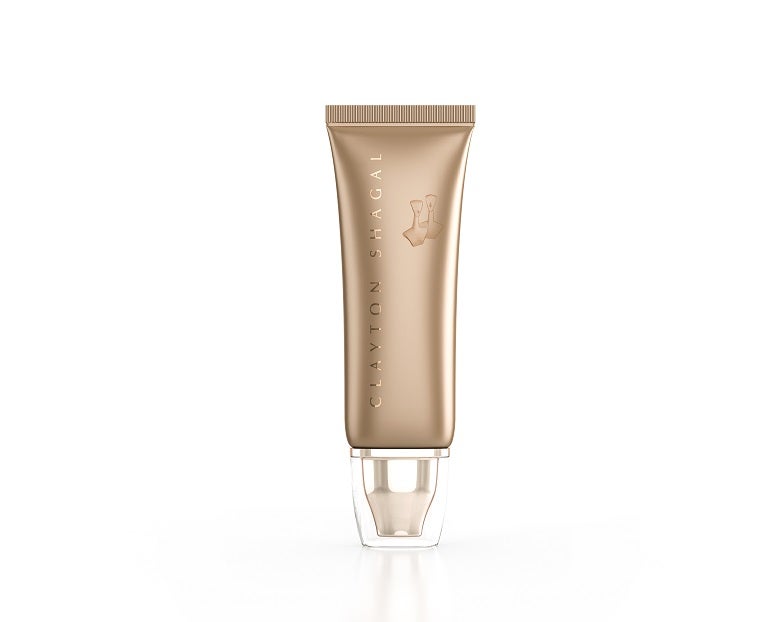 If you're already a fan of moisturizers, but find your skin is on the oily side after caking it on all winter, Clayton Shagal's Ultra Matifying Cream can help tone it down. Not only does this cream regulate sebum production while hydrating the surface layers of the skin, but it also soothes and reduces irritation, inflammation and redness. Another option is the brand's Hydra One Cream, which is formulated to reduce shiny skin and mattify your complexion, thanks to its natural emollient ingredients that hydrate and soften the skin while normalizing activity in the sebaceous glands.
When acne is an issue
Wearing a mask may help prevent the spread of COVID-19, but for many of us, the practice has helped spread something else – acne. Chock it up to bacteria and sweat build-up that can block pores and cause irritation.
No matter what other skin care products you make part of your routine, Clayton Shagal's Clear Skin can be used in combination to control acne breakouts without dehydrating your skin. A fast-acting gel, Clear Skin reduces pimples and accelerates healing, while soothing and reducing skin irritation and inflammation caused by acne.
For more information or to purchase Clayton Shagal products, visit https://claytonshagal.com/en/home.html.
Follow Clayton Shagal: 
Instagram: @lamaisonclaytonshagal