No, this doesn't mean splurging on a new closet (unless you need that – you do you) it's about styling yourself forward for every occasion. From your holiday work party, to meeting your partner's parents for the first time there are simple dos and don'ts to ensure you always dress to impress.
Holiday work party
While the venues and the size of each party is different office to office, make sure you're informed. Is it at a hall or nice restaurant? Pull out a nice suit and not the one you wore on Monday. It's easy to jazz up one of your 9 to 5 looks with accessories like a vibrant pocket square or even a detailed bow-tie. Don't forget, it's still a work function – don't get too lit in front of your boss.
Cinabre Sphere – Embossed Bow Tie, USD $150, CAD $190 Neiman Marcus
Meeting the parents
You know this one's going to last past cuffing season and now it's time to meet your partner's parents. You don't have to show up in a tuxedo, but you shouldn't show up in your joggers either. A fresh pair of denim (fresh as in washed, no tears) and a knit sweater is simple, humble and always fashionable. If you'd like, add a plaid collar shirt underneath.
Knit sweater: Scotch & Soda Gradient Sweater, USD $195 CAD $259
Date night
If you and your boo are planning a special gift exchange or a night out to get away from all the responsibilities and fam jams, why not make it memorable? Ladies aren't shy about putting in a little extra effort for special dates, and you should take cues too. Ditch your regular look and pull out a crisp new dress shirt or sport coat. Know her favourite colour? Or has she said "that looks good on you"? Find that piece. Wear that piece. Thank us later.
Trim Fit Patterned Dress Shirt, USD $69.50 CAD $92.73, Nordstrom
New Year's Eve
Know your venue. Popping bottles? Clean sneakers, fitted T and a blazer always shines. A bit more casual? Grab a bomber. Attending a formal dinner? A tuxedo may indeed be needed, but if it's not your thing a full suit and tie never fails and with a month before New Year's left you have time to shop for a good fit (do it now). House party? Casual and classy. Leave the hoodies for the rest of the chill days in the new year, give your friends something to compliment with an easy crewneck look – a sloppy outfit won't get you a kiss at midnight.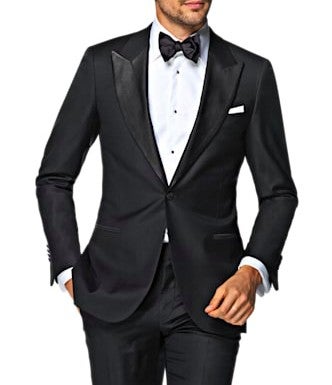 Fitted Black Plain Tuxedo, USD $569 CAD $599, Suitsupply
Photo Credits:
Creative Director: Marverick Guillermo / @marverickg
Photographer: Dimitri Aspinall / @dimitri.aspinall
Model: Giancarlo Murano / @giancarlo.murano
Stylist: Bismark Adomako / @mr_adomako
Studio: Capsure Studio / capsurestudio.ca