Some people dream of becoming an overnight sensation, others get a chance at their 5-minutes of fame, Jade Foster made sure to maximize his opportunity — and indeed he did. With Instagram being such a huge part of our lives, we sometimes can't help but lust over some people's luxurious travel and lifestyle. Foster's is definitely one of them.
Our team got the chance to sit down with Jade Kevin Foster to learn more about how he turned his modelling career following in his mother's footsteps, into a "Insta-Empire", if we may. Some say all thanks to a viral picture with Kim Kardashian, but he seems to have a slightly different opinion — so let's jump right in.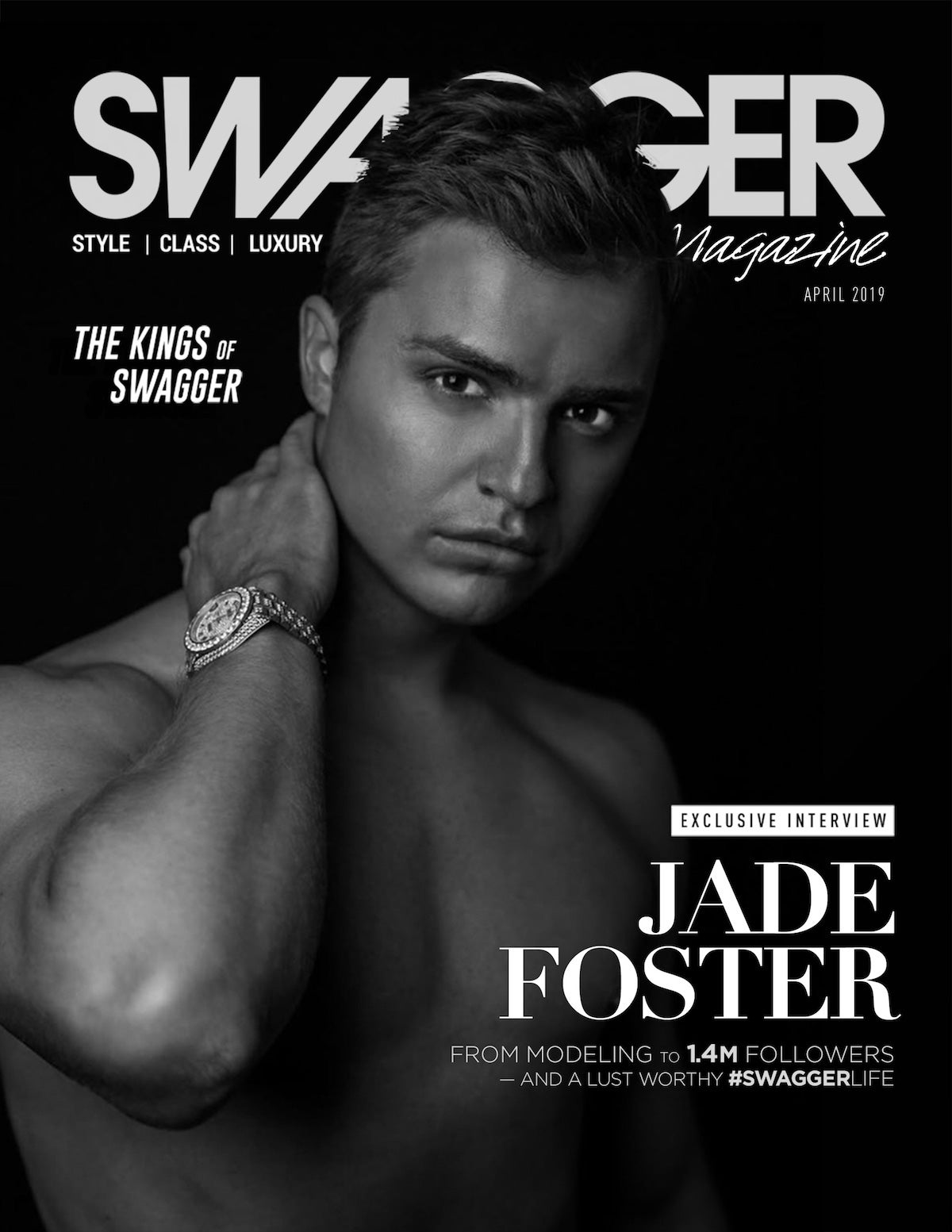 SWAGGER's Exclusive Interview with Jade Kevin Foster
SWAGGER: What made you decide that you wanted to follow in your mother's footsteps and become a Model?
FOSTER: I used to watch everyone stare at my Mum when I was little everywhere we went (and still today lol). She would oozes with confidence everyday. It was so inspiring.
SWAGGER: What have been some of you top 3 campaigns you modelled for, and why were they your favourite?
FOSTER: Firstly, Mossimo, my first ever campaign when I was 16. This will always be my most remembered campaign as it was my first. Second, Naked Tan was the first brand that bought me on as an ambassador. I'm so loyal to Lee (Owner) and thankful to her and will never leave working with such an amazing product and owner. Official Lastly, but not least, Amour Propre — working and shooting with this incredible company to help raise awareness for bullying in schools was one of my top 4 for sure. I was bullied as a child and I think it's so important to raise awareness and help in anyway from anyone in the future being bullied.
SWAGGER: Favourite brands to work with?
FOSTER: Definitely, Naked Tan, Eleven Make Up For Men, ZARA and 2euro Swimwear & Active Wear.
SWAGGER: What would you say are your daily essentials? Whether it be style, accessories, grooming, skincare, tech, you name it. Things you cannot live without on the daily?
FOSTER: House Music, my Balenciaga or Gucci Cap, Rayban Sunglasses, iPhone XS Max, BYS Skincare products and of course, my XXXX hair styling products.
SWAGGER: When did you become represented by Jordan Wood's mother (Kyle Jenner's friend)?
FOSTER: I went over to LA and was signed with Elizabeth Woods at Mixed Image Media for 6 months. I met some incredible people and attended the most amazing events.
SWAGGER: At what point in your career did you expand to modelling in the US?
FOSTER: It was when I was 24 and I started when I was 16.
SWAGGER: What advice would you give your younger self?
FOSTER: Don't trust anyone. Friends aren't important. You do you boo boo.
SWAGGER: What advice would you give a teen who reminds you of you?
FOSTER: Be yourself. And don't have time for those people who don't appreciate you.
SWAGGER: If you could change anything about your past, what would it be?
FOSTER: Nothing. My past is the reason I'm where I'm at today. If I didn't go through what I went through when I was younger I wouldn't be so humble and thankful for everything and everyone I have in my life at the moment.
SWAGGER: How hard is it to be a openly gay model in the modelling industry?
FOSTER: Not very hard to be honest. I think everyone in this industry that I have come across is so excepting of every gender and sexual status.
SWAGGER: Are you still in touch with the Kardashians at all? Blac Chyna?
FOSTER: I'm still in contact with Blac Chyna. But unfortunately I haven't spoken to Kimmy (Kim Kardashian) in a while. 😞
SWAGGER: In 2017 you launched an LED light case for your phone. What inspired you to go in that direction and have those produced? How did they do? Are they still available for sale? Any new developments or products available?
FOSTER: I was so sick of taking Snapchat's and Insta story's at night with no lighting. I needed that good lighting with me at all times. I ordered a few to being with and every time I would go out and light it up everyone would comment. So I started my own range and they went great! They are still a few left for iPhone 6 and 7 at www.jadekevinfoster.com.au. I have just finished filming my first YouTube video to be uploaded soon. And I have the most exciting thing happening this weekend which is really huge but I can't say anything just yet. But watch my space because I'm about to drop some massive bombs. 💘
SWAGGER: What would you say was the tipping point of your career? Many seem to think that it was simply that Kim photo that pivoted your success, but I would suggest otherwise. It takes still and "balls" (for a lack of a better word), to leverage something like that to your advantage, and you did. But what catapulted you into getting to over a million followers?
FOSTER: I would definitely say that Kim helped me a lot. But the only reason I was able to get the photo and spend the time with Kim, along with the only reason I'm where I'm today is purely persistence. You will get knocked down so many times in this industry and you just need to keep getting back up.
View this post on Instagram
SWAGGER: What would you say is now your main stream of income? Your social media content partnerships etc? Or modelling?
FOSTER: Social media and modelling are both my main streams of income. I've been so grateful and thankful to have such an amazing international management team with Stage Addiction.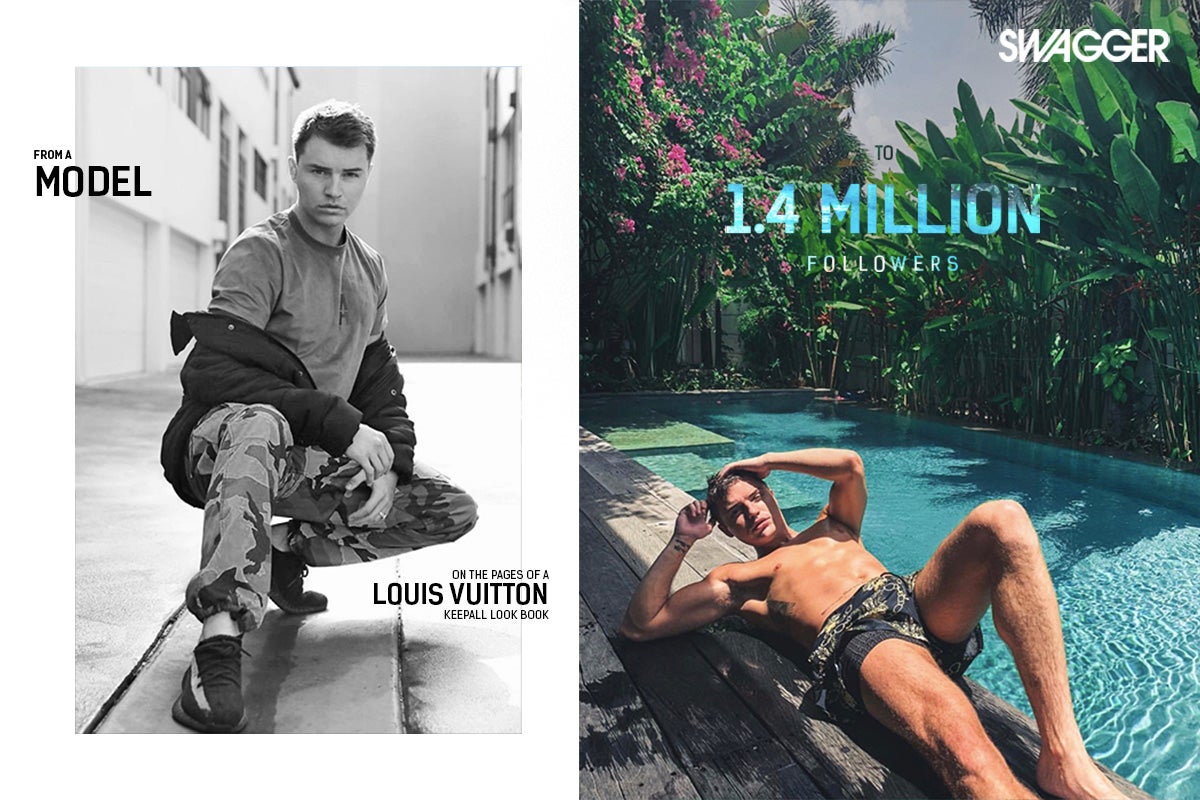 SWAGGER: What countries are you represented in?
FOSTER: Stage Addiction Represents me in Australia and then to all of there sister company's in each country.
SWAGGER: What's next for Jade K. Foster? What can we expect from you next (goals)?
FOSTER: Coming to your TV and TV network near you soon. 😝
SWAGGER: Any insights you can share about the Jordan Woods and Khloe cheating scandal? I mean, who doesn't love juicy goss', right? 😉
FOSTER: I feel so sorry for Khloe having to put up with all of this while she has her new born that she had been trying for and wanting for so long. But I've met Jordyn and hung out with her a few times and I just can't imagine her doing something like this. It doesn't make sense to me.
SWAGGER: Clearly travel is a passion, what would you say makes up good travel to you?
FOSTER: Good friends that are like minded are a must when travelling. And good outfits of course! I've just recently got back from Bali with my friend Ella who has started ACTIVATE U retreats. No drama, work out, relax and get amazing content. It was awesome. 👏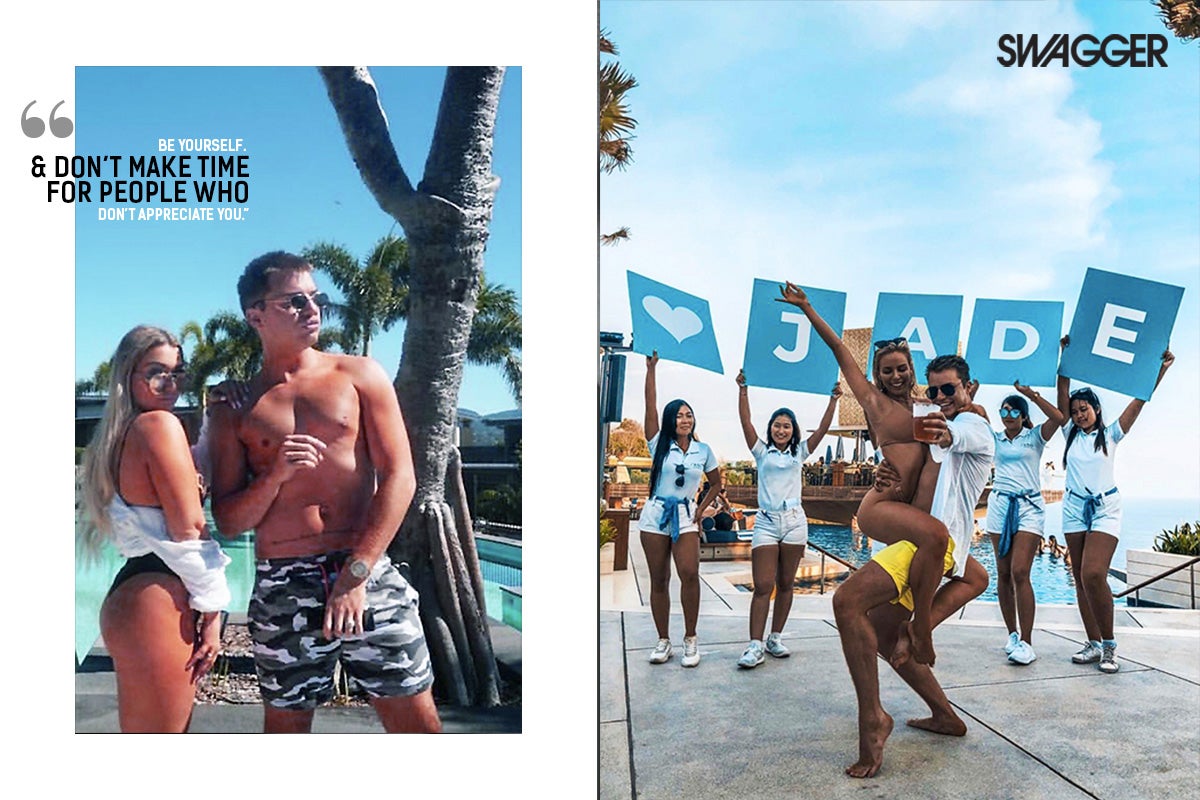 SWAGGER: If you could go to any top 3 destinations in the world, where would they be? Please be as specific as possible — and why?
FOSTER: Firstly Dubai, to experience the culture and technology. Then Mykonos, to go to Lindsay Lohan's Beach Club hahaha. And lastly India, for the colours and lifestyle. I think the culture there would be amazing.
SWAGGER: Where would you say would be your favourite place to travel to?
FOSTER: Key West is my favourite place to travel to. The sunsets and water along with the private islands with there massive Pink Mansions.
videoWrapper
SWAGGER: How would you sum up your personal style?
FOSTER: I love all black or white at the moment. I never go anywhere without my cap and sunglasses.
SWAGGER: What are you known for?
FOSTER: Modelling and Social media.
SWAGGER: How did you start off your careers as an influencer and start earning money from it?
FOSTER: I starting receiving a lot of enquires for collaborations and campaigns after my numbers went up to over 200k back in 2014. I didn't know what to do though or how to negotiate. It wasn't until I started working with trained social media managers that my income increased.
SWAGGER: What advice would you give someone who is trying to follow in your footsteps?
FOSTER: If you continue to have dedication and persistence to follow your dreams you will succeed.
SWAGGER: What brand partnerships do you currently have/hold?
FOSTER: I've been working with, Boohoo Man, Naked Tan, and Eleven Make Up for Men.
SWAGGER: What are some of the worst comments you have ever received, and how do you deal with them?
FOSTER: I have received some nasty comments. I just ignore them. I never feed into negative energy. I'm all about positive vibes.
SWAGGER: What's one of your hobbies or pastimes?
FOSTER: I used to be an athlete. I won 8 national running races around Australia along with playing AFL for the junior Albury/Wodonga league.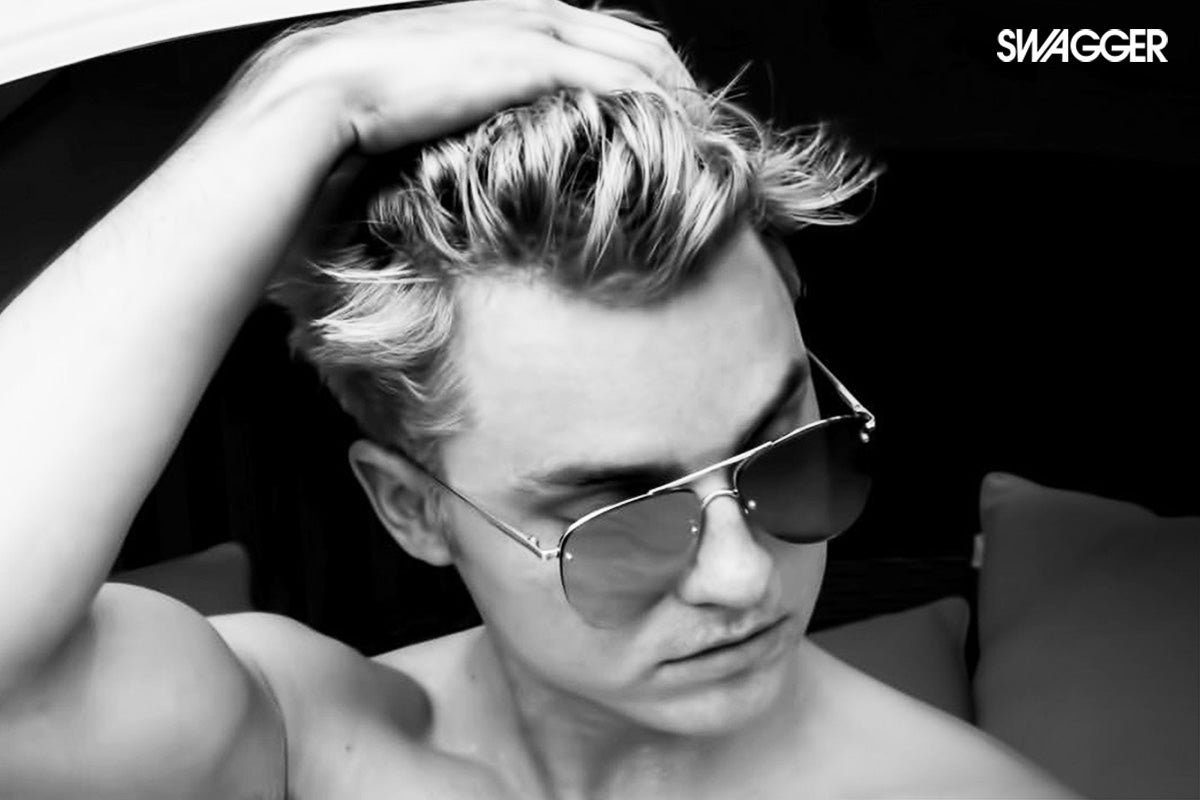 As you can see, there's lots more to Jade Foster than the insta-eye can see. We had a great time chatting, and wish him all the best. Big thanks to him sharing his tips and experience with us and our readers. We hope you enjoyed it, and if you don't already, made sure to follow him on his lust-worthy journeys. Cheers!