You've seen him in Blockbusters like Batman VS Superman, Django Unchained, Tears of the Sun and numerous TV roles from Mars to Blacklist but this Nigerian American certainly has his swagger set to high.
Sammi starts his day with meditation, then coffee and catching up on news of the day and possible projects.  He also has developed a passion for yoga and incorporates that into his regular workout routine as he prefers a leaner aesthetic vs. being muscular. Toss in his love of the game of soccer and you have a lean machine.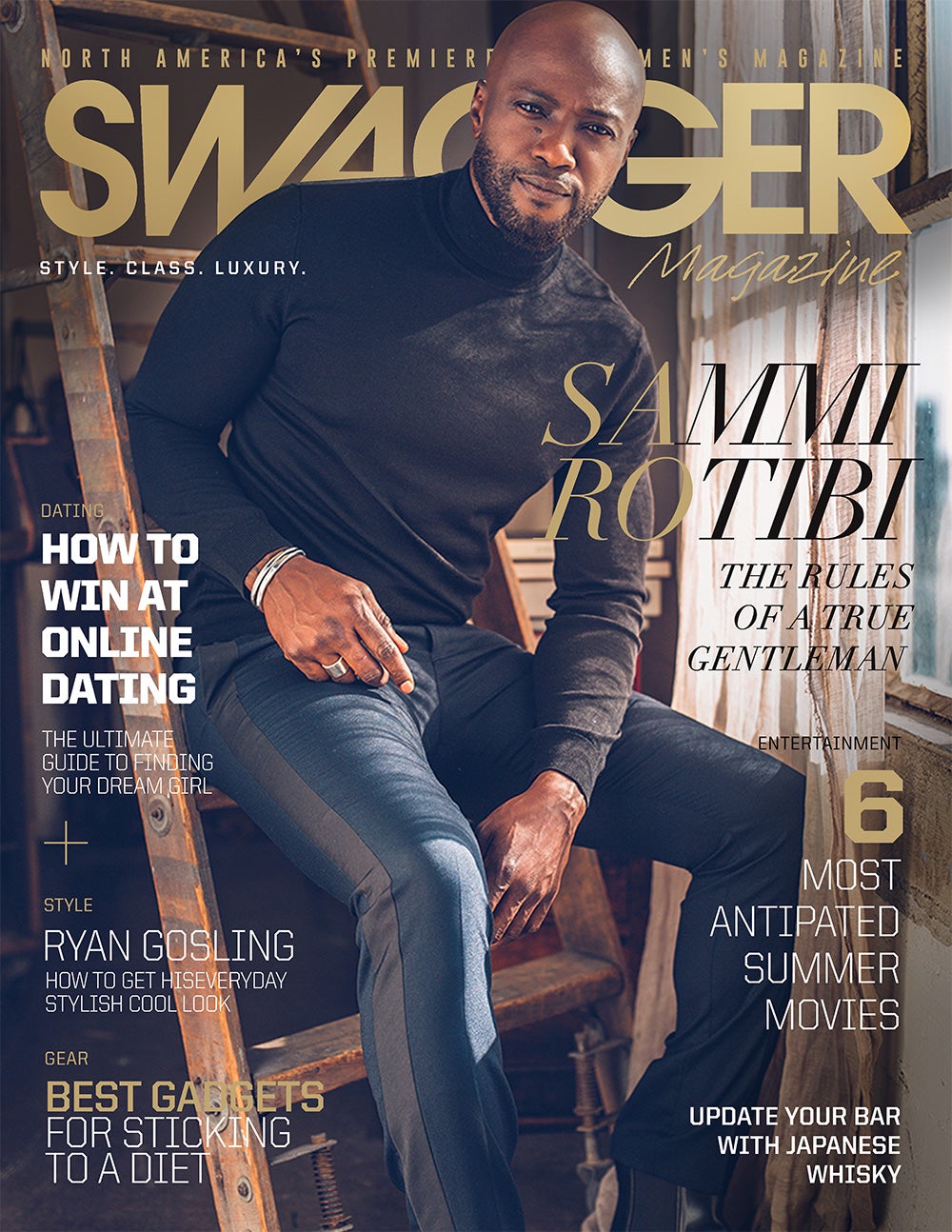 In talking to Rotibi you quickly realize as much as he lives in Hollywood he isn't "Holllywood". A sense of warmth and grounding comes through as he expresses what he is passionate about and how his personal style developed. 'I'm not about baggy looks, I'm very keen on fit, I love the Tom Ford aesthetic and everything he does, I just love it". "I like to take something I see on the street or something in magazine and then make it my own by changing certain details." He recalls since the age of 10 being interested in fashion and style and being very clear on what he liked and wasn't just about trends.
When asked what key items he needs to complete his look, his red wing boots and silver rings are key part of his look. He prefers to shop at unique stores that have a funky feel with an international vibe. 
"I don't follow trends, I like to be different, [because] I am different."
Real words.
Rotibi feels his sense of style and self bleeds into his acting. "I don't want to be put into a box, I am very rebellious, and I don't like the norm FUCK the norm". "I prefer to create my own path, that's what makes you distinct, lose THAT and you lose your identity."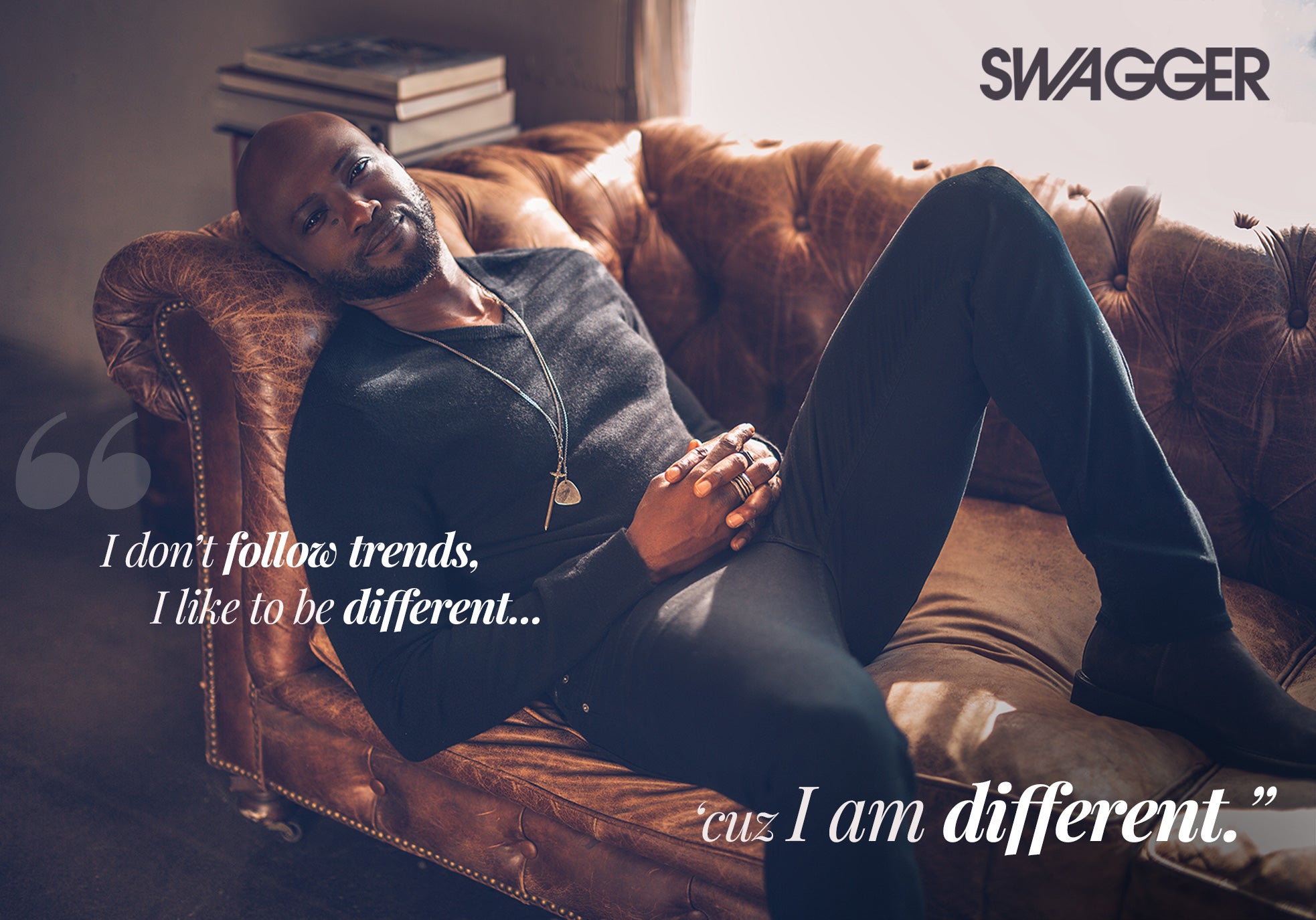 Cultured is a big part of how Rotibi defines himself, born in Nigeria but because of his father's job travelling all over the world was part of his life add getting a degree in Architecture from Florida University and living in Europe, he has a unique sense of who is and what he offers in both his craft and life. He takes all aspects of himself into auditions and in the past when he was told he wasn't African American enough or black enough because of his unique accent, he did not let that deter his pursuit of acting.
Many times he wondered if he was crazy for going to auditions based on the number of No's he was told. Before his break out role on NYPD, an acting teacher told him he wouldn't work because he didn't fit into stereotype categories to which Sammi responded "Go fuck yourself " and quit the class, 6 months later he was on NYPD BLUE the biggest TV show at the time. He learned to turn the negativity and the inability of Hollywood to see his uniqueness into a driving force for his work ethic and kicking down doors to bring his abilities to the small and big screen.
He credits his late father as being his biggest inspiration by living by the mantra of never looking down on anyone and don't allow them to look down on you.
What's next for Sammi, he wrapped on an independent film called 'The Obituary of Tunde Johnson' a movie about sexuality and self realization, soon to be released. He is open to doing a fashion line, fielding other projects and doing as much travelling as he can, which is one of his other passions. "Life shouldn't be pre-planned, you gotta be open to change and continually break the rules, just do you in a positive way" Spoken like a true King of Swagger.
---
Credits:
Wardrobe:
Cover Look:
Turtleneck: Hugo boss
Pants: H&M
Boots: To boot New York
Jewelry: Buck Palmer
Second Look:
Suit: Sebastian Cruz in Pink
Sneakers: Kenneth Cole
Socks: London sock co
Sweater: Theory
Jewelry: Buck Palmer
Team:
Photographer & Creative Director: Amanda Peixoto-Elkins
Wardrobe Stylist: Sara Borgese
Makeup Artist/Groomer: Sharon Tabb
Editorial Director: Steven Branco / @chiefswaggerofficer
Location: Downtown Los Angeles