A wallet can be a man's best friend, next to his phone. Our wallets hold a special place, because of the valuables we keep in it: credit cards, money, family photos, insurance cards and more. If you are looking for a new wallet, you want to ensure your valuables are protected. We've got you covered with the best pick pocket proof wallets for men on the market today.
Modern Pick Pocketers Don't Need to Physically Steal Your Wallet
Pick-pocketers are getting smarter every day, and the technology they use is becoming more advanced as well. If you're still thinking of pick pocketers as thieves who sneak up and take your wallet, you're in for a surprise. Thanks to advancements in technology, thieves no longer need to actually take your wallet to get your credit card info. They can get all your information while your card is still in your wallet!
So how are they able to do this? Through a method called RFID. RFID stands for Radio-Frequency Identification. With this technology, pick pocketers just have to be near you. Once they are close enough, they can use RFID to steal your financial or personal information. The scanning device reads RFID tags on things like our credit cards, ID badges, and more, giving thieves all they need to use your information without you ever even knowing they were there.
5 Amazing Pick Pocket Proof Wallets
RFID technology may sound scary, and it is. But fret not. There are advanced wallets on the market today that can protect you from modern pick pocketers. We've brought the best of the best together here for you. Here are some of the best pick pocket proof wallets for men available today!
# 1 – CARD BLOCR MINIMALIZT WALLET SLIM RFID BLOCKING CREDIT CARD WALLET
This first wallet, like many on this list, protects against RFID attacks. RFID attacks is an attack on your credit cards via a mobile phone stealing application. As we mentioned, pickpockets are becoming craftier, and it would be beneficial for you to have a wallet that will be able to protect against situations like this.
This version of the Card Blocr features a streamlined flat design that's hard for pick pocketers to notice. For easy access when you need it, there's a convenient pull tab, allowing you to pull it out of your front pocket. The wallet features premium, durable materials and is available in five different colors.
# 2 – CARD BLOCR SLIM FRONT POCKET DESIGN RFID BLOCKING TRAVEL WALLET
This ultra slim and easily reachable wallet is yet another wallet that protects against RFID attacks. Made with some of the finest materials, this black leather wallet looks fantastic and while protecting you from intruders or thieves.
This version of the Card Blocr features a sleek minimal design with just enough space for your favorite credit cards, ID and a few bills. Designed to fit comfortably in your front pocket, the Card Blocr is also difficult for criminals to notice or take from you.
# 3 – CARD BLOCK RFID CREDIT CARD HOLDER BLACK
This credit card holder has been specially designed to protect against intruders. A minimalist wallet that offers easy accessibility due to its slim size, this pick pocket proof wallet is an excellent gift for any man.
Featuring a sleek and sexy metal design, this is a perfect option for frequent travelers, anyone who works in crowded areas, or people who live in densely populated cities. In addition to RIFD blocking technology, another standout feature here is the "one click action" tab, which slides your cards out of the holder for quick access when you need them.
# 4 – CARD BLOCK RFID BLOCKING CREDIT CARD WALLET CORK 3 WITH SIDE SLIDE TRIGGER & SNAP CLOSURE
This unique cork wallet is unlike any other. But it offers more than just great looks. Its RFID blocking technology prevents all scanning thieves from accessing your credit card and ID information.
The cork snap cover can be opened to reveal space for additional cash and internal pockets. The cover can also be removed if you want to go super minimal with just the card holder, which features a handy side tab to eject your cards from the holder when needed.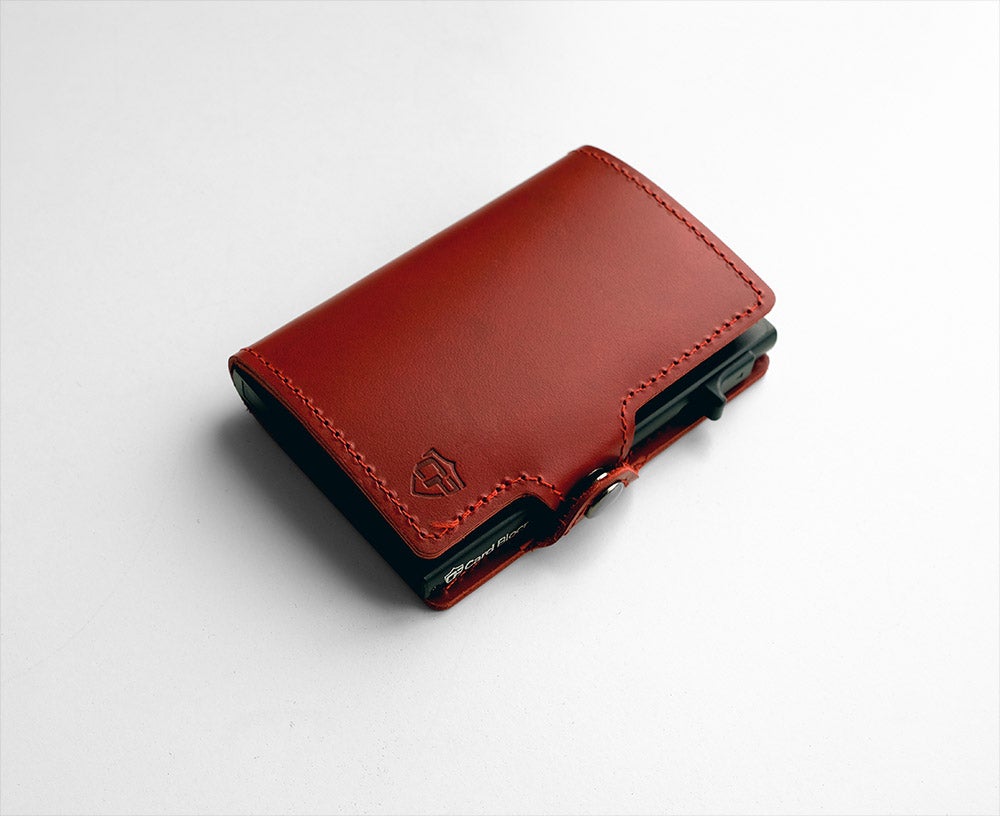 # 5 – CARD BLOCR RFID BLOCKING CREDIT CARD WALLET RED LEATHER WITH SIDE SLIDE TRIGGER & SNAP CLOSURE
Featuring an understated red leather design, this wallet may look like any other wallet—but don't let that fool you. This is actually one of the best pick pocket proof wallets on the market today. Beneath that red leather disguise is a metal card holder that blocks RFID scanning. Like many of the other wallets on this list, this wallet also features a convenient side tab to lock your cards in place or eject them when you need to access them.
Who Needs a Pick Pocket Proof Wallet?
A pick pocket proof wallet is an excellent piece of protection for those who live in a major city. Because cities are so packed and so densely populated, it can be challenging knowing who to trust.
These wallets are also a great gift for those who love to travel abroad or for those who do a lot of business abroad. Unfortunately, tourists are often targeted by pick pocketers, because they are believed to have money and may not be willing or able to seek help from the local authorities.
No matter where you go with your wallet, you should feel like your credit card and ID information is safe. These wallets allow you to enjoy peace of mind wherever you go.
How to Protect Yourself from Pick Pockets
There are many people out there who make a living only by lying, cheating and stealing from others, and their technology and techniques are always improving. Here are a few additional tips to help you protect your belongings:
Get a pick pocket proof wallet. Sure, we've probably said this enough by now, but these things really work—and they're very affordable.
Choose the right pocket. Avoid putting your wallet in your back pocket. Thieves will have a harder time accessing your wallet if it is in your front pocket or an internal coat pocket.
Avoid crowded areas. If you can, try to avoid bustling crowded areas. With all of the commotion, there are plenty of distractions that thieves can use to their advantage.
Observe your surroundings. Be aware of who is around you and anyone approaching you closely or attempting to sneak up on you.
Get Your Wallet Today
If you are curious as to where you can get yourself a pick pocket proof wallet like these, visit ConcealPlus.com! Conceal Plus is one of the leading manufacturers of RFID blocking wallets on the market. On their site, you can learn more about RFID and discover a full range of affordable, stylish wallets that will protect your valuables and provide you with peace of mind.
With these fantastic wallets, you will be able to protect yourself from any pickpocket most certainly—old school or new school. Stay one step ahead.