When is a sneaker more than just common footwear? Is it when the sneaker bills itself as a luxury collectible? Or when the sneaker seeks to be a symbol of social status and standing? Or when the sneaker elevates itself to contemporary art? The ambitious new Citron/Vert sneaker project from enigmatic designer Sagacious Shu wants to be all of these things.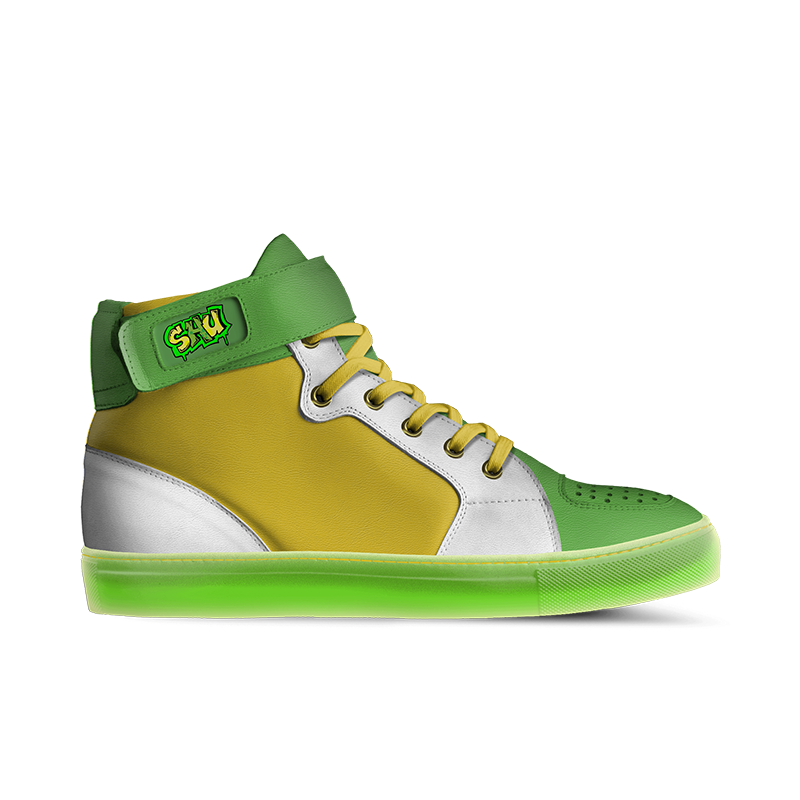 Citron/Vert certainly possesses the pedigree to be considered luxury and collectible. Each pair of Citron/Vert is made in Italy, in the same shoemaking region famous for bringing us the likes of Loriblu, Tod's, Santoni, Fabi, Cesare Paciotti, Rocco P, and a host of others. These sneakers aren't mass produced at a factory—each pair is crafted by hand by master artisans, and the difference in quality is palpable. As for collectible, Sagacious Shu is limiting production of Citron/Vert to only 1,000 individually serially-numbered pairs. Given these factors, the $500 asking price for the base pair of Citron/Vert seems modest compared to similarly produced and limited luxury footwear.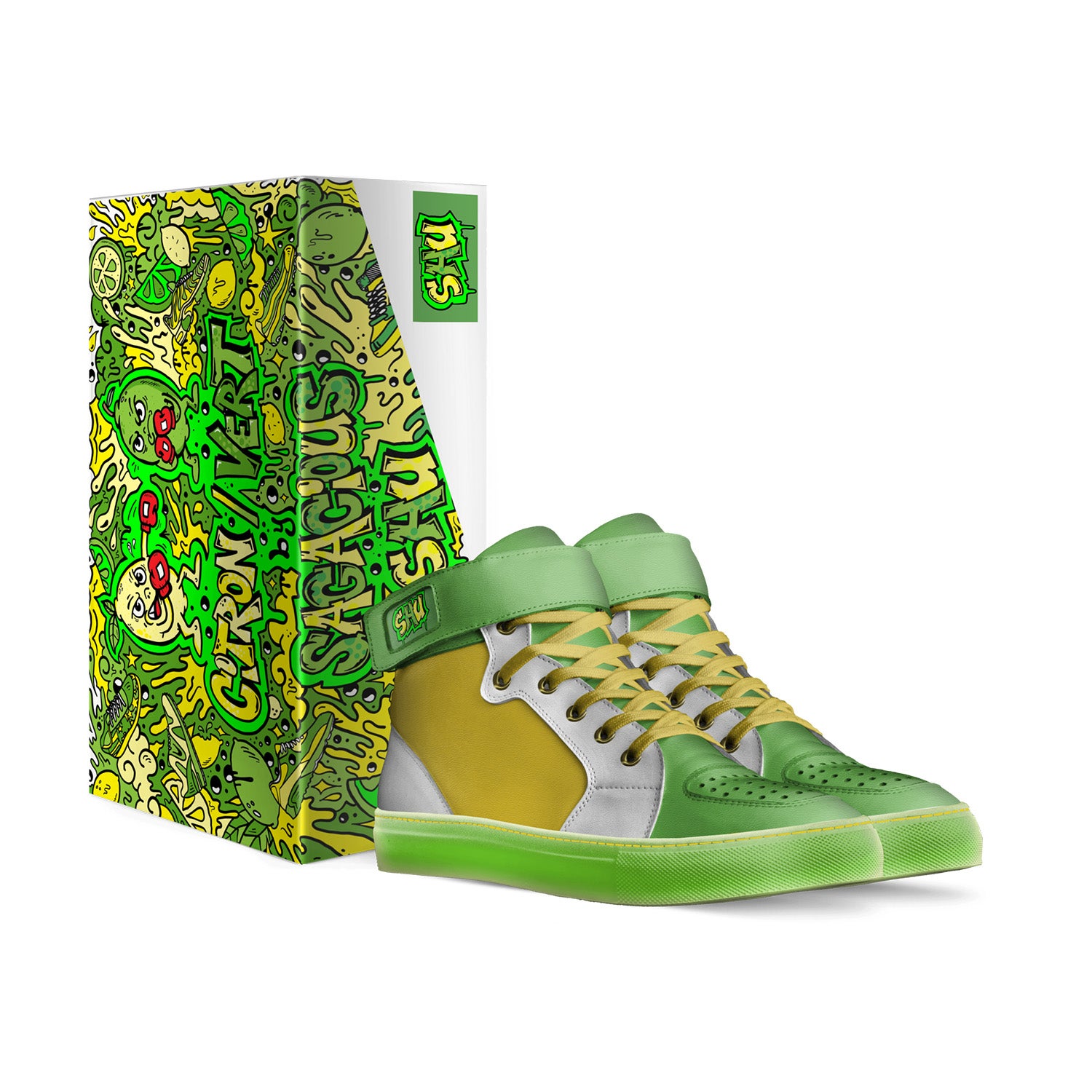 Footwear as a status symbol is not by any means novel, but Citron/Vert takes the concept into the digital age. We are accustomed to people sporting the signature red soles of Christian Louboutins, or how Justin Bieber was stopped by police for the conspicuous tag of his Virgil Abloh Nikes. We have also seen plenty of limited editions from famous footwear brands and celebrities. So, what's new here? The first thing that sets Citron/Vert apart in this regard is that Sagacious Shu has made it unusually difficult to purchase Citron/Vert, and not in a way that simply favors celebrity endorsers. The 1,000 limited edition pairs don't just get sold to the first 1,000 buyers. Instead, would-be customers need a Purchase Code to checkout from SagaciousShu.com—and these purchase codes seem to be littered around the Web on obscure blogs and esoteric influencer social media posts, almost like detritus purposely scattered to the digital winds (our readers will find Purchase Code at the end of this article good for ten uses).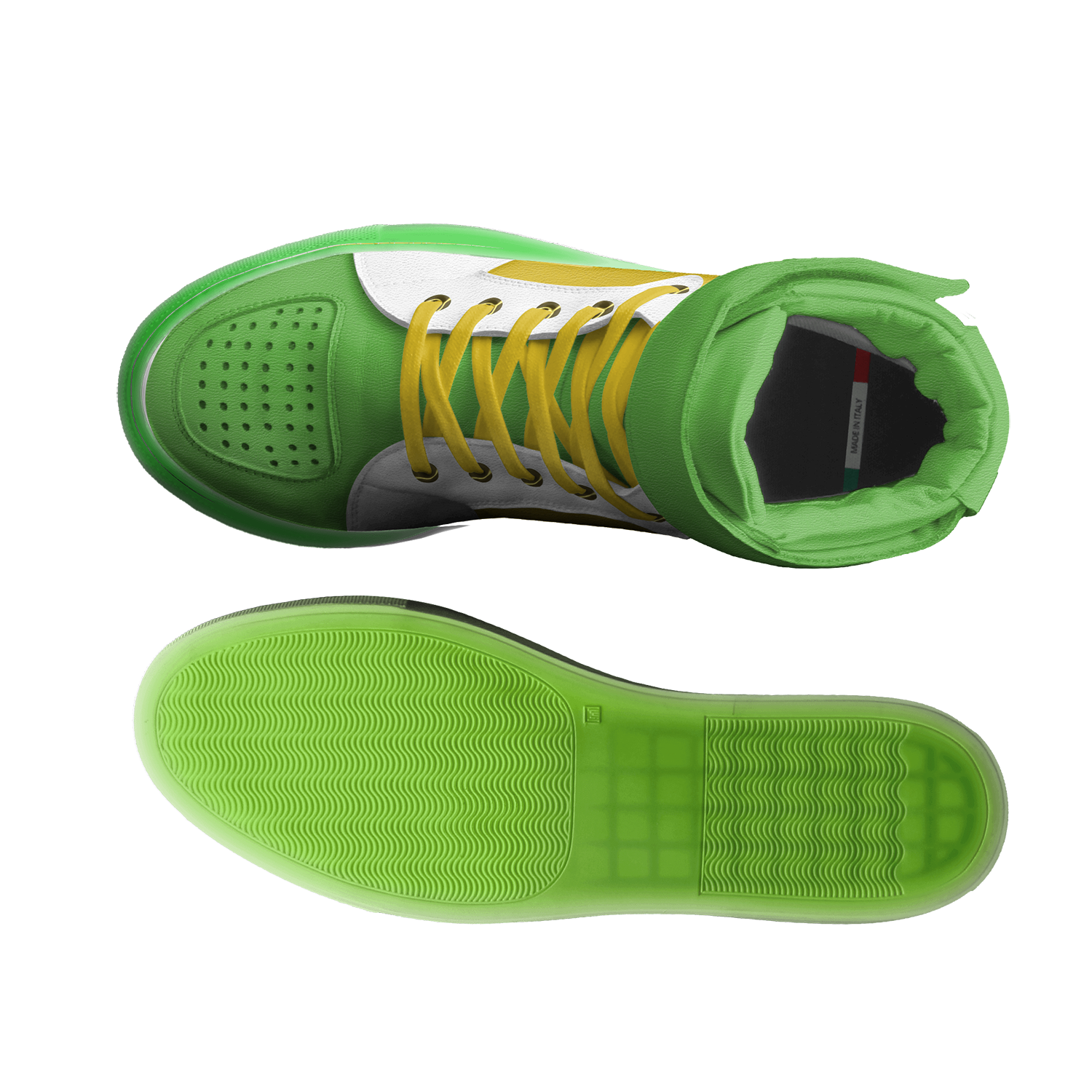 The second way that Sagacious Shu distinguishes Citron/Vert—or rather its customers—in terms of conferring status is through a tiered product line. While the base pair of Citron/Vert sells for $500, the $5,000 Elite Status package and the $50,000 Audience of One package (hello celebrities and Bitcoin millionaires) bestow enhanced amenities and prestige: preferential serial numbers, autographs, inside access and input to future projects, exclusive social media badges, public recognition on SagaciousShu.com, and even personal communication with Sagacious Shu.
When it comes to billing fashion as art, Sagacious Shu again takes a well-trodden trope and updates it for the 2020s. Citron/Vert eschews the catwalk and celebrity endorsements in favor of a 35-second, avant-garde and TikTok-ready promotional video. Instead of gracing glossy magazine ads, Citron/Vert is adorned with graffiti-inspired custom shoebox art from a designer as opaque and tacit as Banksy himself. It is in this comparison to Banksy where Citron/Vert finds its strongest argument for being considered art. The entirety of the Citron/Vert project—from art to design to marketing—feels like performance art thinly disguised as luxury apparel. Like the entire project was a mere contrivance to provoke a reaction from the old-world establishments of luxury, fashion, and art.
If these sneakers do qualify as true contemporary art, then think of Citron/Vert as the first print edition by the artist known as Sagacious Shu. So, if you consider yourself a connoisseur, and you want in on the ground floor of this chapter of fashion and art history, it may be time to start scouring the Internet for an available Purchase Code.
(Ten pairs of Citron/Vert are available to readers of Swagger Magazine by using Purchase Code SW1547 at checkout from  SagaciousShu.com)