It's that time of the year again. Before we know it, the holidays will be here, the malls will be packed, and you'll be scrambling to find presents for the people on your list. Get ahead of the crowd and start buying your gifts NOW—with just a click! We hope this list of the 24 best stocking stuffers for him will help you set your gifts apart.
Swagger Approved Men's Stocking Stuffer Gifts
These are the best stocking stuffers for him that you have to buy this holiday season:
Last-Minute Stocking Stuffers for Him
Looking for some quick gifts that are sure to impress? We've got you covered:
PHONE/TABLET POPSOCKET & MOUNT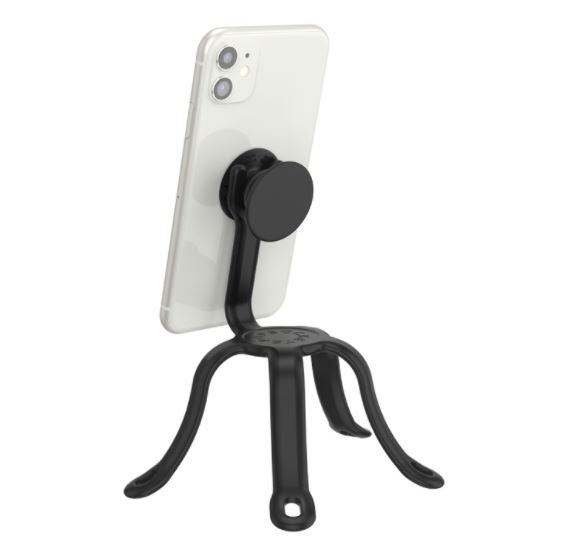 With phones and tablets getting larger and larger with each new model, a popsocket can be a lifesaver! And, of course, they're small enough to easily fit in a stocking. If you want to take this gift to the next level, also be sure to include a popsocket mount. The PopMount 2 Flex Black has a convenient cord holder and flexible legs, so you can shape it to meet your needs.
Cost: $20.00 USD
FULL LEATHER WALLET PHONE CASE – IPHONE 11 PRO, IN TAN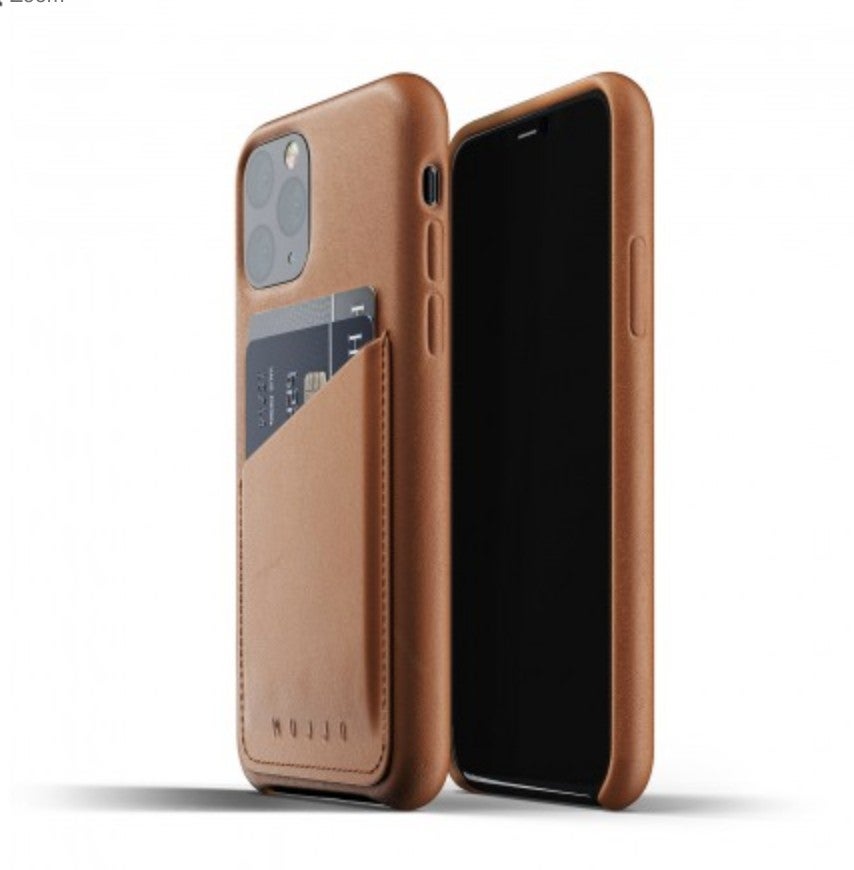 Consider gifting a simple but brilliant phone case that turns your iPhone into a wallet – so the only other thing you need to remember is your keys. This case also has a pouch on the back to create a winning combination that is designed to make your day-to-day life more convenient.
Cost: $46.19 USD
OREFFORS GOLD REUSABLE COCKTAIL STRAWS
The Stainless Steel Drinking Straws by Orrefors are fashioned in a modern brass finish. Banish plastic straws from your home with these quality, dishwasher-safe straws. Eco-friendly and reusable, they come with a cleaning brush to keep them pristine. They're available at William Ashley.
Cost: $26.00/set of four CAD
CLUB MONACO CANDLE NO. 33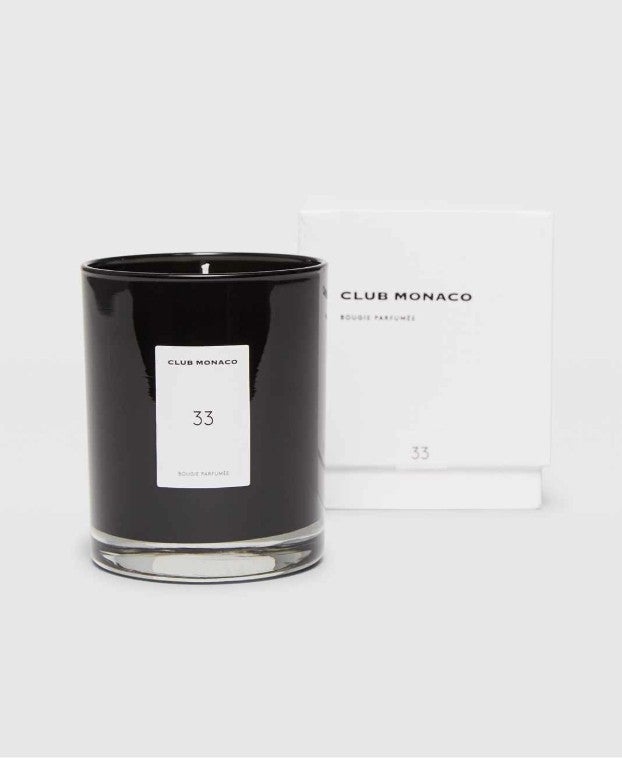 One of the best stocking stuffers for him that you can buy is this contemporary collection, custom candle in a signature scent. Named after the Sloane Square store in London, this Club Monaco Candle No. 33 features notes of grapefruit, magnolia, jasmine, fig leaf, rosewater, sandalwood, leather, and vanilla.
Cost: $59.50 CAD
DIOR SAUVAGE EAU DE TOILETTE SPRAY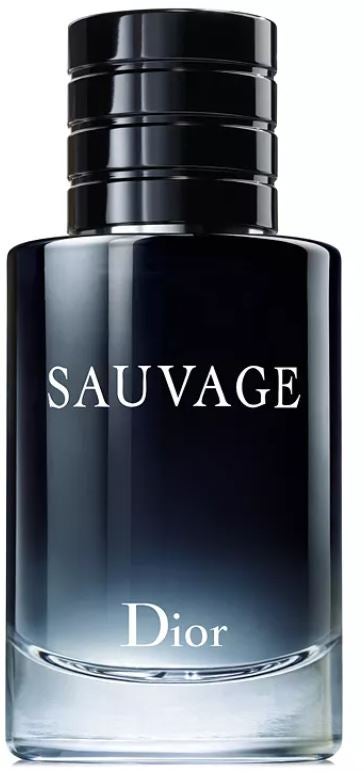 This men's Dior cologne is a super convenient and high-quality stocking stuffer. The scent is woody, fresh, and bold to create a masculine aura, and it comes in a 2-ounce bottle. Cologne is a great option for a last-minute stocking stuffer!
Cost: $77.00
Practical Stocking Stuffers for Him
If you want to stuff his stocking with items he'll definitely use, purchase some of these practical presents:
AURAGLOW DELUXE HOME TEETH WHITENING SYSTEM*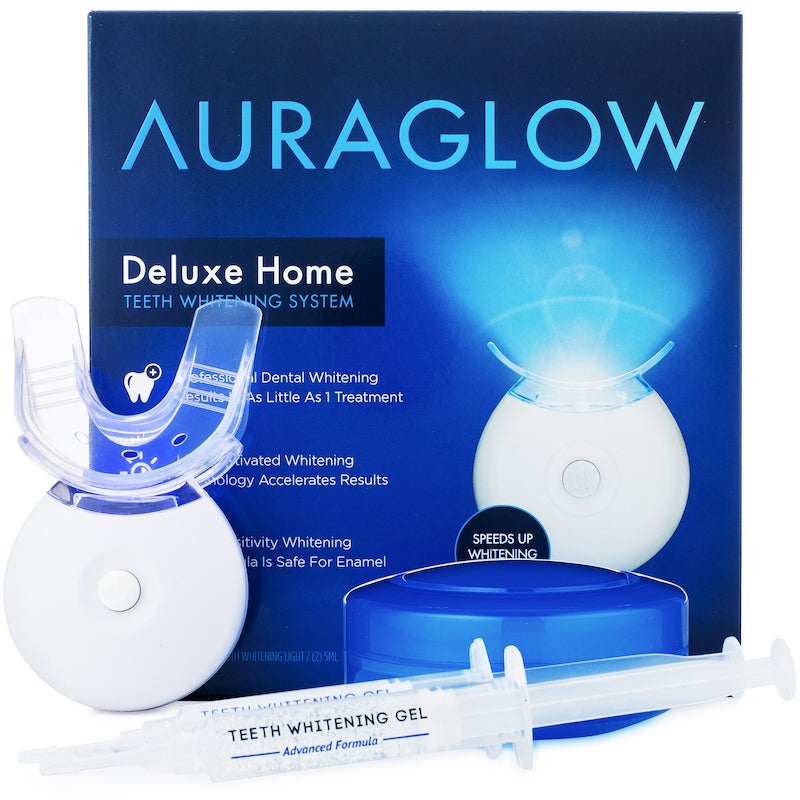 Gift the perfect stocking stuffer and ring in the New Year with some self-care with this awesome item! AuraGlow's most powerful teeth whitening kit combines professional whitening gel with LED light technology to remove stains in just 30-minutes.
Cost: $59.99 USD
*Sponsored
KRONIS MEN'S UNDERWEAR LOW RISE TRUNKS*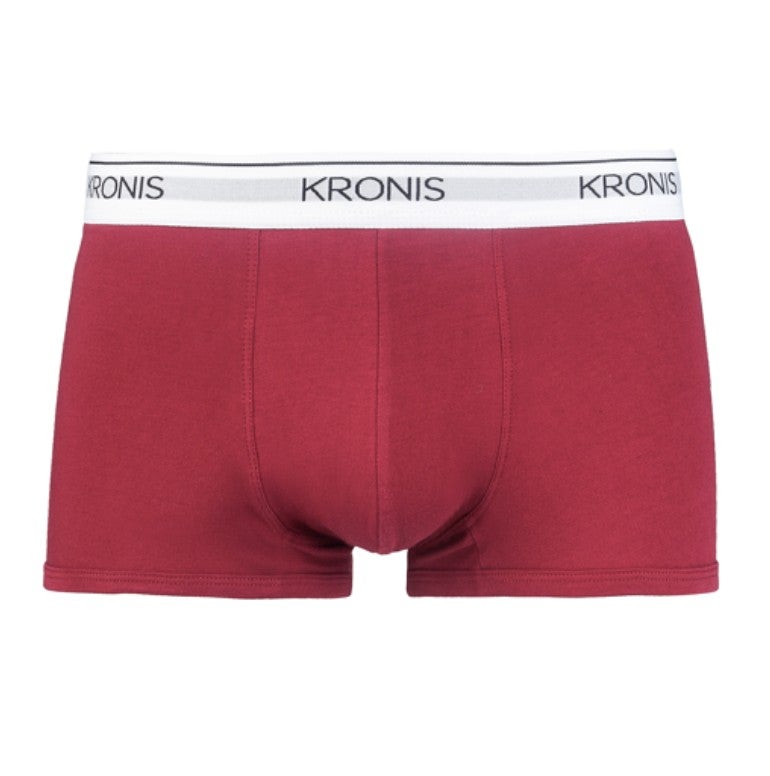 Every dude appreciates a comfortable pair of underwear—but these are no ordinary trunks. Kronis Men's Italian underwear is made from a premium, 180GSM, soft and breathable brushed cotton blend. They're made to feel weightless and snug with no ride up. Plus, the square-cut is modern, sexy, and will give you that certain SWAGGER.
Cost: $19.97 USD
Use the code 20SWAGGER to save a further 20% for a limited time.
*Sponsored
KIEHL'S TRAVEL SIZE GRAB & GO ESSENTIALS SET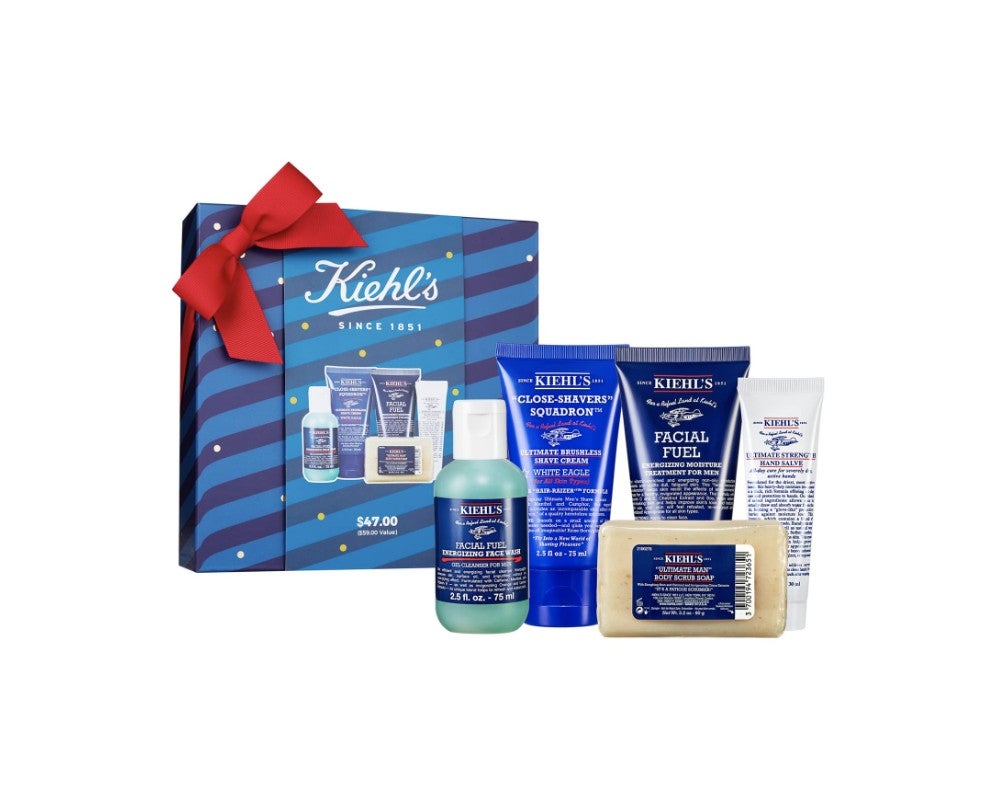 A gift that keeps on giving, this limited-edition set of men's travel-size skin care products is a must for any man that's constantly on the go. It includes face wash, shave cream, moisturizer, soap, and hand salve. Find it available at Nordstrom.
Cost: $47.00 USD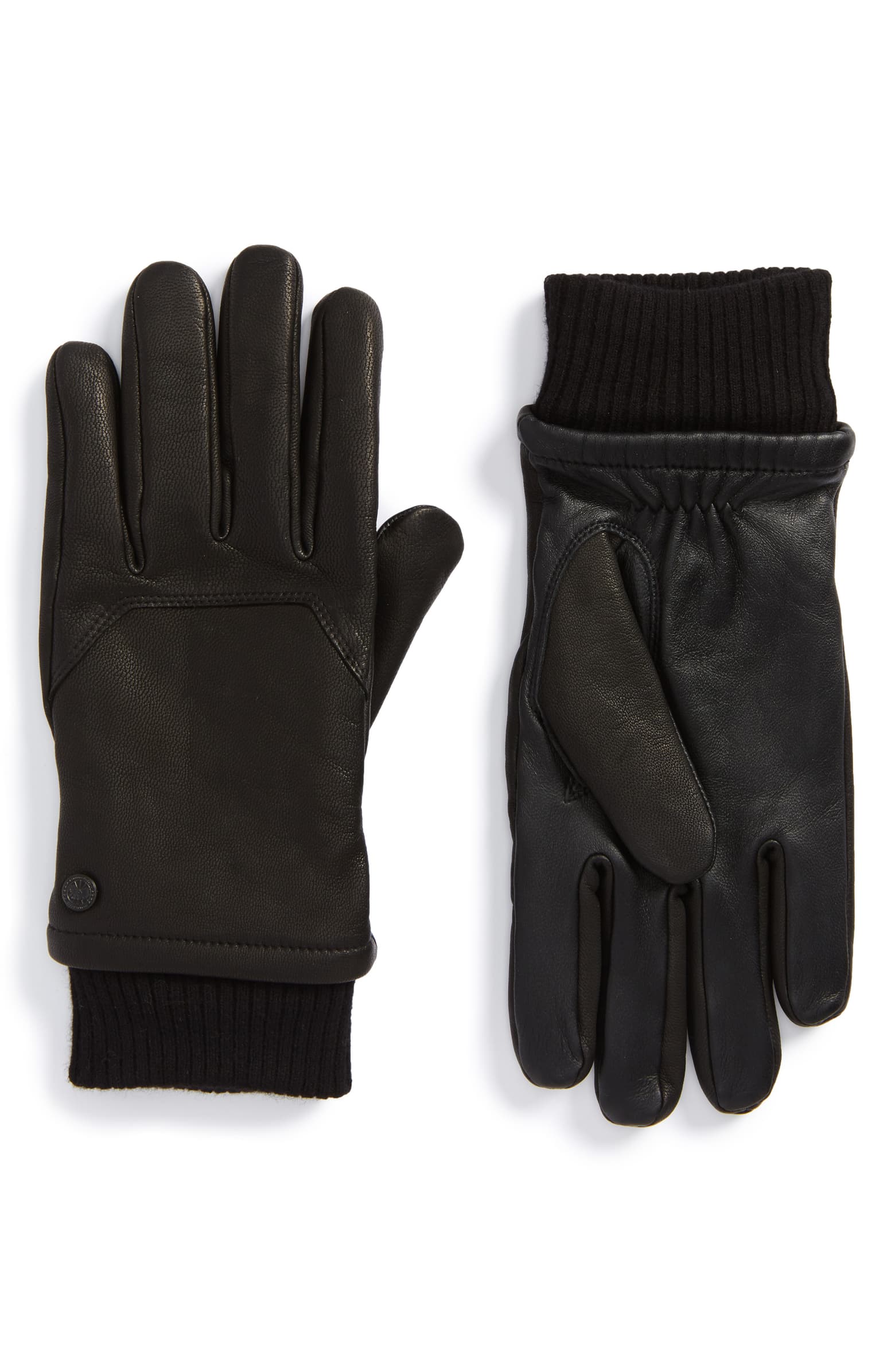 CANADA GOOSE WORKMAN GLOVES
Stay warm this winter season with these Canada Goose Workman Gloves. A ribbed wool cuff traps heat to keep your hands toasty inside the supple goatskin leather. What's more, they're designed with a conductive, touchscreen-friendly leather palm and are undeniably stylish. Find them available at Nordstrom.
Cost: $174.15 CAD
Wood-Handled 9-Piece Barbecue Tool Set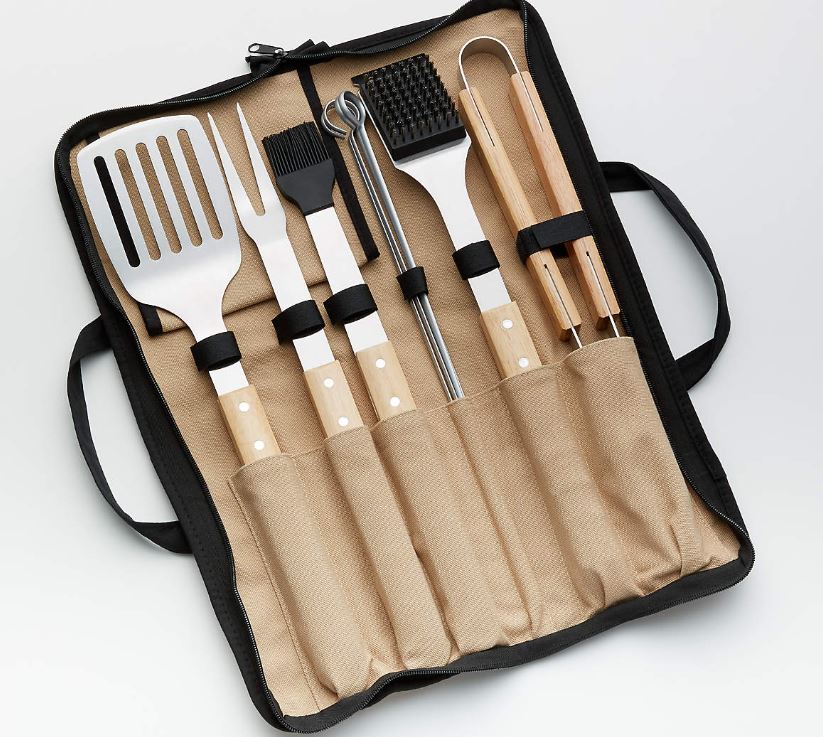 For those who have a passion for grilling, they'll love receiving this Wood-Handled 9-Piece Barbecue Tool Set in their stocking. The sleek set includes a turner, fork, grill cleaner, basting brush, and tongs. Each piece is made of stainless steel to prevent rusting, while the comfortable handles consist of durable wood. The set also comes inside of an awesome beige and black-trimmed carrying case, which makes for easy storage, cleanup, and transportation. Every avid griller needs a formal cookware set to create the food they love!
Cost: $69.95 USD
Thoughtful Stocking Stuffers for Him
Thoughtful stocking stuffers show that you really know and care about the recipient—and that's what the holiday season is all about! He's sure to be touched by these presents:
MONIN 5-FLAVOR HOLIDAY CHEERS COLLECTION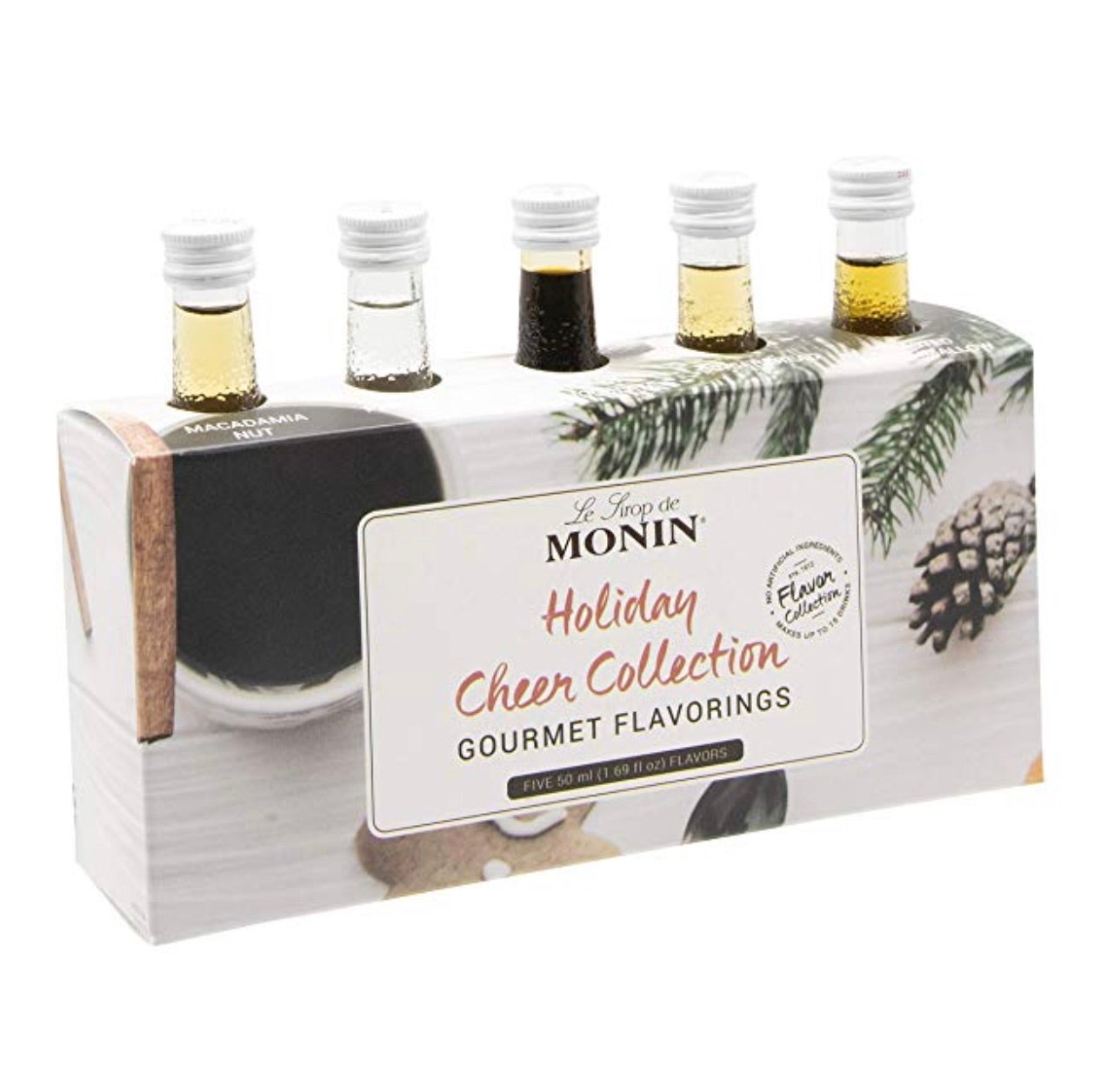 This holiday sweetener collection will change the way you drink your coffee, cocktails, hot chocolate, and more. Filled with festive flavors like macadamia nut, peppermint, dark chocolate, gingerbread, and toasted marshmallow, simply add a splash to the beverage of your choice to create a drink that tastes like the holidays. He's sure to think of you every time he takes a sip! Not to mention that these sweeteners are vegan, non-GMO, and gluten-free.
Cost: $19.99 USD
FLAT DOPP KIT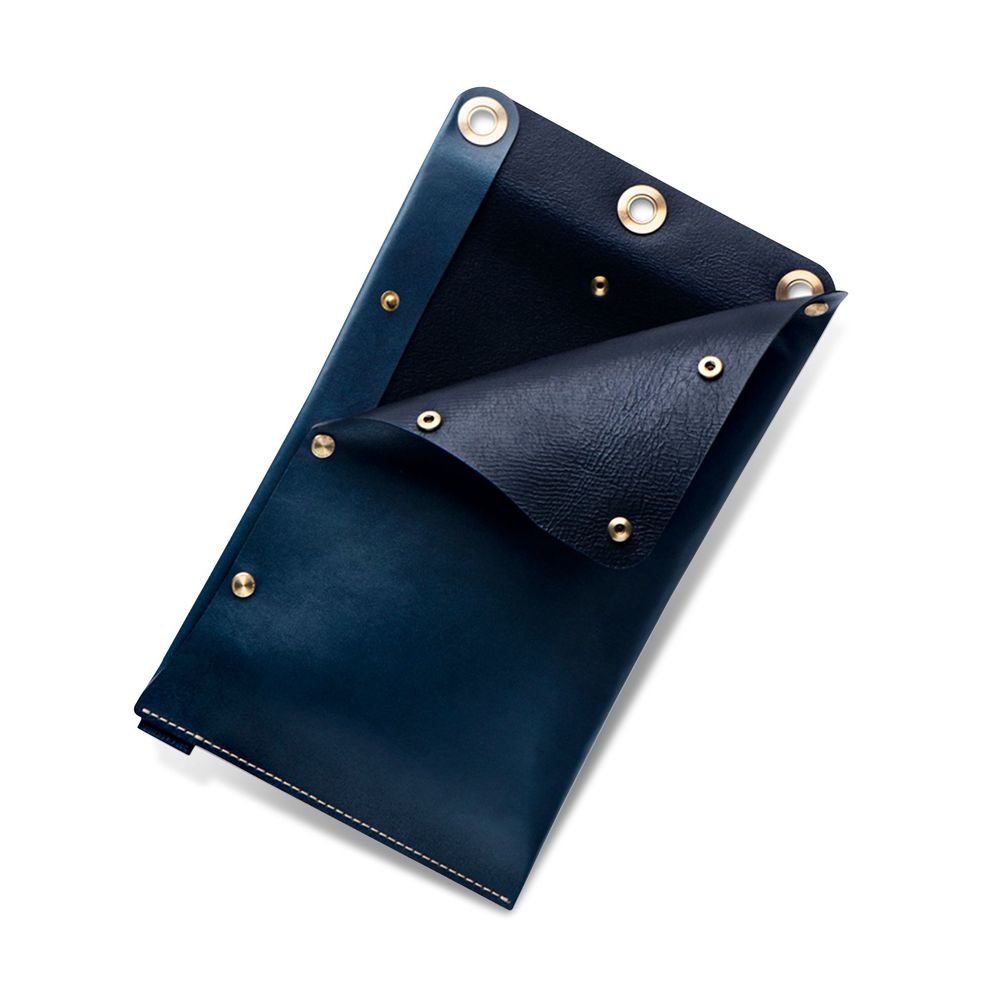 It's a folio. It's a Dopp kit. It's a mini iPad sleeve—the versatility of this flat Dopp kit is outstanding. You can thank understated design for giving this practical hold-all such a low-key profile. Everything about it, from the smooth, hand-stitched leather to the king-size brass snaps securing it shut, feels considered. Use it for carrying toiletries, gadgets, cords, chargers, and more.
Cost: $200.00 USD
L'OBJECT BIBLIOTHÈQUE PORCELAIN CANDLE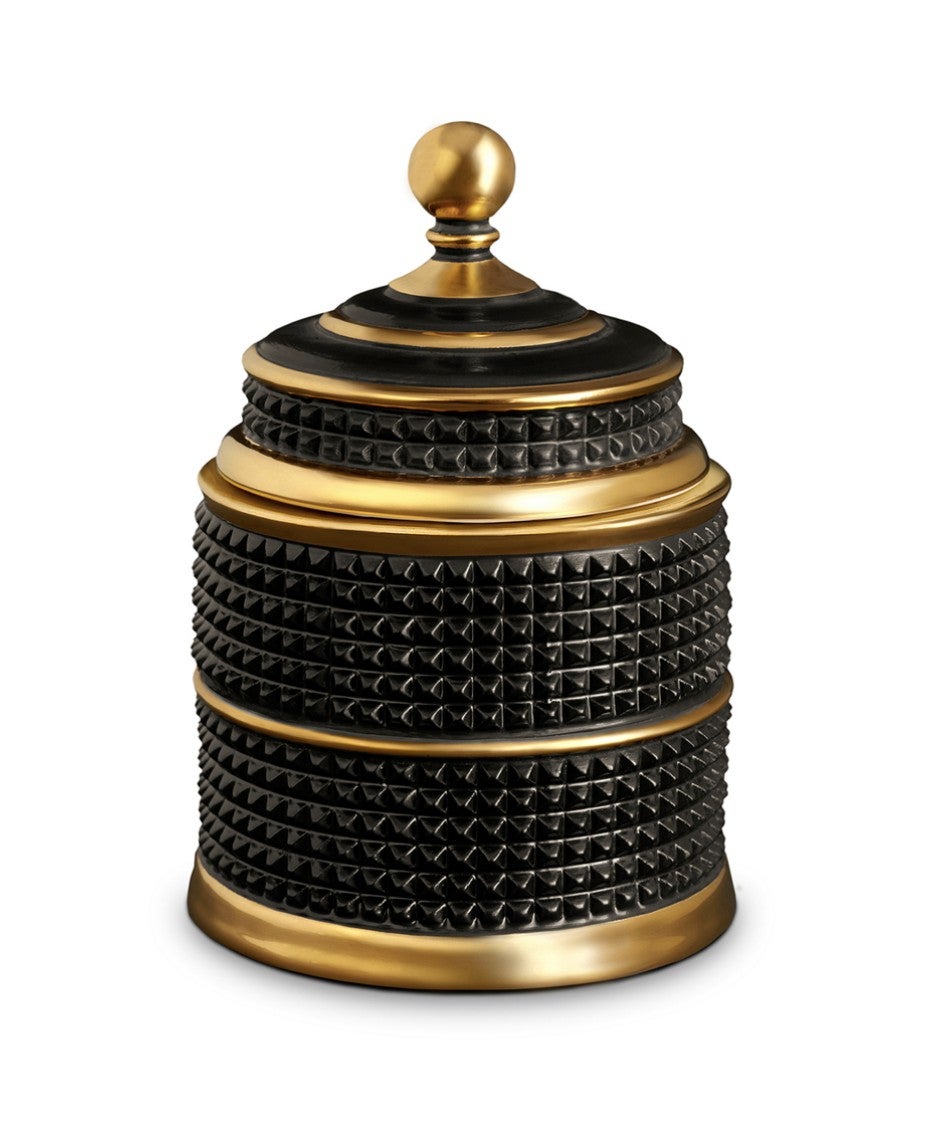 This is no ordinary candle. Handcrafted in Portugal, it features 24K gold accents, paraffin wax, and a signature pink champagne fragrance. It's fresh with a hint of sweetness, that isn't too strong. This is truly a thoughtful gift to put in his stocking! Find it available at Holt Renfrew.
Cost: $215.00 CAD
NORDGREEN NATIVE NAVY DIAL WATCH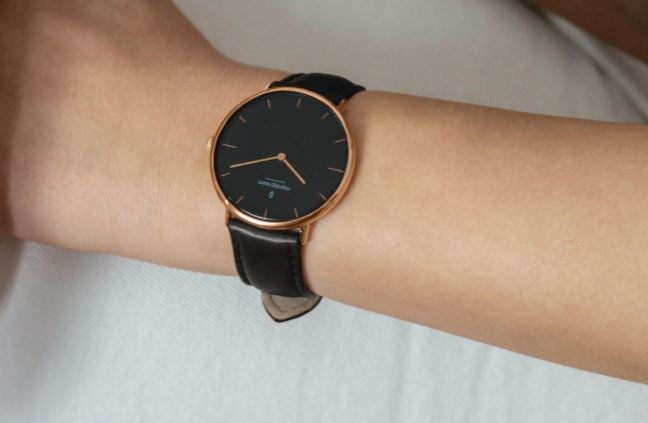 Every man needs a classic timepiece in their wardrobe. If the person you're shopping for doesn't have one or wants a new one, this is the perfect opportunity to provide him with a stylish new piece. This Nordgreen Native Navy Dial Watch is a great selection, featuring a brown leather strap and a navy blue face. You can customize the metal finish in your choice of gold, rose gold, gun metal, or silver, and the strap is also interchangeable. Minimalistic, bold, and small enough to stuff in a stocking, this watch might just be the best gift he receives this year!
Cost: $184.00
PERSOL SUNGLASSES IN STRIPED BLUE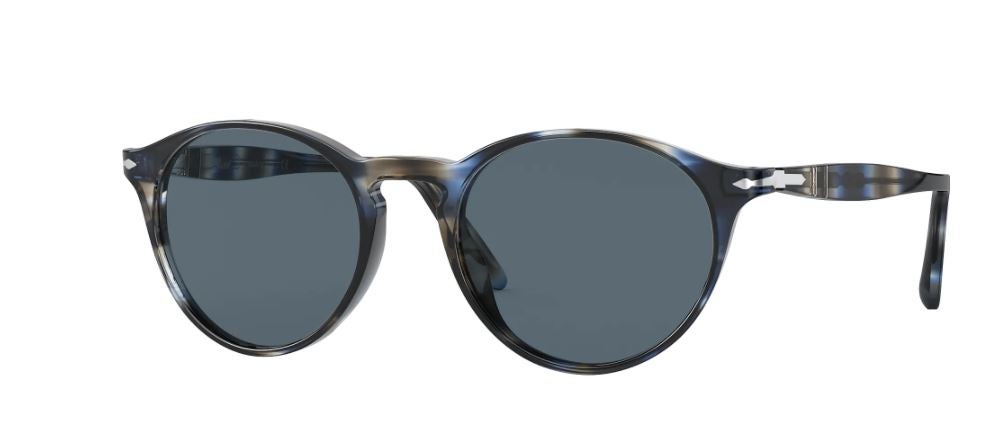 Another accessory that's sure to add to his SWAGGER is a high-quality pair of shades, such as these men's Persol sunglasses in striped blue. Handmade in Italy, these shades exude luxury and class. They feature a slightly retro look and a slim profile that add to their sleekness. This along with the steely blue color palette and crystal lenses come together to form a masterpiece of Italian craftsmanship. For an extra thoughtful touch, you can even have them monogrammed for personalization.
Cost: $270.00 USD
Funny Stocking Stuffers for Him
Looking to make him laugh? These funny stocking stuffers for him are sure to do the trick: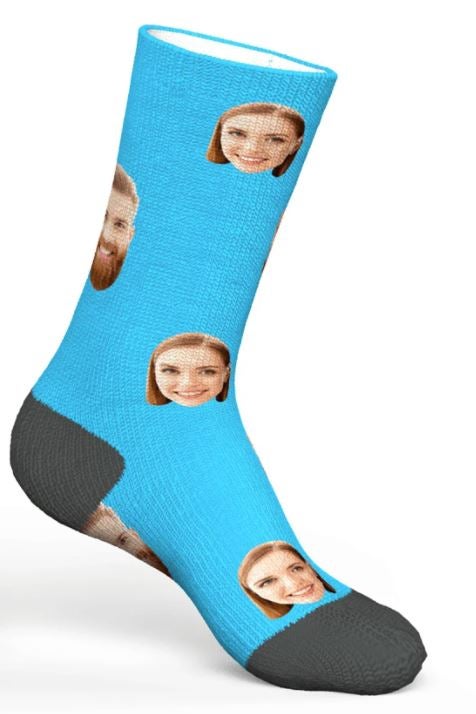 PERSONALIZED FACE SOCKS
Yes, there's a company that will put your face on socks! Whether you use a photo of yourself or the recipient, they're sure to get a kick out of this hilarious gift. You can even upgrade for just $2.99 to include two faces on the socks! Customize them in the color of your choice, send in your photo(s), and stuff them in his stocking for a great laugh.
Cost: $12.95 USD
BACON BALM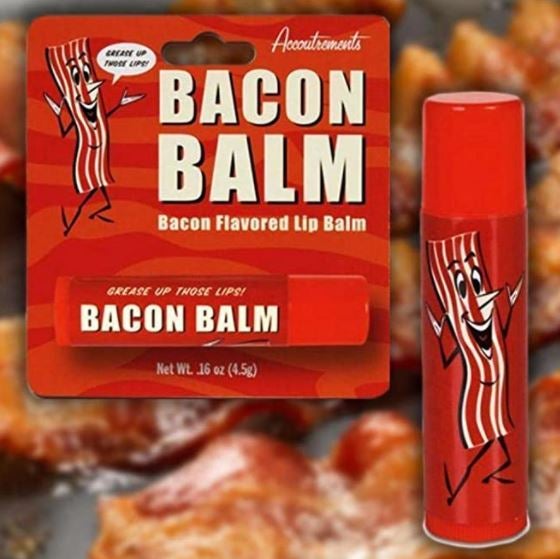 If there were ever two things that shouldn't go together, it's bacon and lip balm. That's is why this bacon balm is the perfect gag gift! From the laughable bacon labeling and scent to the witty slogan on the packaging, "Grease up those lips!", there's no question that this outlandish gift will be a hit. What's even better, this lip balm truly does heal cracked and dry lips—as long as you're willing to smell like bacon!
Cost: $5.38 USD
DOUBLE CRISP COAL CHOCOLATE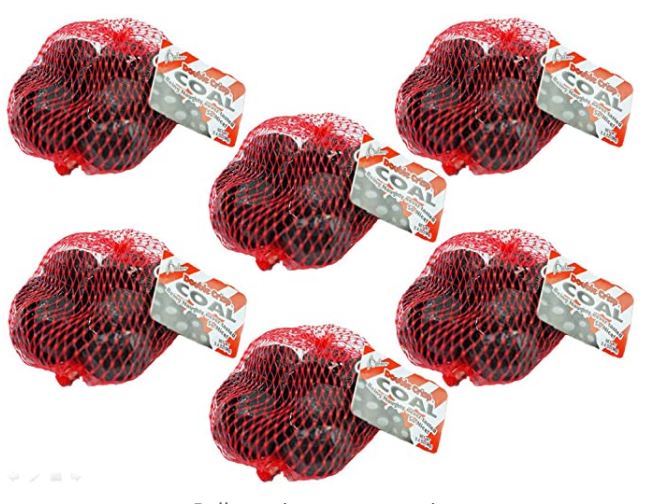 Is the person you're shopping for on the naughty list year? If so, you know what you have to do—put coal in their stocking! But what's even funnier than receiving coal is eating coal. These Double Crisp Coal Chocolates have the authentic charred look of coal and the crunchy texture to match, but they taste like classic dark chocolate. It's impossible not to laugh when biting into these coal treats!
Cost: $16.95
BOB ROSS HAPPY LITTLE TREE MINTS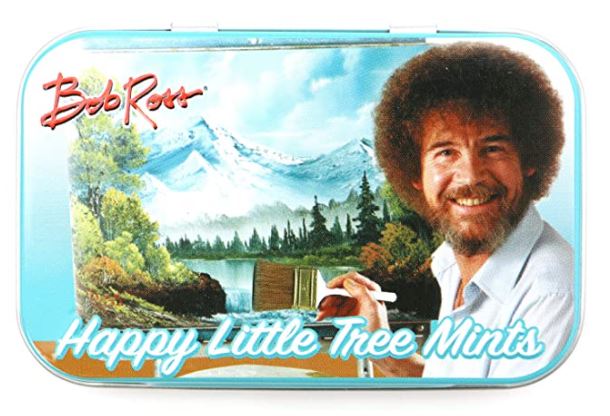 Fans of Bob Ross will be tickled by these Happy Little Tree Mints. Not only is Bob Ross proudly displayed on the tin can's labeling, but the mints are, in fact, shaped like little trees. This gift is a great reminder of Bob Ross's quirky sayings and personality that often causes a nice chuckle. Plus, you might even hint to the recipient that you're giving them breath mints for a reason—because they need them!
Cost: $9.99
Awesome Stocking Stuffers for Him
There's no better way to impress this holiday season than with these awesome stocking stuffers for him! Trust us, you might want to purchase more than one:
AESOP GINGER FLIGHT THERAPY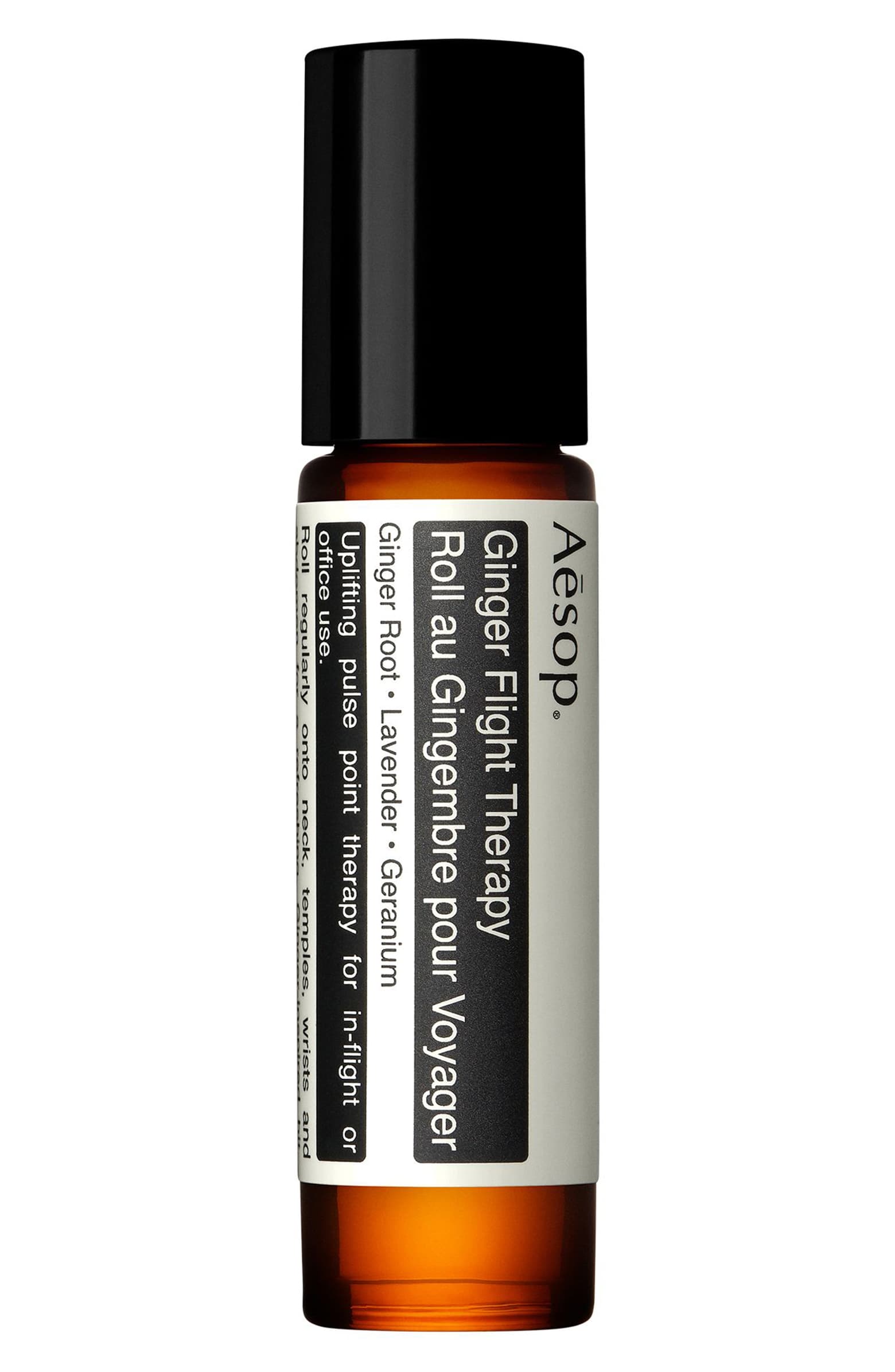 Aesop Ginger Flight Therapy is an uplifting, pulse-point therapy designed to stimulate the senses. This invigorating blend enlivens your spirit and lends weary workers and travelers a much-needed sensory lift. Aesop product formulations use botanical and scientifically validated man-made ingredients of the highest quality.
Cost: $31.00 USD
OFFREFORS HIGHBALL GLASSES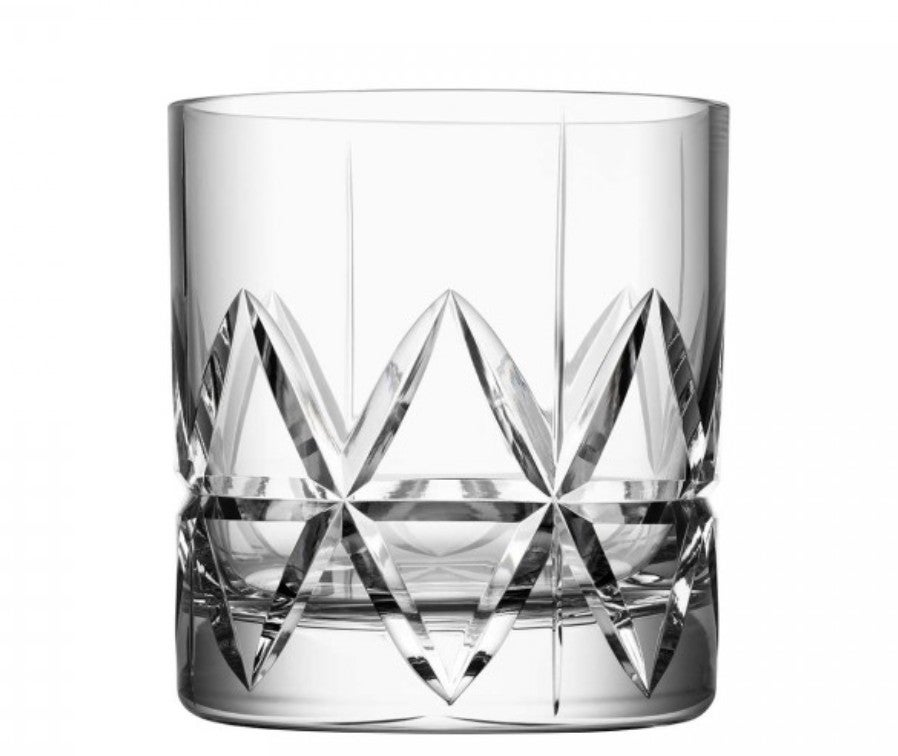 The Peak Highball by Orrefors is a modern, sophisticated barware, crafted in glittering lead-free crystal with deep bold cuts. Inspired by the majestic beauty of nature, this dishwasher-safe glassware is ideal for soft drinks or mixing cocktails. Find it available at William Ashley.
Cost: $74.50/set of 4 CAD
CREED BLACK LEATHER AND GOLD ACCENTS ATOMIZER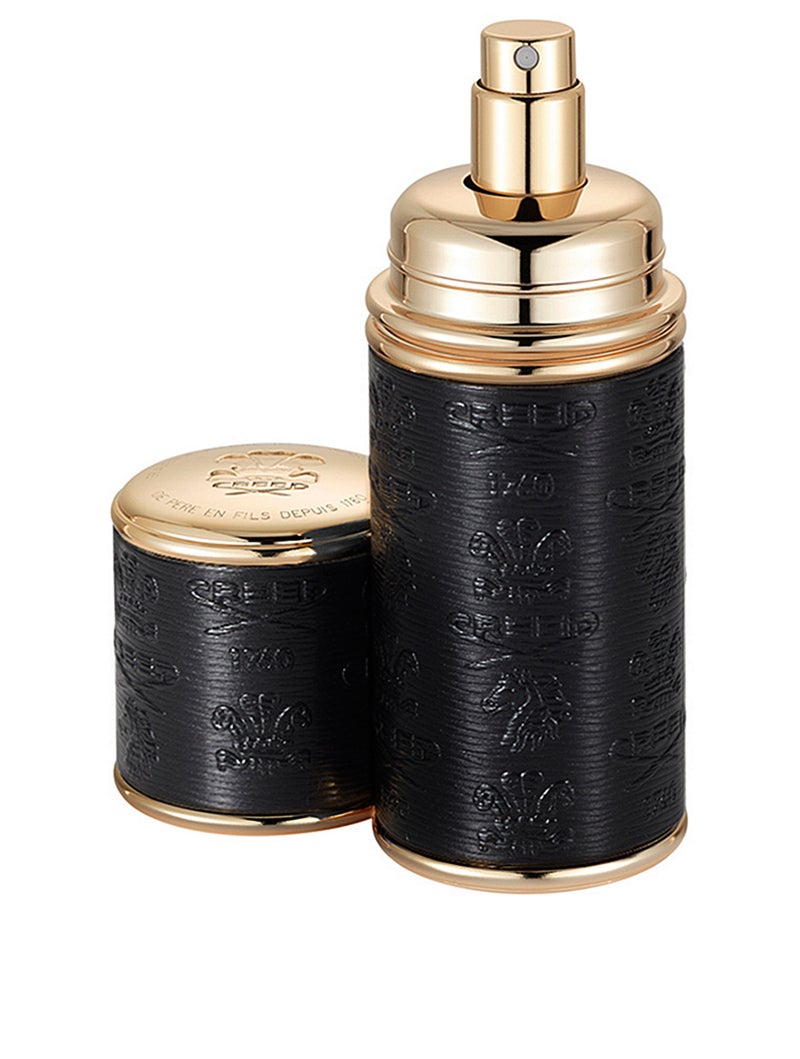 This Creed Leather Atomizer is wrapped in Italian leather and etched with Creed's royal three-plume crest. The sleek design makes it easy to take anywhere, it's shatterproof, and the spray is refillable. It's truly ideal for all of your travel needs. Keep in mind that Creed Atomizers can be filled with any Creed fragrance, and the fragrance is sold separately.
Cost: $284.00 CAD
CASAMIGOS TEQUILA CANDY
Sugarfina and Casamigos recently came together to create an awesome line of tequila-infused candies! Combining ultra-premium, award-winning tequila with sweet, handmade treats make for a unique blast of flavor. They come in three forms—Skinny Margarita Gummies, Tequila Grapefruit Sours, and Tequila Cordials, so you might consider trying them all! These delicious candies truly make for a unique and interesting stocking stuffer.
Cost: $4.47 – $8.95 USD
YETI TEN OUNCE STACKABLE MUG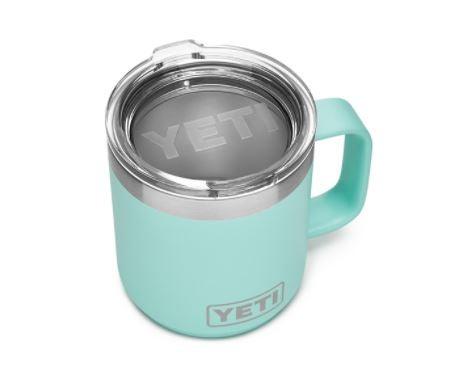 YETI cups are the epitome of drinkware. Their thermal technology is unmatched, keeping drinks hot or cold for hours. That's why this YETI 10oz stackable mug one of the best stocking stuffers for him. The cup features a smooth handle for easy grasping, a lid to prevent spills, and grooves on the bottom that make for easy stacking when storing. Both the lid and the mug are dishwasher safe, making them super easy to clean, and the mug comes in a variety of awesome colors. YETI is a brand that everyone knows and loves, and having one certainly ups your SWAGGER!
Cost: $24.99 USD
Check out our Gift Guide hub for all the latest and greatest gifts for the Holidays. >>>