When we want to celebrate Mexican culture, most of us immediately think of Cinco de Mayo, marked on the 5th of May every year. However, the day, which commemorates the Mexican victory over French forces at the Battle of Puebla, is not the biggest holiday in the country — Independence Day is. In fact, Mexico became independent from Spain over 40 years before the Battle of Puebla commenced.
So if you're in the mood to authentically salute Mexican culture, the 16th of September would be the perfect time to do so. And as it approaches, it's the right moment to get our sombreros in order and prepare the celebrations. With that in mind, what's the best way to acknowledge Mexican Independence Day with a bang? We've got some great ideas.
Cook Mexican food
Many cultures around the world revel in their food and are almost defined by it, and Mexican traditions are no different. The country boasts delicious dishes, with an emphasis on local ingredients that fit everyone's dietary requirements, from strict vegans to the most hardcore meat lovers. Beans, avocado, corn, rice and limes are just a few staples you will see in almost every meal, however, this doesn't mean sticking to a classic burrito (or a Taco Bell — we're not here to judge) is the only way to celebrate this vast and versatile cuisine. This 16th of September, why not try a Mexican dish you've never had before?

Whether it's a rich and smokey breakfast in the form of Huevos Rancheros, a hearty Pozole soup, an indulgent Queso Fundido dip, or the scrumptiously simple Molletes, there are so many fabulous options to choose from. Scroll through these recipes from Mexican food specialist Gran Luchito and we're sure you'll find something you like. The beauty of this cuisine is that it's pretty straightforward to cook, so you may want to invite friends and family over to make it together for an extra celebratory element.
Listen to mariachi music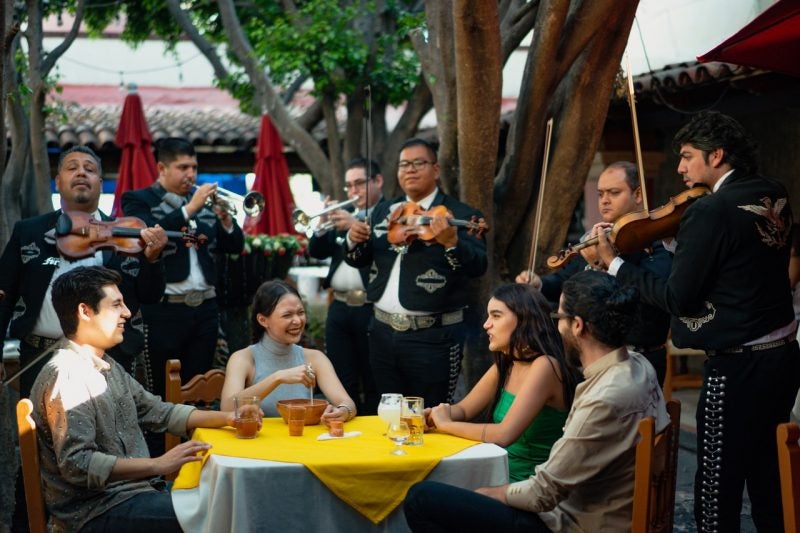 It's not just food that Mexican culture relies on — it's also their unique music. Mariachi emerged when classic Spanish instruments, especially the harp and vihuela, were introduced into Mexico in the 1500s. The natives in the region already had their own musical tradition, and embraced the practices and tools of the colonisers, absorbing them into their culture. During this early colonial period, African slaves were transported en masse to the Americas, and Mexico was a major hub for slave ships. The musical heritage of the slaves was also assimilated, creating the melting pot of indigenous and foreign sounds that mariachi came to be. This is perhaps why so many believe the etymological origin of the genre is from the French word mariage — marriage — although the accuracy of this is still up for debate.
Regardless, mariachi music is a quintessential element of Mexican culture, and is representative of its robust centuries-old colonial history. And what better use is there for it than to celebrate the end of colonialism on Independence Day? If you don't want to dive into the rabbit hole of mariachi sounds, there are some great songs to listen to for newcomers (you might even recognise some of them), or you could turn on a curated Spotify playlist that will help you dance the evening away.
Put up Mexican-themed decorations
We all know that being in the mindset to celebrate plays a part in overall celebrations. So, what better way to get in the mood than to decorate your abode? If you've never marked the day in the country itself, you can check out this video of the 2019 celebrations to get a sense of the vibe on the streets of Mexico. Mexican Independence Day is known for its fireworks, rodeos, bullfighting and horseback riding performances, so incorporating these elements into your decor can really set you up nicely. For example, you could add horse and bull-themed decorations, or let off your own rockets and Catherine wheels.
Besides that, paper lanterns, colorful lights, sombreros, and, of course, Mexican flags, are key. If you want to go all out,  why not put up flowers, pinwheels, balloons and streamers in the red, white and green national colours of Mexico? There's no 16th of September without confetti, silly string and whistles either, so ensure you have an arsenal of those. And, when it comes to attire, any traditional Mexican dress will do. For a fun crafting activity, you can also make papel picado, which is the party bunting associated with the country.
Throw a Mexican fiesta
There is no party like a fiesta, and on Mexican Independence Day it would be nothing less than sinful to not host one yourself! You've already decorated and compiled a mariachi playlist, so all you have to do is invite your friends and family. Set the table with some Mexican flags, heat up your loaded nachos, and plan your activities — tequila is mandatory.
The first thing to do is to print out the words of the Cry of Dolores, the most important tradition of Mexican Independence Day, which is re-enacted every year on the eve of the celebration. This was the call to arms that opened the War of Independence, and helps Mexicans remember and commemorate the brave who fought against colonial rule. But we promise, other than this solemn cry, an Independence Day fiesta is all about having fun. Although not a traditional activity, we'll never say no to a drunken piñata beating, especially if it's adorned in red, white and green.
As for dancing, practice the Jarabe Tapatío (Mexican hat dance) and Danza del Venado (deer dance) together. However, if you're less into shaking your body and more into laying on a sofa while munching on mini tacos, watching a Mexican film is always a great option. You can either choose a modern one, or delve into the filmography of the most recognisable Mexican actor and comedian of all time, Cantinflas. No matter how you decide to celebrate, the most important thing is to enjoy yourself — that's what this day is all about.