As more and more places begin to legalize the use of cannabis products for medicinal and recreational use, the number of new 420 accessories grows with every passing year as well. One of the biggest areas that have grown is the market of

weed pipes

used to smoke cannabis products. Many of these new options are cool and unique designs that allow customers to add a unique and personal touch to their cannabis accessory collection.
When it comes to finding many of these new options, World Of Bongs has one of the best selections of cannabis pipes and bongs on the market. These include hand pipes of all varieties, shapes, and designs. They have simple and discreet options as well as some of the coolest custom hand pipes on the market from highly reputable brands around the globe, such as Raw, Grav Labs, Pulsar, and Roast and Toast.
These are the top marijuana pipes available for sale from World of Bongs in 2022. With a growing inventory of the top cannabis smoking accessories, this online head shop has a weed pipe that is perfect for any customer. Each of these top-quality pieces is sure to enhance any smoking setup, and can be ordered today by visiting their website.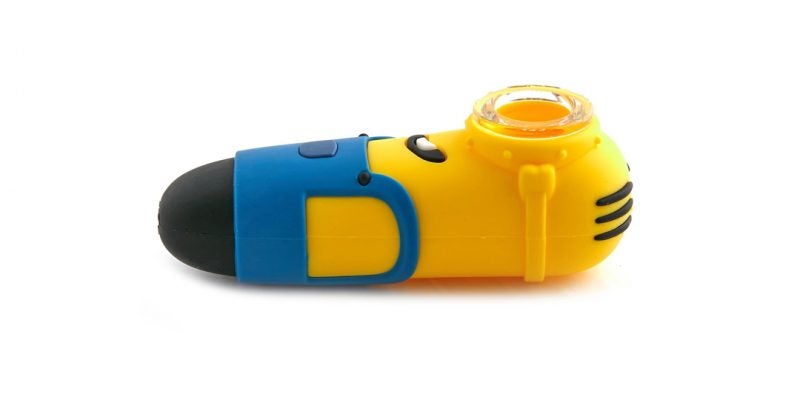 Not only does World of Bongs offer a large selection of hand pipes at prices often lower than other online smoking shops, they also have their own house brand of high quality and fun accessories. This 4" silicone weed pipe is the perfect example. Resembling the world's most adored overall clad yellow henchman, this piece is more than just for show. 
Being made from silicone, this 4" hand pipe is more durable than glass pipes and won't break if carried in a pocket or purse. This makes this a perfect option for those on the go who want to add a little bit of fun to their smoking experience.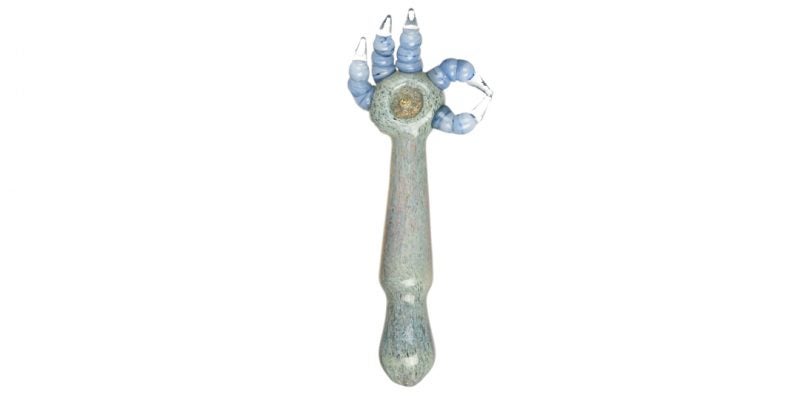 Coming in at number 9 is another product available for sale from our online head shop. This weed pipe has some great craftsmanship. This demonesque hand is hand blown from borosilicate glass, making each individual piece truly unique. It is offered in blue, rose, and red.
With a length of over eight inches, these hand pipes are perfect for those in search of a smooth smoking piece. The long profile allows for each draw to drastically cool before it reaches the mouth of its users, making this a perfect mix of looks and useability.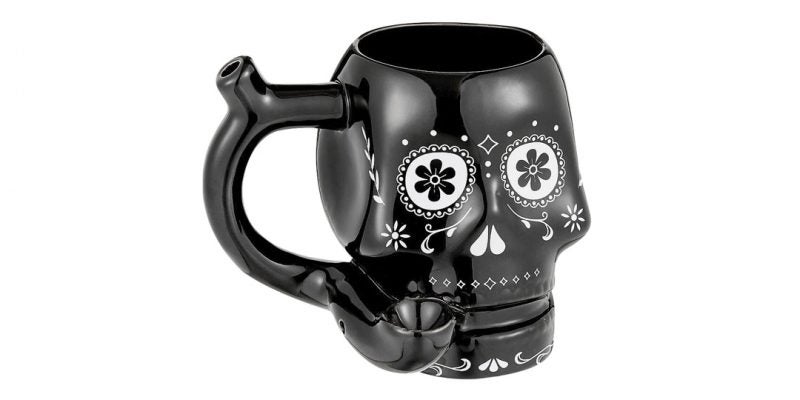 Nothing says wake and bake quite like a cup of coffee and a bowl of cannabis. Now customers can have the best of both worlds with this ingenious combo from Roast & Toast. This skull-decorated coffee mug pipe is a 10-ounce ceramic coffee mug with a fully functional pipe built into the handle. The bowl rests at the base of the cup, the top of the handle acts as a mouthpiece, and it even has a carb. The Skull Pipe Coffee Mug pipe is available in black and white.
This classy piece by Marley Natural offers a revision to basic glass pipes and classic wooden pipes alike. This easy-to-clean pipe is crafted from high-quality glass with black walnut wooden accents. The bottom of the bowl is flat, allowing it to stand on its own. The Glass Spoon pipe is small, measuring 2" by 4.5". As if that weren't enough, it can break down into three pieces. This makes it perfect for use on the go, as it provides durability and quality in a small package.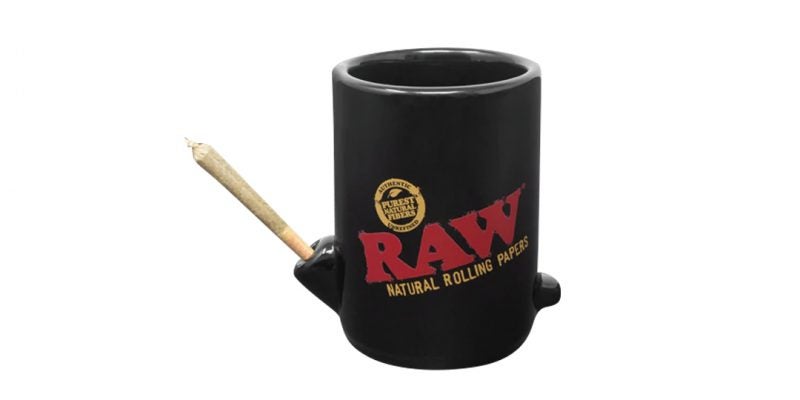 Raw is one of the most iconic names in the cannabis industry, but their spot on this list has nothing to do with their iconic rolling papers and pre roll cones. This ceramic coffee mug and pipe combo is perfect for those looking for a clean wake and bake experience. While some other mugs offer the option of a bowl and carb, this product is designed to be used with a joint, helping to prevent spillage of the bowl or contents of the cup.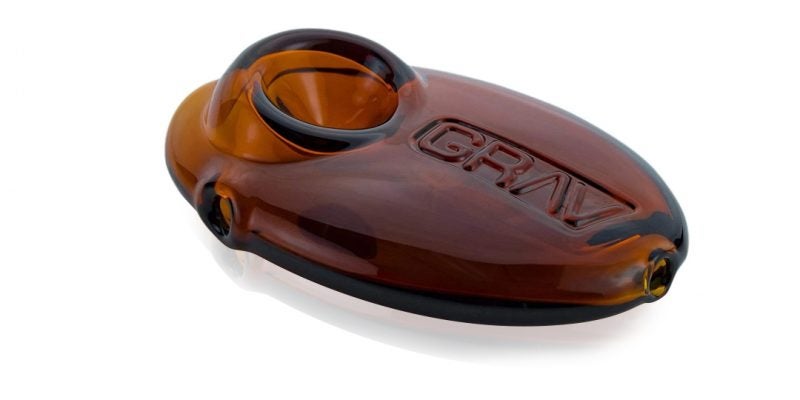 Taking the number five spot is the smallest hand pipe on this list. This 3" glass pipe is extremely durable, making it a perfect option for those on the go. Grav Labs also incorporated built in ash catchers to add to its usability.
These "glass knuckles" provide a knockout experience for customers looking for the smoking experience of a bong in a smaller package. This bubbler is designed to be spillproof, and works with blunts and cones. At 5.5" in size, customers can have the power of a bong in the palm of their hands.
In terms of features, this small bubbler brings a huge amount to the table. Made from high-quality silicone, the Eyce Hammer has a removable 10 mm bowl, steel poker, and even a hidden compartment in its base. This hard-hitting bubbler comes is a large assortment of colors, including Creature Green, Smoke, Whiskey, Pink, and Blue Marble.
Coming in at number two is a truly revolutionary pipe. The Cereal Bowl Pipe is a fully functional eating bowl with a built-in pipe. With a straw-style mouthpiece, carb, and a deep bowl this piece allows users to enjoy their favorite strain and snack at the same time. The Cereal Bowl Pipe is made from lightweight, double walled ceramic for durability and is even microwave safe.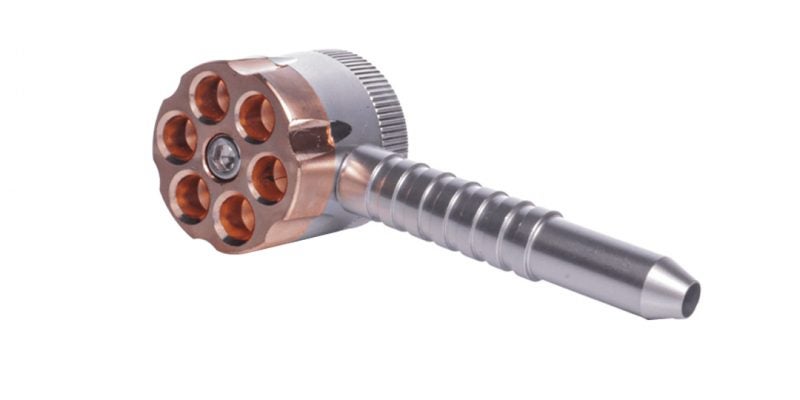 Taking the top spot is a World Of Bongs metal weed pipe that is truly a game-changer. The Revolver utilizes 6 packing chambers for dry flower. When one is ready to smoke, they insert the one-hitter mouthpiece into one of the chambers, packing it instantly. Most impressive about this piece is the built-in 2 piece dry herb grinders that is built into it. This durable metal weed pipe is easy to clean and truly ahead of its time.
Top-Rated Online Smoke Shop
Companies don't just miraculously accrue an online presence that includes over 4 million followers on social media platforms. These kinds of numbers are made from providing superior value and selection to customers.
Since getting their start as an accessory manufacturer in 2016, they were able to build their reputation in a short period of three years to such an extent that they were able to start their online shop in 2019. It doesn't stop there, as the goal remains becoming the biggest name in anything bong and glass related in the cannabis industry.
By the way, if you're looking for heady glass, World of Bongs recently opened their own gallery called Cloud7, located in downtown Zürich, where they mainly sell heady glass and glass art.