You want to have long trips with your small family and find 5 seater car Philippines. This article would definitely help you.
Introduction
Are you looking for 5 seater car Philippines? Well, you may need certain checklist information as well as a fundamental understanding of this sort of vehicle.
Don't take much of your time. You can find the right 5-seating cars in our list below. We have filtered out three products that are popular with many users in the Philippines today.
Now let's start exploring them.
Best 5 Seater Car Philippines In 2022
Honda Civic – Best Overall
It can be said that this is the best 5 seater car on this list. This is the eleventh generation model to be launched in 2022.
This is a new model with a sharper outward design, better safety features, and an upgraded powertrain. All variants, in particular, have become turbocharged.
Exterior
It has a sleeker, more subdued appearance that contrasts with the former model's more youthful style. Despite this, it retains its sportiness. Its RS Turbo model, in particular, has black external elements.
LED taillights, LED daytime lights, and other external improvements for the 2022 Honda Civic are also available. The top-spec model also has LED headlights with an automatic on/off feature, the rain-sensing wiper, as well as 18-inch alloy wheels.
Interior
It can easily accommodate up to 5 people inside. Then, all grades get 60:40 split folding rear seats, including one rear armrest as standard. An electronically adjusted driver's seat, the auto-dimming mirror, and one roof console are also included on its RS Turbo model.
Safety Features
In terms of safety, its RS Turbo has been the sole variation with one lane monitor camera. However, all trims include one multi-view reverse camera as standard. Anti-lock brakes with emergency brake distribution, hill-start assistance, stability control, ISOFIX baby seat anchors, one vehicle alarm, and the engine immobilizer are standard on 2022 Civic models.
Platform & Engine
This vehicle is still front-engine and front-wheel-driving. This Honda one has the MacPherson front suspension and a multi-link rear suspension. Disc brakes are then used to stop four wheels. Finally, all trim levels include an electronic parking brake, including the auto brake hold feature.
The 1.5-liter turbocharged L-series DOHC VTEC engine is included on the Civic 2022. It has a maximum output of 175 horsepower with a torque of 240 Nm. All standard features with a variable gearbox, except for the top-spec RS Turbo, which has paddle shifters.
Price List
Next, we will provide you with Honda Civic Price Philippines through the comparison table below. You can know the price of each type of this vehicle.
| | |
| --- | --- |
| S Turbo | ₱1,290,000 |
| V Turbo | ₱1,498,000 |
| RS Turbo | ₱1,690,000 |

Honda Civic 2022
Ford Territory – Best For The Size
Compared to the best 5 seater car Philippines, this one is the latest small crossover model from Ford Philippines, and it also represents the brand's return to this market sector.
Exterior
The rear spoiler, roof rails,  LED headlights, LED daytime lamps, LED taillights are standard external characteristics.  It's worth noting that this vehicle is a small crossover in the price range with one panoramic sunroof.
Interior
The one is equipped with perforated seats, a start button, light and rear view mirror, a steering wheel containing a control panel. The impressive point is that the control panel is all touchable. In addition, it also has vents in the rear and can cool the inside with automatic air control equipment.
Safety Features
Thanks to the ability to control and distribute electronic brakes for stability, it helps users feel more secure when driving. It also has parking sensors and airbags.
The rear parking sensor in Titanium + is also a plus point for this vehicle. Co-Pilot 360 technology helps drivers predict a possible collision and helps them control their blind spots.
Platform & Engine
With the length x width x height is 4,580m x 1,936m x 1,674m. The Ford Territory is famous for being the petite crossover. The engine is in the front and has an impressive five doors. Its engine is a 1.5L EcoBoost that produces up to 141 horsepower.
Price List
Next is the table about Ford Territory 2022 Price Philippines. You can get the Titanium+ with more advanced features that will cost a little more than the Trend type.
| | |
| --- | --- |
| Trend | ₱ 1.277.000 |
| Titanium+ | ₱ 1.310.000 |
Ford Territory
Ford EcoSport – Best For The Price
Overall, this is a cheap sport one with four variants and an impressive 209 mm chassis.
Exterior
It has a traditional sculptural face and a tailgate to accommodate a spare tire. In addition, the headlights are larger HID Projector, and the grille is also thinner. A soft contour makes the look more eye-catching in terms of design.
Interior
In general, the cabin has changed the most compared to previous generations. The vehicle appears on a touch screen on the dashboard.
According to the manufacturers, this design is inspired by airplanes. To increase passenger comfort, the rear seats also have large legroom and come with an automatic air control system.
Safety Features
The most advanced version is Titanium. You can stop or start the vehicle without the assistance of any key. Vehicles with dual airbags help the driver have the highest safety in the event of a collision. In addition, it also supports belt reminders and brake lights in emergencies.
Platform & Engine
This is a vehicle produced on the famous B2E platform. The front wheel has disc brakes, and this product also handles better thanks to the larger 17-inch wheel.
A special feature is that this item has two engines. One is 1.5L, and the other is 1.0L. The latter is quite common in Ford models. This Eco-Boost unit helps buyers save fuel and has won international engine awards for many years in a row.
Price List
| | |
| --- | --- |
| Trend (MT) | ₱ 750,000 |
| Trend (AT) | ₱ 998.000 |
| Titanium | ₱ 1.100.000 |
| Eco-Boost | ₱ 1.190.000 |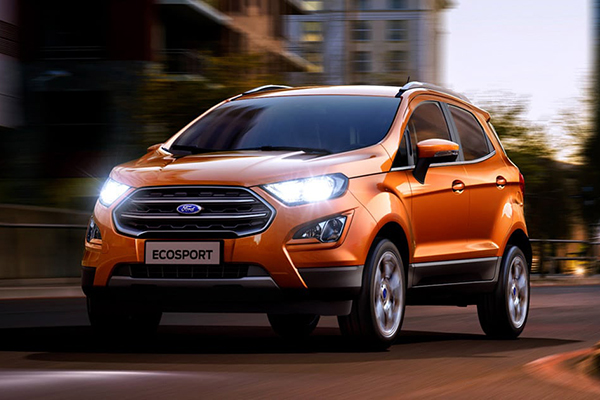 Ford EcoSport 2022
Conclusion
Hopefully, you can find the best 5 seater car Philippines for yourself with our list of three products. Each model has its strong points, but they are all small cars with many outstanding features, especially the Honda Civic 2022.