Looking for a great wine region to explore and discover? Well, look no further than Portugal's 'Vinho Verde.' With interesting grapes, taste profiles and approachable price points, it's the perfect way to dive into a new wine adventure. 
1 It is a Place To Discover
Vinho Verde is a DOC wine-producing area located in the Northernmost part of Portugal, making it a perfect European stamp on your liquid passport this Summer. A beautiful wine region and Portugal's largest wine region, the wines are diverse, versatile, premium and trendy and are the perfect fit and discovery for your palate, your friends and your cellar no matter what the season! 
2 It is a Historic Region with Indigeneous Grapes
Vinho Verde may be Portugal's largest wine region, but that doesn't mean it's just one big vineyard. In balance with the natural environment surrounding it—rolling hills, lush forests, and even a National Park—Vinho Verde is a complete ecosystem in which viticulture plays a supporting (and important!) role. With a temperate Atlantic climate with a continental influence, the region has cold and rainy winters and dry, hot summers perfect for wine growing. Many grapes are hand harvested, and the wines are light, crisp and refreshing. In fact, the region's history has found wine artifacts have been found that are over 2,000 years old, proving that this wine region was alive and well as early as 100 AD. They grow Indigenous grapes that are unknown to most of us. For instance, Loureiro, Alvarinho, and also Arinto, Trajadura, Avessao and Azal (to name just a few) are grapes grown in the region that make up the versatile and delicious white wines. 
3 The Wine Style is Diverse 
From light, fresh and crisp to premium, complex and structured this region offers two wine styles that you're sure to fall in love with. Served at the ideal temperature of between 8 – 10 degrees, this wine has beautiful aromatic notes of of citrus tropical fruits, pink grapefruit, fruity and floral aromas, depending on the grapes that are used and can also offer great minerality, complexity and structure, these wines should be served around 8-12 degrees so they are nicely chilled. Opening up a bottle of Vinho Verde will immediately take you to oceanside breezes and allow you to escape to the coastal region of Portugal just by closing your eyes and opening a bottle.
4 The Region is Sustainable 
Many producers in the Vinho Verde region are sustainable winegrowers, growing older vines in ancient mainly granitic soils. The majority of Vinho Verde sits on top of granite, except for two narrow bands that run northwest to southeast across the region, one is composed of coal and slate formations from the Silurian period, and the other of ancient schist. Family vintners believe in treating the land with respect and integrity. Vinho Verde winegrowers are sustainable and focused on tradition to keep the land rich and fertile for generations to come. From choosing the specific trellis system for the vine, to preparing the cellar, to bottling the wine—and more!—each step is crucial in producing the best quality wines 
5 High Quality Blends and Single Varietal Wine
Whether it's the perfect blend of grapes or a great tasting single varietal wine, Vinho Verde is made  with indigenous grapes and offers your tastebuds two diverse wine styles. Look for the following grapes in any of the Vinho Verde wines – Loureiro and also Alvarinho, and also Arinto, Trajadura, Avessao and Azal. 
6 Perfect Gastronomic Solution
Vinho Verde wines are diverse and built to complement so many of your favourite foods (which means it could quickly be your new preferred wine). Structured and refined, fresh and fun, these wines pair perfectly with classic brunch dishes like quiche and egg salads, seafood dinners or any of your order-in favourites like sushi and green chicken curry. 
7 They Offer High Value 
Even more lovable than the taste is the price. Typically under $20, you'll find an array of wonderful Vinho Verde wines at prices that will allow you to discover the diversity and enjoy every season of the year. So what are you waiting for? It's time to seize the Verde! 
Expert Picks: Wine Recommendations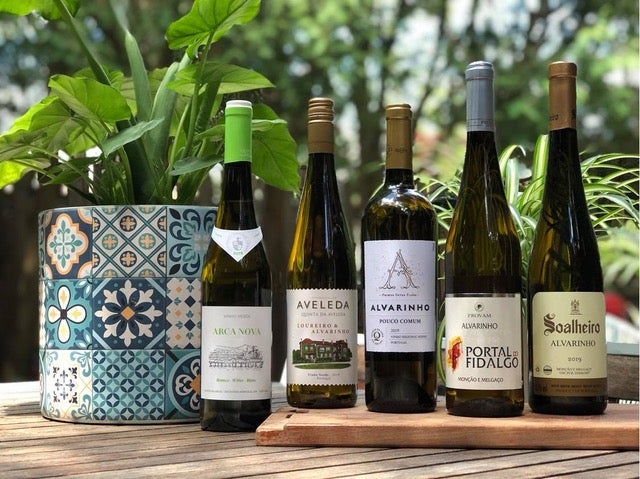 Quinta da Aveleda Vinho Verde 

Arca Nova Vinho Verde 2017 Loureiro/Arinto

VinuSoalleirus, Lda Alvarinho Soalheiro

Quinta da Lixa Pouco Comum Alv 

PROVAM Portal do Fidalgo 

Adega Ponte de Lima – Loureiro 

Valados de Melgaço Quinta de Golães