While most of Canada is basking in spring's embrace, the people of Alberta, British Columbia, who are still cold can take solace in warming up with a nice glass of whisky.
Glenfiddich is bringing its Winter Storm back in select Alberta, B.C., Ontario and Quebec stores for an exclusive release, giving Western Canada the opportunity to experience this inventive, ice wine-finished whisky.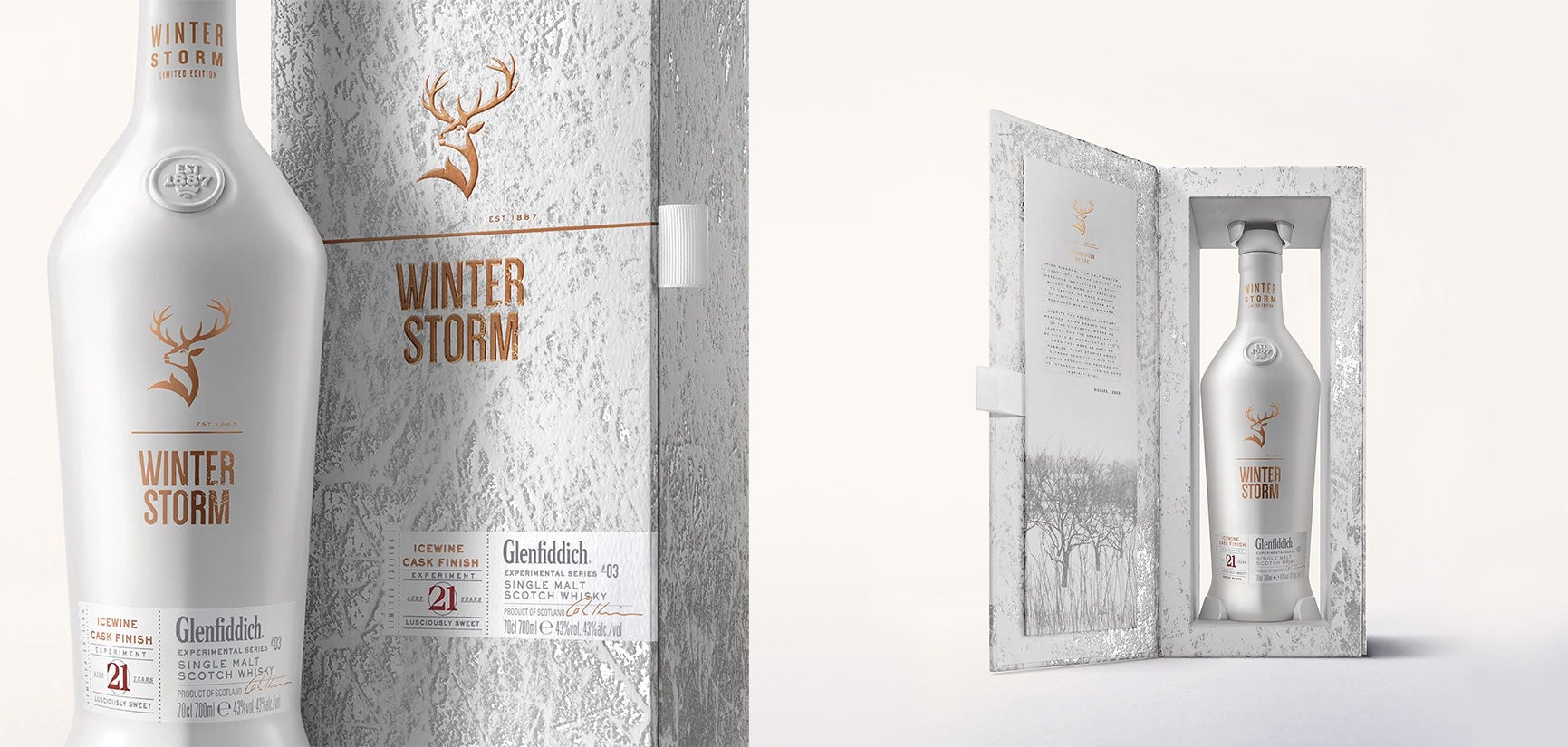 Whisky is a social drink, so it's appropriate that Winter Storm was born through networking. The idea of mixing ice wine and whisky came from Beth Havers, Canadian Brand Ambassador for Glenfiddich`, in 2012. Havers introduced Glenfiddich Malt Master, Brian Kinsman to Craig McDonald and the team at Peller Estates in Niagara-on-the-Lake, ON. Kinsman started experimenting with several French oak ice wine casks from Niagara, Ontario at the Glenfiddich Distillery in Dufftown, Scotland, filling them with various malts and aging them for up to six months.
Glenfiddich, of course, is one of the world's most awarded single malt Scotch whiskies. The brand is also one of the last family distilleries. This prestige and provenance gives them a little more power when it comes to pushing boundaries. Glenfiddich Winter Storm is one of four game-changing whiskies in the Glenfiddich Experimental Series. The goal of this special series is to collaborate with game changers beyond the world of whisky.
Havers is no stranger to whisky innovation. As a celebrated trailblazer and winner of the Icon of Whisky Rest of World 2016 Scotch Whisky Brand Ambassador of the Year Award, Havers has been integral to the visibility of women in whisky, curating Toronto's first all female whisky club, aptly titled Women & Whisky. Havers also conceptualized the partnership between Glenfiddich and Peller Estates for the ice barrels for Glenfiddich Winter Storm.
"The finishing of Glenfiddich Winter Storm in ice wine casks gives the whisky a unique layer of sweetness and complexity,"
says Havers. "It's the perfect combination of both liquids: the heightened candied sweets and oakiness of Glenfiddich, complemented by the mouth-watering tropical fruit notes and underlying wine notes of ice wine."
"The resulting liquid is a unique combination of the warmth of whisky combined with the cold of ice wine," adds Havers. And while winter is going in most parts of Canada, it seems a shame to not keep the party going just a little bit longer. And speaking of parties, Winter Storm comes in a striking white bottle and beautifully embossed box decorated with an ice-wine vine motif, also makes a great present.
Glenfiddich Winter Storm is currently available in Alberta and British Columbia for a limited time at select retailers, and coming soon to Ontario and Quebec.