Cleaning has been made easier than ever with wet and dry vacuum cleaners. Are you searching for a vacuum cleaner that can handle solid and liquid dirt on your floors? Well, 2021 has brought a lot of innovations, including wet and dry vacuum cleaners. These vacuum cleaners enable you to vacuum clean as well as suck up water.
Unlike wet and dry vacuum cleaners, standard vacuum cleaners cannot clean liquids since they will short-circuit the vacuum's electrical components. Wet and dry vacuum cleaners have an added layer of protection to prevent contact with the collected water and the electrical parts. Several companies have developed this new technology, so it may be hard for you to choose the best one.
With the Floor One S5 Pro vacuum cleaner, you will be sure to get equipment that will suit your needs and make cleaning effortless. You need to consider several factors when looking for an excellent-quality wet and dry vacuum cleaner.
Things to Consider When Buying a Wet/Dry Vacuum Cleaner
The most important considerations when selecting a wet and dry vacuum cleaner are:
Your Requirements and Budget
One of the critical things when looking for a wet and dry vacuum cleaner is your requirements. Products have different specifications, features, and performance levels to ensure everyone gets what they need. Depending on how you will use the device, you need to examine its accessories and see if they match your needs.
Vacuums have a varying set of accessories to make the cleaning job easier. If you need to handle large objects, you need to get a vacuum with a utility nozzle. On the other hand, you can buy equipment with a crevice nozzle to ensure you clean corners with hidden dirt.
Size
You also need to consider the size of the vacuum. The available sizes in the market are large, medium, and small. You can easily transport small vacuums, but they cannot handle huge cleaning tasks. Medium vacuums can handle larger debris, and they are also portable. On the other hand, larger vacuums have a powerful suction ideal for construction sites.
Wet and Dry Tank Capacity
You need to purchase equipment with a larger gallon capacity. A vacuum with a bigger capacity will allow longer operating hours, thus time-saving. Ensure you confirm the listed capacities of the wet and dry tank before you decide.
Tineco, the world's leading company for floor care appliances, has added a new series to the wet and dry vacuum cleaners called Floor One S5 Pro. This luxury vacuum builds up on the top performance of The Floor One S3, which was the winning product in the Good Housekeeping Cleaning Awards in 2021.
The new S5 Pro model has updated brush rollers that glide against baseboards allowing you to reach hidden corners. In addition, it has an LD display and a larger water tank to extend the cleaning period and preempt frequent emptying of the tank.
Tineco's wet and dry vacuum cleaners feature the iLoop Smart Sensor Technology that automatically adjusts suction, speed of the brush rollers, and water flow to ensure proper cleaning. The FLOOR ONE S5 PRO is the ultimate convenient cleaning device for hard floors. You can use the equipment to mop and vacuum in a simple procedure.
The device completely dries your floor and cleans up all messes within a short time. Moreover, it has additional features like a hands-free self-cleaning option, a voice assistant, constant freshwater flow for cleaning, and app connectivity. Below are some of the best features of the FLOOR ONE S5 PRO that has made it storm the market and gain popularity quickly: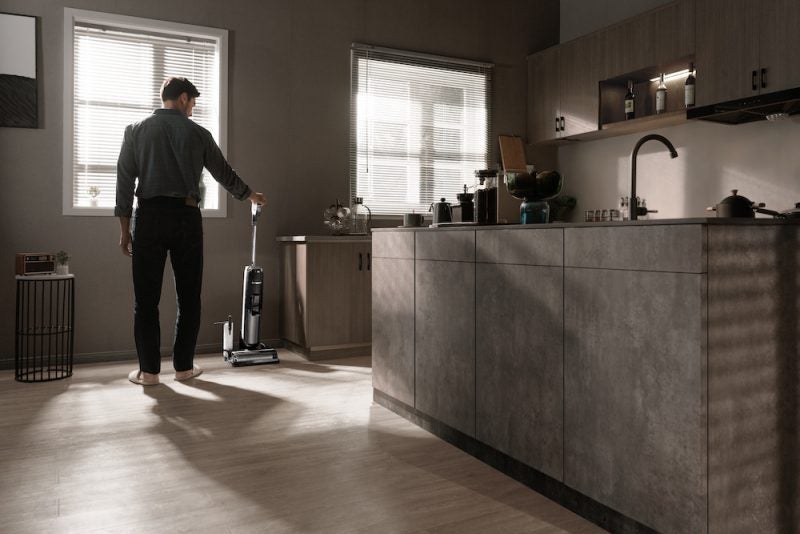 Intelligent Suction Control (iLoop Smart Sensor)
The FLOOR ONE S5 PRO has iLoop Smart Sensor technology that detects wet and dry dust, dirt, debris, and other mess, making cleaning easier. You do not have to switch settings to adjust cleaning specifications like suction power, water flow, and brush roller speed.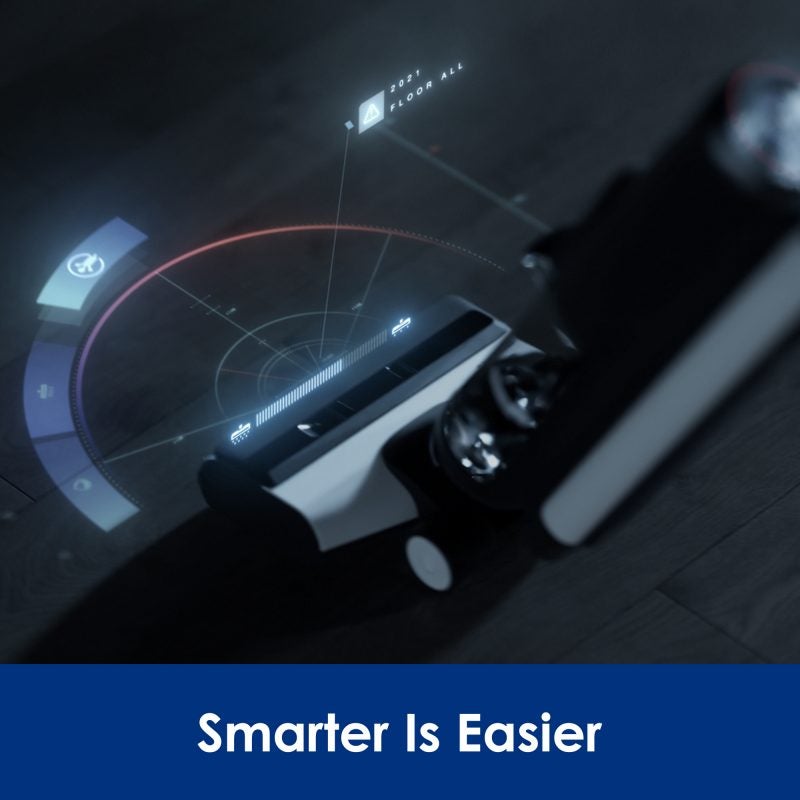 Vivid Animation Display and LCD Display for Monitoring
The machine has the smart iLoop display that allows you to monitor your mess. FLOOR ONE S5 PRO also has a lively 3D animation that changes color from red to blue when the floor is clean.
In addition, it has a full-color 5.3 cm LCD that offers real-time information about cleaning, vacuum suction, and battery levels and reminder alerts for maintenance during vacuuming.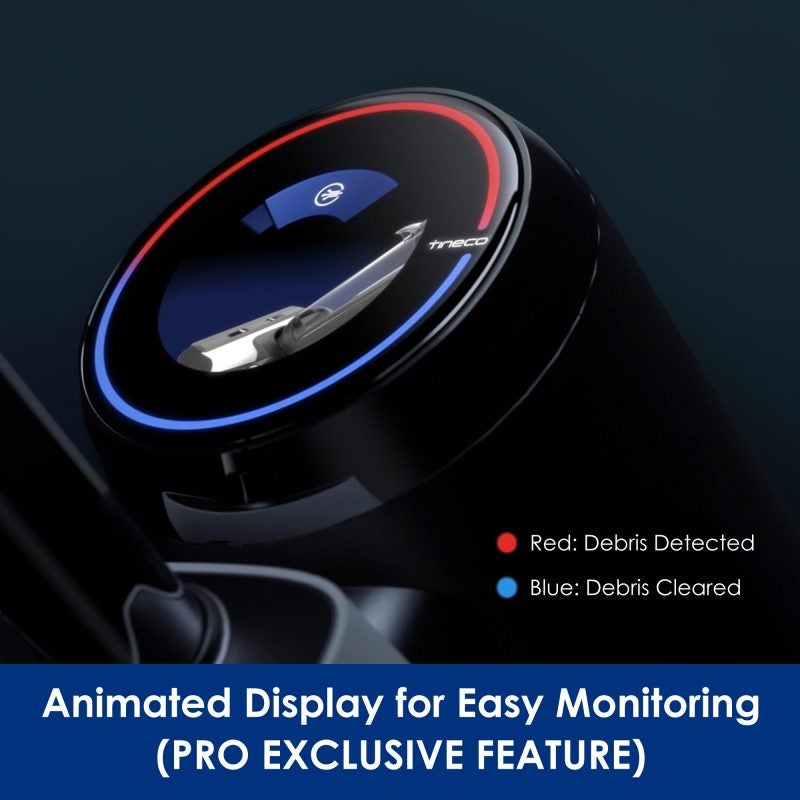 Improved Edge and Corner Cleaning
The vacuum cleaner has an exclusive brush head design that ensures optimized and streak-free cleaning along baseboards, angles, corners, and other areas that are hard to access.
Large Clean and Dirty Water Tanks for Longer Cleaning 
With this revolutionary device, you can enjoy a 35 minutes cordless running time because of the optimizing smart iLoop battery. The larger capacity of clean and dirty water storage allows you to clean bigger spaces without interruption. Thus, cleaning becomes enjoyable and much easier.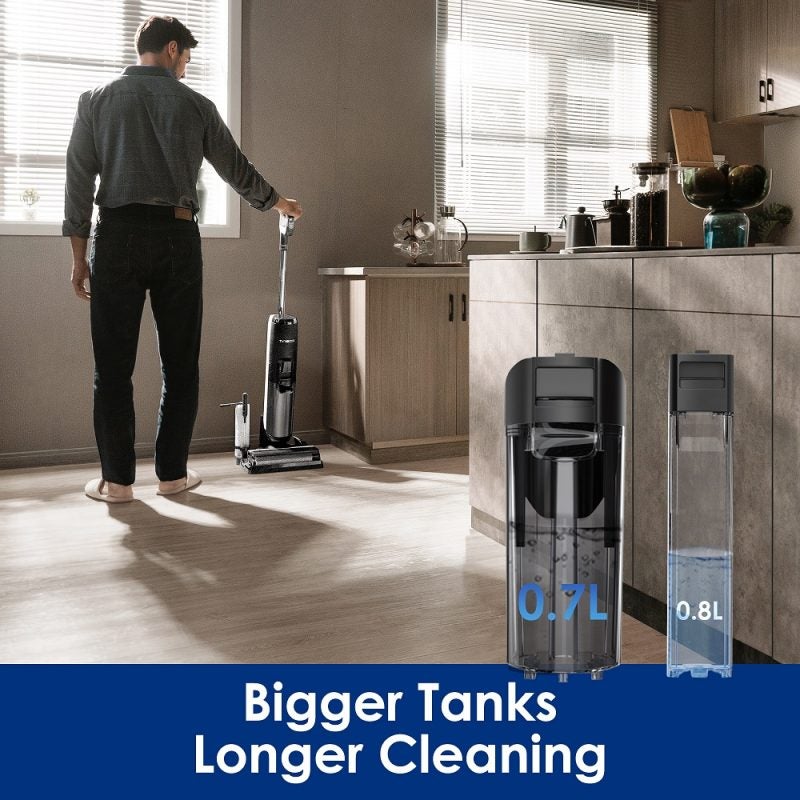 Quick Drying
Unlike traditional cleaning machines, FLOOR ONE S5 PRO leaves your hard floors fully dried and with no streaks in a short while. You do not have to wait for long hours for your floor to dry after mopping.
Suction Mode
If you want to vacuum only, you can switch the vacuum's suction mode to get rid of debris and water from your floors without mopping.
Everything You Should Know About Tineco
Tineco is a top-notch technology innovation organization founded in 1988 with the invention of the first-ever vacuum cleaner. The company has elevated innovation in vacuum cleaning devices and has achieved more than a hundred domestic and international patents. What's more, it generated higher sales worldwide with the sale of its pieces of equipment.
The smart electrical appliance brand specializes in developing intelligent technology to make everyday home cleaning a simple job with smart and user-friendly products. The company quickly became the leading smart appliance manufacturer with its Pure One vacuum items.
Tineco then launched its first smart wet and dry vacuum on 13 March 2019. The company then launched the FLOOR ONE S3 vacuum cleaner. These two products were an extension of Tineco's smart and cordless vacuum lineup and the MODA ONE S, a new hairdryer in the market.
The company's vision, "Live Easy, Enjoy Life," reflects the products they make. The firm believes in making smart appliances that will improve people's quality of life. Tineco's innovative products are efficient and powerful. By using their devices, you can make cleaning easier and have an incredible experience. Besides, they have unique accessories that enable you to customize them to fit your needs.
The expanding portfolio of the company's products demonstrates the significant impact on the cleaning sector. The firm recently announced its intention to extend its intelligent features due to the positive responses from consumers in the past years. With their vacuum cleaners, homeowners can cut cleaning time by half and allocate time to other crucial activities.
You can get rid of all the cleaning frustrations you get with the standard vacuum cleaners by using Floor One S5 Pro. The device offers plenty of benefits, including enhanced edge, angles, and corner cleaning, large water tanks that allow you to clean without interruptions, and vivid 3D animations and LCD to give you access to vital cleaning information. Furthermore, it has an intelligent suction control to simplify the mess cleaning process and ensures your floor is completely dry after mopping. Tineco has a variety of intelligent products that you can choose from to enhance your cleaning experience.
Buy your floor one S5 Pro vacuum cleaner to experience a luxurious and joyful cleaning experience.